Trump Las Vegas Condos
We Specialize in TRUMP Las Vegas
ℹ️ More Information
TRUMP Condos for Sale by Size
Own a Trump Hotel Condo
Trump Las Vegas condos are a condo that is in a hotel. You own the unit and can live year-round or put it in the rental pool for income. While the MGM Signature condos may be the most popular, TRUMP condos draw a more sophisticated buyer that appreciate less people and better access to Las Vegas shopping and dinning.
Trump Tower Las Vegas featuring 1,232 ultra luxury hotel condominium suites and 50 exclusive penthouse suites. Floor-plans range from studios to three bedroom penthouses superb in every detail. This 4.5-Star development may be one of the most unique opportunities for Las Vegas condo hotels.
Buyers who look for Trump Las Vegas Condos may also be interested in viewing similar properties in Vdara Las Vegas, MGM Signature for Sale & Palms Place for Sale.
Condos for Sale TRUMP Las Vegas
The Trump Condo Hotel is situated on the World Famous Las Vegas Strip and Fashion Show Drive, directly across from the Wynn and Encore Hotels and adjacent to the world famous Fashion Show Mall with some of the most fabulous views of the Las Vegas Strip, Red Rock and surround mountains.

Trump International Hotel Condos in Las Vegas offers a variety of 5 star amenities to residents including: spectacular floor to ceiling windows, elegant Breccia Onniciata marble bathrooms; lavish European style kitchens with Wolf, Bosh and Sub-Zero appliances, LG plasma flat screen televisions throughout, including in the bathroom mirror, owners lock-out closet with private safe, maid service, award winning Spa, outdoor ultra exclusive pool, complete with the Trump Bar and other 5-star rated services.
VIDEO: Trump Hotel Condos for Sale
🏢 See Trump Condo Hotels for Sale ⬆️
"This is specifically for the bar. We came for the happy hour and it is decently priced. There's a Starbucks, Donald Trump store and a little store tucked away that sells lotto tickets that you will only see when you're heading to the restrooms. The restrooms are on the first floor and very clean." - Yelp Reviews
"What can I say, IT'S TRUMP TOWER!!! The water fall in the atrium is gorgeous. The brass that outlines everything seems to always be well polished and shiny! " - Yelp Reviews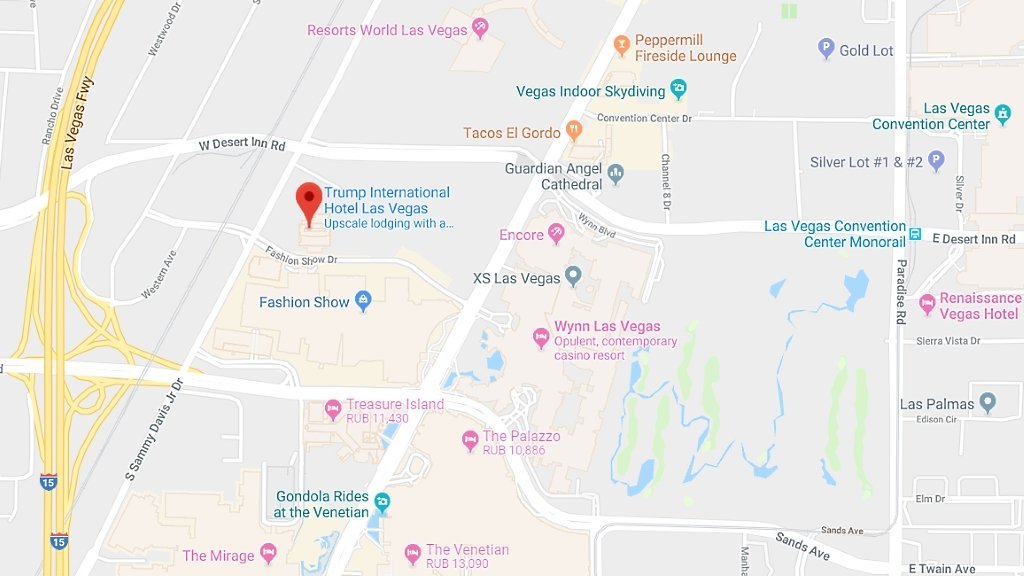 These units can be purchase and lived in year round or put in a rental program and rented out as hotel rooms. While some people do live year round in their Trump suites, most put them in the rental pool to have the opportunity of making an income of the unit.
Due to SEC regulations, agent can not speculate on income, but prospective owners can request a P&L of the units rental history and numbers from the owner. Below is the estimate starting of the monthly associating fee by square footage.
$465/mo.+ - 534 SqFt
$730/mo.+ - 974 SqFt
$1,306/mo.+ - 1,529 SqFt
$3,022/mo.+ - 3,340 SqFt
Trump Hotel Las Vegas VIDEO Overview
"We were booked into The Trump for 6 nights for our summer vacation.
Wow, from the moment we checked in to the moment we left, everyone was super friendly & super helpful! As it was my wife's birthday that week & also our Silver Anniversary we were given a fantastic upgrade to a strip view suite on the 57th floor!
OMG! The place was like a mini apartment with a huge seating area & bathroom but our bedroom had a massive en-suite bathroom with double headed rainfall showers and super spacious sink area! We were always supplied with regular towel changes & toiletries were kept topped up!
"We came to Las Vegas to see the sights & sounds & food & drink that Vegas had to offer but also as a base to see other things as gambling & partying are not our thing! The hotel was an oasis of calm to return to after a day of seeing the sights.
Even the car valets were super helpful, asking if I needed directions or even where I could get the car washed . Thank you!" - Trip Advisor
There is also a split and fees to be in the rental program which is per unit. If a buyer is looking to buy as investment it is recommended they request P&L for last 2 years running to see profit. Some units do better than others based on level and view.
Besides the great atmosphere at the Trump Tower bar, you can take a break from your daily activities and get some rest along with a nice lunch or dinner. The restaurant at the Trump Tower offers world-class dishes and specialties that will make you want to come back. Here is what people have to say about the food at the Trump Tower:
"Packed with roast beef, a meat lover's paradise. Absolutely beautiful surroundings. Highly recommend. Great coffee bar with scrumptious mouth watering deserts." - Yelp Reviews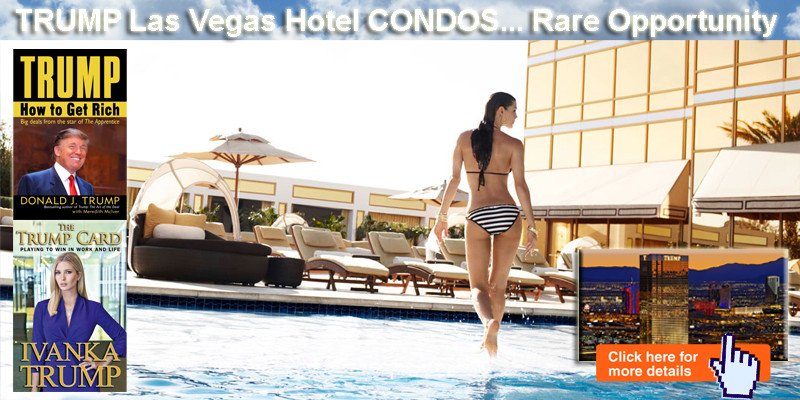 Try TRUMP Before You Buy
"Wow. This being our first experience, it more than exceeded our expectations. Everything was fantastic, right from easy check in, quick response with host, great location & an amazing suite. Very comfortable bed, beautiful linens, pillows.
Great bath & shower, with double sinks. High end finishes, comfortable sitting area, and a very adequate kitchen if one needed to eat in. It just had everything & more than we needed for our 1 nite stay."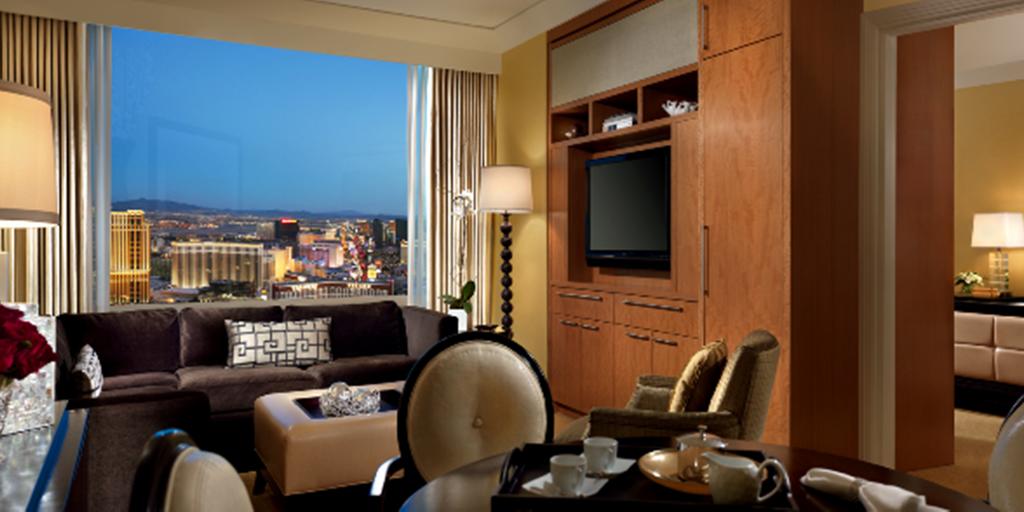 "Great place for a couple and family! We love the Jacuzzi, very roomy, with cooking ware and plates, cooking top and Microwave. The staffs are very friendly! No Casino there, so no 2nd hand smoking. But there is a free shuttle bus to Wynn and Palazzo casino very frequently if you like to."
Being that is is a fully operating and staffed 5-Star luxury hotel it is available for booking 24/7 days a weeks. Prospective buyers can book a room through Booking.com and stay at the property to check it out.
The most affordable days are normally Monday - Thursday unless a large convention is in town. Keep in mind that Las Vegas gets over 22,000 conventions a year. Check different weeks to compare pricing.

"This is a very nice place in Trump Tower at a very good location, minutes away from convention center. Checking is very easy, same as other hotels without the waiting. Free valet is amazing. Room is spacious, especially the bathroom and is cleaned everyday.
Their toiletries are worth keeping. Kitchen has everything you need for a simple meal. If you need anything in the kitchen, you can call housekeeping. They bring it right away."
This is a very unique opportunity as there is only 1 TRUMP Tower in Las Vegas with one of the best locations on the strip with a straight view. You can own your own unit and also put in rental pool. If you have ever considered buying a condo hotel unit - then you do not want to miss previewing these units.
🏢 See Trump Condo Hotels for Sale ⬆️
If you are interested in Trump properties in Las Vegas, contact us for more data relating to real estate for sale from the Donald Trump organization. The Trump International Hotel Las Vegas offers stunning amenities including extremely luxurious condo units and close access to some of the most important areas of the city. Even if you're only visiting Las Vegas for a few days, taking a stop at the Trump Tower will be worth your while. You might even decide to make an investment!
Many celebrities and influential figures live or have lived in the Trump Tower, which adds even more value to this location and the Trump Tower Las Vegas for sale. Another benefit of looking into investing in these condo units is the fact that they sell pretty quickly. That means if you decide to sell the property in the future, you will not only gain your money back but you could potentially get some profit from the investment.
Speaking of profit, selling the Trump Tower unit is not the only way to secure some cash with this investment. You can also choose to put your unit in a rental pool while you're away. This means that the complex will manage and rent out your unit while you're gone and you'll still get 50% of the revenue. That way you can make passive income without even being at the location.
It is important to mention that the complex does not feature a casino but it is close to areas with many hotel and casino amenities. Since the Trump Tower is only a walking distance away from the Strip, you can easily get to all the places you want to visit while in Las Vegas. That is why these luxurious condo units make for a great vacation home with a chance of making some extra money.
Searches Related to Trump Las Vegas Condos for Sale
Las Vegas Luxury Condos for Sale
The Palms Condos for Sale
MGM Condos for Sale
We specialize in Trump Las Vegas Condos for Sale
Call 702-882-8240