Townhomes for Sale in Las Vegas
We Specialize in Las Vegas Townhomes
ℹ️ More Information
Las Vegas TOWNHOMES by Area
Townhomes Las Vegas
December 9, 2023
Townhomes Las Vegas by Price
---
What and Where are the Las Vegas Townhomes?

Townhouses & Townhomes in Las Vegas - A townhouse is a dwelling that seems to combine the best amenities of a single-family home and a true condominium. Typically, ownership comes with the land that the house is on.The greatest benefit is that the exterior may be maintained by an association and makes for a nice lock & leave low-maintenance home.
For those looking at Townhomes in Las Vegas, there is potential interest in checking out similar listings in Las Vegas Golf Course Homes for Sale, Homes for Sale with Casita and Las Vegas Homes with RV Parking.
🏠 See Las Vegas Townhomes for Sale ⬆️
Townhomes for Sale in Las Vegas, Henderson & Summerlin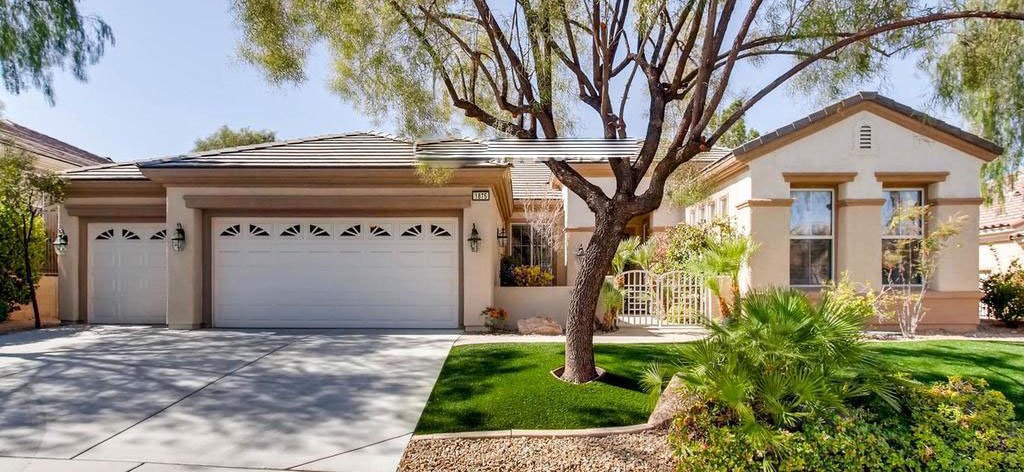 Townhouses are often mixed up with condos, as most people don't know the difference between the two. The essential difference between a townhouse and a condominium is the fact that as an owner of a townhouse you actually own the piece of land your house sits on, whereas a condominium owner only owns the area inside the condo.
Therefore, living in a townhome may be similar to living in a condo but it is not the same. Townhouses are traditionally designed and squished together, so that multiple houses share the same walls. This feature brings a few benefits when it comes to living in a townhouse!
7 benefits of living in a Las Vegas Townhouse
#1 Easy on the budget
We all know the budget is one of the most important factors to take into consideration when investing in real estate. Luckily, purchasing a townhouse will cost you less than purchasing a single-family home in the same neighborhood, regardless of the sqft size. Therefore, in terms of budget and finance, living in a townhouse is a pretty good investment.
Moreover, in some townhouses you can score additional financial benefits, such as having your office space within the house or having extra storage space. Unlike condominiums, most townhouses have garages for extra storage space, which is included in the price. Thus, you will save the money you would have otherwise spent on renting a storage box or an office area in town.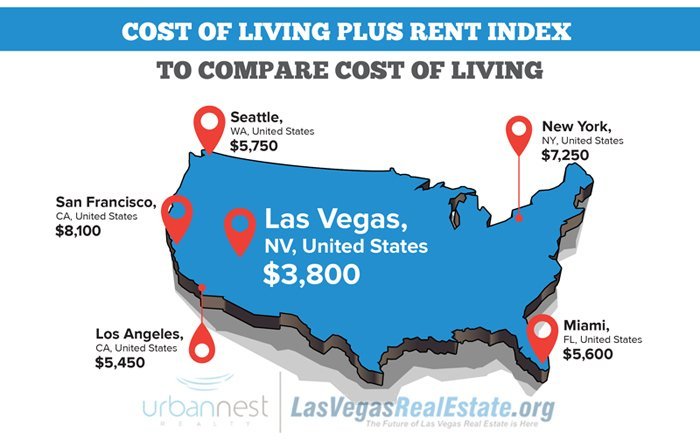 Townhouses for sale in Las Vegas Offset Average Cost-of Living
#2 Worry-free maintenance
When it comes to maintenance, it is a concern for the homeowners' association. One of the biggest advantages in living in a townhouse rather than a single-family house is that you only have to take care of maintenance of the interior of the house. Simple repairs and basic maintenance is still your job but the exterior area of the house, including the yard, is going to be taken care of by the homeowner's association.
Even though the yards included in townhouse properties are often very small and consist of a little land and some flower pattern, it is still nice to have someone take care of it. Therefore, you won't have to worry about major maintenance issues if they appear.
#3 Recreational facilities
When living in a townhouse, you will have access to the recreational facilities and amenities which are included in the price. These amenities most commonly include gyms, pools, tennis courts or other sports courts and you have complete legal right to use them.
Not only that you will have quick access to recreational facilities but you also won't have to worry about maintaining them. All recreational facilities and amenities within the premises of the townhouse are maintained by the homeowner's association. This includes the parking lot and the driveway area as well.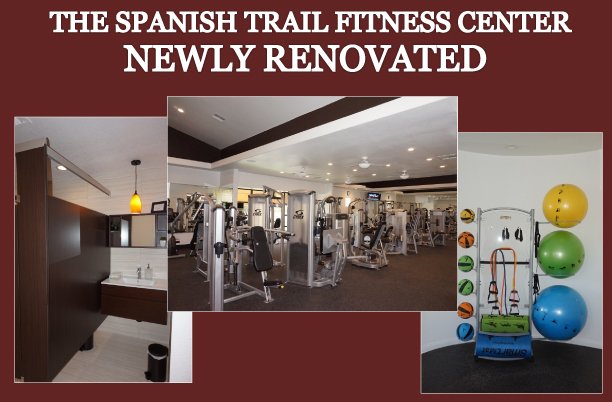 #4 Safety first!
If you're concerned about the safety of the area you live in, purchasing a townhouse will completely relieve your worries. Because of their structure, townhouses are much more secure than single-family homes community areas or even condos. They're structured in a way that there are several conjoined houses sharing external walls. Thanks to this structure, people are more likely to notice if something was going on.
For example, if an intruder was present or a noise was heard, one of your neighbors is most likely to notice it and inform you of possible dangers. They're also close by if you urgently need help regarding any issue, whether it is related to your safety or a simple stove repair.
#5 Less noise
Living in a townhouse in Las Vegas NV will be less noisy than living in a condo. For this, we can also thank the structure of this facility. Because the units are designed next to each other with similar floor plans, instead of one on top of another, there is less noise coming from restless neighbors. In condos, you have one neighbor on the floor above you and the other beneath you, which can get quite annoying if they are loud and noisy.

#6 Location is key
Besides budget, safety and overall convenience, people look for the right location when deciding on their home. A good location consists of all necessary amenities nearby and an overall polite and well-standing neighborhood. If you decide to live in a townhouse, the problem regarding location will easily be resolved.
Townhouses are usually located in the good neighborhoods where schools and emergency rooms are nearby, such as North Las Vegas communities and the Strip area. There are also going to be malls, shops, restaurants and other amenities nearby, making the townhouse location a perfect choice for you!
These Las Vegas LUXURY Townhomes by CHRISTOPHER are in a guard gated community and most have stunning views. HENDERSON Townhomes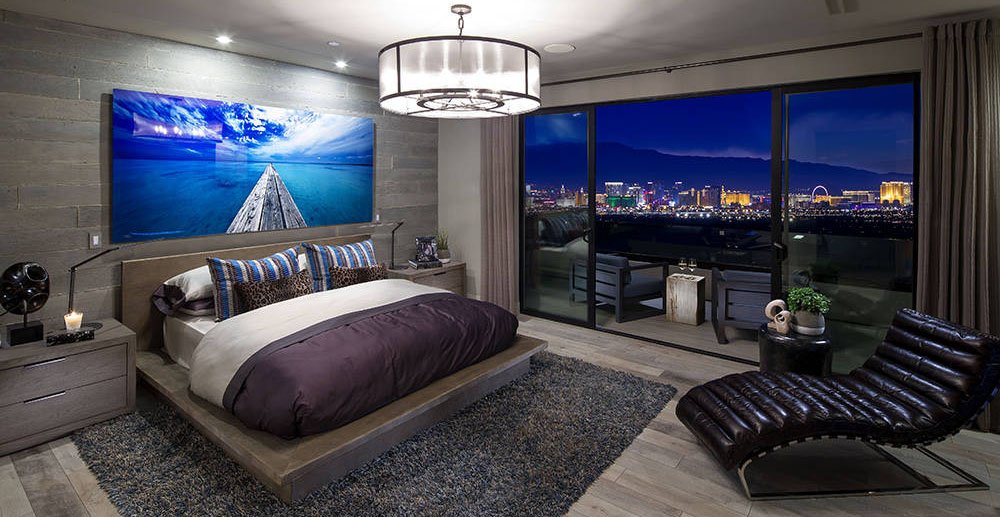 ""These homes still create outdoor spaces that people want to enjoy. They're big enough that they have a great relationship to the indoors. When you're here at nighttime and you're on the outside, it feels like you're on the inside." Christopher Townhouses
#7 Opportunity to socialize
Last but not least, when living in a house you will get an opportunity to meet new people and socialize more often. Community living requires maintaining a good relationship with your neighbors and, who knows, maybe your next door neighbor is going to be an awesome person who will become your new best friend.
Some townhouse communities often hold events for the community members such as barbecues or games on the sports fields that can get the neighbors together on a fun Sunday afternoon!
Las Vegas LUXURY Townhomes in Summerlin and Henderson for a tour of the guard gated communities with townhomes Call 702-882-8240
🏠 See Las Vegas Townhomes for Sale ⬆️
Conclusion
Overall, living in a townhouse is a great deal in so many ways, whether you opt for a resale home or new construction. With low maintenance and the secure design of the facility, your life is going to be a lot more stress-free than it would be in a single-family house. Besides, townhouses are a more affordable solution which will leave you with extra money in your pocket for travel or other activities.
Townhomes are more affordable than single family homes
Las Vegas Townhomes may offer amenities such as community pools and fitness rooms - ect
Las Vegas Townhomes may be in community with ongoing social actives or community parks
Townhouses have less maintenance
Make smart low maintenance rental investment
Less yearly property tax
Biggest benefit may be the ability to lock and leave and use as vacation or "get-a-way" home
If you're planning on making the move and purchasing a townhouse, keep in mind all the great benefits that come with it. On top of it all, you will get the chance to meet new people and socialize, as well as use different amenities included in the price! If you're looking for a new home, keep an eye out for open houses and mls listings, as well as condos for sale in this area.
_
We Specialize in Las Vegas Townhomes Call 702-882-8240
Searches Related to Townhomes for Sale in Las Vegas
Townhomes for Sale in Summerlin
Townhomes for Sale in Henderson NV
Las Vegas Condos for Sale