Spanish Trails Homes for Sale
Spanish Trails Las Vegas is a master-planned community with approximately 640 acres of guard-gated luxury, features over 1,200 homes, including custom-built estates, townhouses, and villas. With amenities such as 24-hour security, tennis courts, swimming pools, and fitness facilities, residents enjoy a life of leisure and security.
We Specialize in Spanish Trail Las Vegas Homes
ℹ️ More Information
SPANISH TRAIL Homes for Sale by Property Type
Today's Best Deals in Spanish Trail
No Matching Listings
Spanish Trails Homes for Sale Stats
December 3, 2023

What is Spanish Trail Las Vegas?
Spanish Trail is an exclusive guard gated community that provides residents with a wide range of amenities and services, including 24-hour security, tennis courts, swimming pools, and fitness facilities. The community covers an area of approximately 640 acres and features over 1,200 homes, including custom-built estates, townhouses, and villas. There are also several walking paths and green spaces throughout the community, making it an ideal place for outdoor recreation and relaxation. It is situated on the private golf course of Spanish Trail Country Club.
Spanish Trail Fequently Asked Questions
People who consider buying in Spanish Trail will typically tour also Canyon Gate Country Club to the North, which is a smaller community, while those on more of a budget may go further South to Rhodes Ranch. Typically residents are happy in Spanish Trail and stay for long a long time. If they do migrate in the city it is normally west to the higher priced communities of Summerlin such as Red Rock Country Club or The Ridges.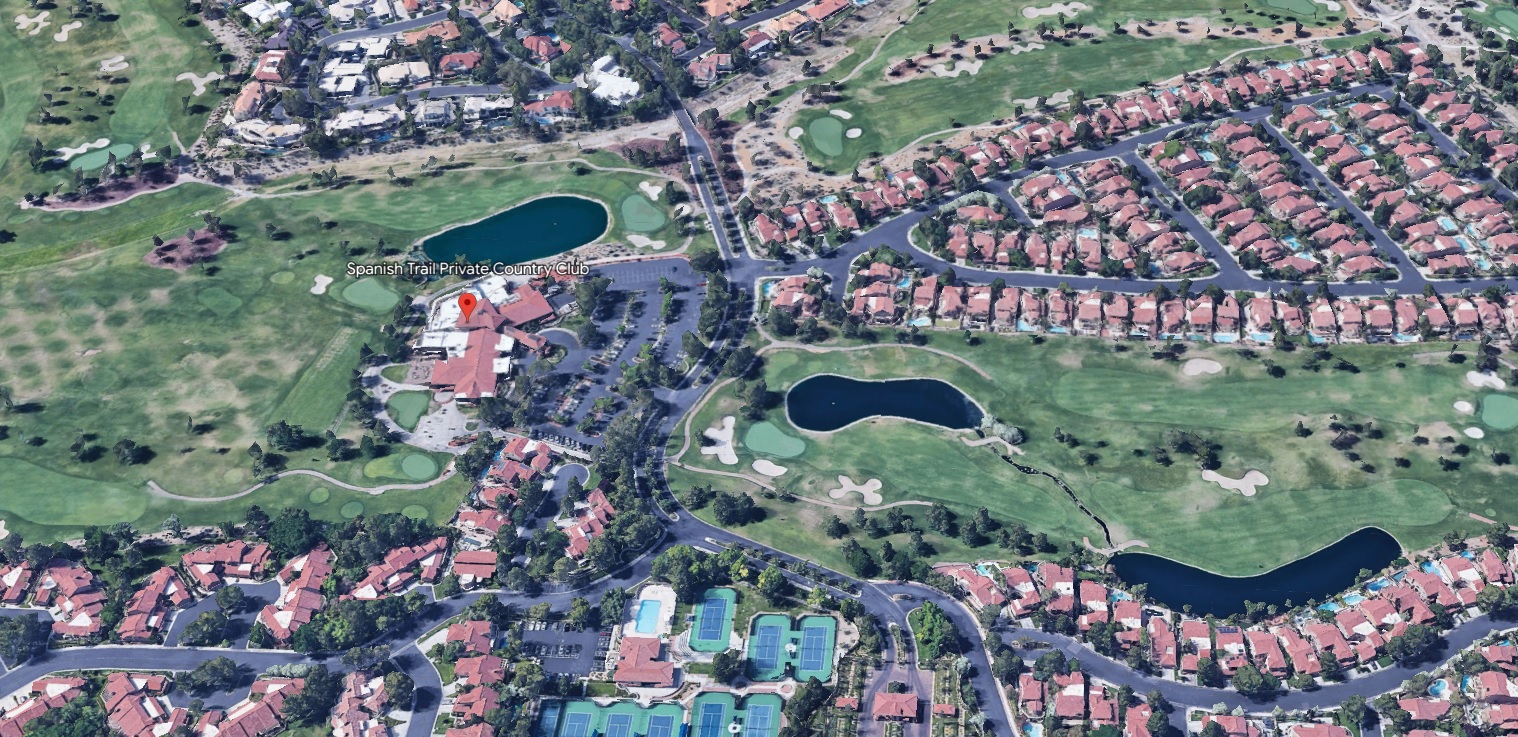 Where is Spanish Trail Community Located?
Spanish Trail community is located at 5050 Spanish Trail Ln, Las Vegas, NV 89113, approximately 6 miles (or 10 kilometers) west of the Las Vegas Strip if you take Tropicana Ave. Another option get to Spanish Trail, you can take Interstate 215 (also known as the Bruce Woodbury Beltway) and exit at Rainbow Boulevard. The community is located just south of the interstate and is easily accessible from anywhere in the Las Vegas Valley.
What Amenities does Spanish Trail offer its residents?
24-Hour Security: The community is gated and features 24-hour security personnel to ensure the safety and security of residents.
Tennis Courts: There are several tennis courts within the community, which are available for residents to use.
Swimming Pools: Spanish Trail features several swimming pools and spas, which are ideal for relaxation and recreation.
Fitness Facilities: There are fitness facilities available for residents, including a gym, yoga studio, and exercise classes.
Walking Paths: The community features several walking paths, which are perfect for outdoor exercise and enjoying the beautiful scenery.
Clubhouse: Spanish Trail has a clubhouse, which hosts various social events and activities throughout the year.
Green Spaces: There are several small parks and green spaces throughout the community, which are perfect for picnics, playing with kids or pets, or simply enjoying the outdoors.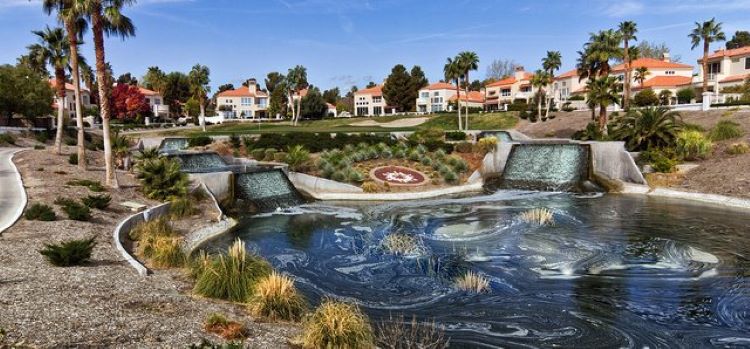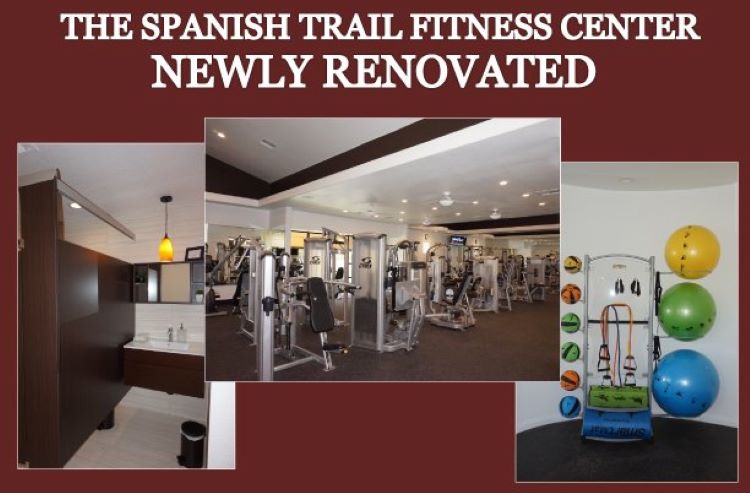 The gym has been expanded to accommodate the new equipment, including a rowing machine and additional cardio machines that were in high demand. Flat screen TVs have been installed as well as a new sound system.
The lobby and restrooms now have a fresh, contemporary appearance with new tile, comfortable seating areas, and coffee nooks. Remember to stop by to show your potential buyers the updated facility! Don't forget to step outside and visit the pool area and tennis courts!
Spanish Trail Fitness Center Hours:
Monday – Thursday 5:00AM – 9:00PM
Friday 5:00AM – 7:00PM
Saturday – Sunday 7:00AM – 7:00PM
Spanish Trails Pool and Spa – Open 24 Hours
Spanish Trail Tennis Courts – 7:00AM – 10:00PM Daily
more info at association site http://www.spanishtrail.net/
Overall, Spanish Trail offers its residents a luxurious and comfortable lifestyle, with access to a variety of amenities and services designed to meet their needs and interests.
What is the HOA fee in Spanish Trail?
The monthly HOA fee in Spanish Trail can range from $250 a month to over $1,000, depending on the type of home and location within the community. See individual listings for details as some homes are in double guard gated communities. The Spanish Trail townhomes will also have an extra HOA fee for that specific townhome community.
Spanish Trail Communtiy History
The Spanish Trail community in Las Vegas was developed in the 1980s by the Olympia Companies, a real estate development firm based in Las Vegas. The community was built on the site of the historic Spanish Trail Ranch, which was originally owned by the Kerkorian family, one of the most prominent families in Las Vegas.
The Spanish Trail Ranch was a working ranch that covered over 640 acres of land and was home to cattle and horses. In the 1960s, the Kerkorian family began to develop the land into a residential community, which eventually became Spanish Trail.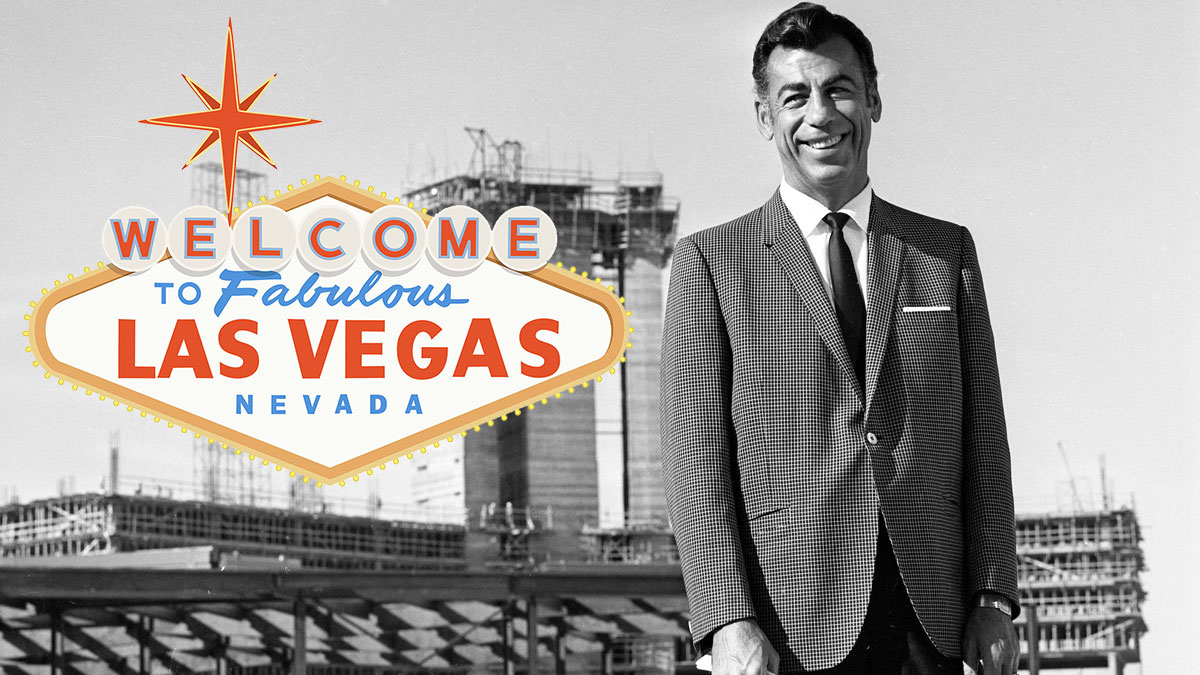 Kerkorian was one of the important figures in the shaping of Las Vegas. He built the world's largest hotel in Las Vegas three times and purchased the Metro-Goldwyn-Mayer movie studio in 1969.
Who Lives in Spanish Trail Las Vegas?
Over the years, Spanish Trail has been home to a number of notable residents, including musicians, athletes, business executives, and other celebrities. Some of the past and present residents of Spanish Trail have included Steve Wynn, Tiger Woods, Andre Agassi, Vince Neil, Mike Tyson and David Cooperfield.
Spanish Trail Country Club &
Semi-Private Golf Course
Enjoy an exclusive experience without needing full membership status! Spanish Trail Country Club has transitioned to semi-private, allowing non-members to book and play the golf course. However, members still have priority when it comes to tee times. Whether you're looking for a challenging round of golf or want to relax and take advantage of the luxurious amenities, Spanish Trail has you covered.
You do not have to be a member now to play the course :)
Since opening in 1984, the course conditions and inviting Clubhouse atmosphere are the reasons why Spanish Trail Country Club has remained a stand out among other Clubs in the Valley. Our 27-hole championship course has been the home to 5 PGA Tour Las Vegas Invitationals and offers the perfect combination of Country Club tradition and Resort living.
Looking for a top-tier golf experience in Las Vegas? Look no further than the Spanish Trail Golf Course. Designed by renowned golf course architect Robert Trent Jones Jr., this course features three nine-hole layouts that offer a challenging yet enjoyable round for players of all skill levels. With stunning views of the Las Vegas skyline and the surrounding mountains, this course provides a truly unique golfing experience.
Spanish Trail presents the public with a wonderful opportunity to enjoy private country club conditioning and amenities and is considered to be a top-rated experience. This club was exclusive and private for decades. So most people do not know they can play this course.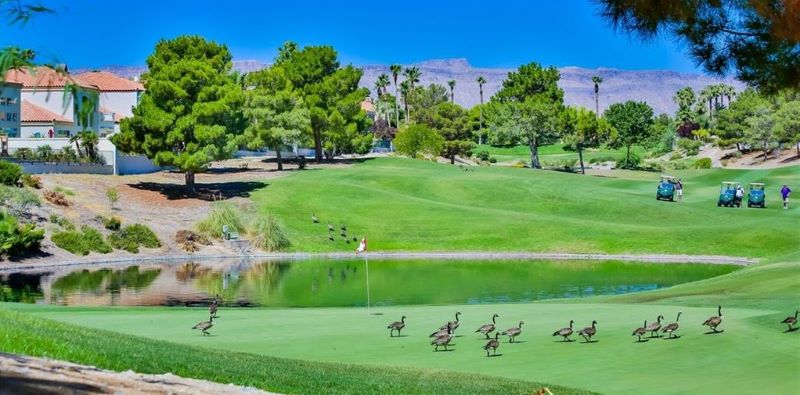 This beautiful 27-hole golf course is considered one of the best in the city. Not only will you enjoy a dreamlike view with waterfalls, but you can also take advantage of a well-stocked clubhouse, pro shop, locker rooms, fitness facility, and two swimming pool pavilions – all in one convenient location.
The club's fully stocked bar boasts exquisite wines and spirits from around the world and serves a variety of classic and craft cocktails. The fine-dining restaurant features delicious international cuisine with seasonal selections sure to please every palette. Therefore, the guests can mingle and relax at the bar or enjoy the sophisticated yet casual dining setting, ideal for intimate conversations.
The first-class practice facilities help golfers hone their skills. For example, the club features a targeted grass range, a short game area with a sand bunker, plus practice balls available to both members and fee-paying guests. All these amenities offered by the Clubhouse are designed to provide maximum enjoyment and recreation in an elegant atmosphere. read full review here.
The club itself is 50,000 square feet of comfort and has 30 years of excellent service on record. The fitness facility has a variety of machines and personal trainers, not to mention Yoga, Pilates, and Zumba classes for the adventurous among us.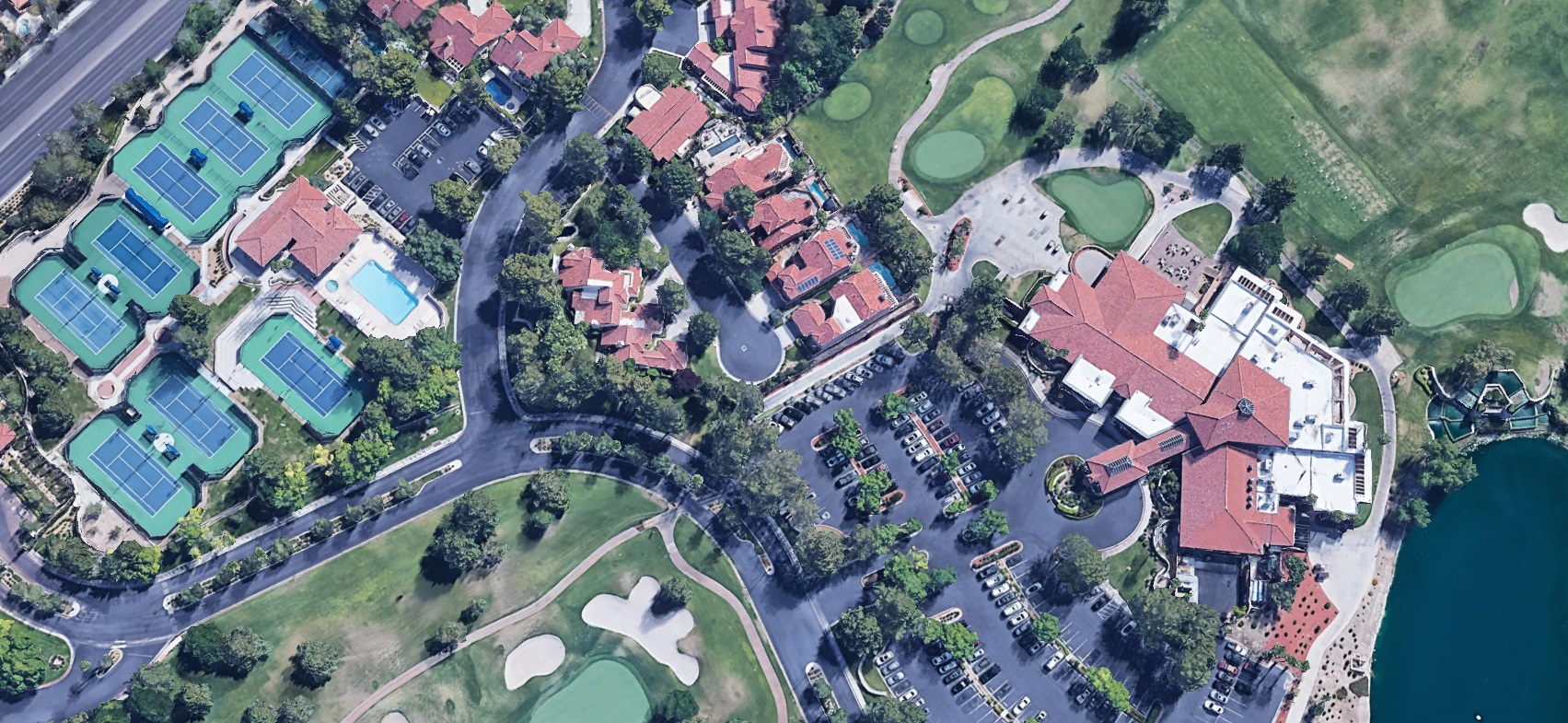 After a good workout, two swimming pool pavilions will help you relax, or even keep warm in the winter since it's a heated pool. Jacuzzis run all year round and you can sign up for water aerobic classes. If you want more social gaming and activity, head over to the card room for games of gin rummy, poker and more. There are rooms for men and women as well as a place to lounge.
Country Club offers a GPS system with the golf cart to manage the pace effectively. There are also two tennis centers here with 12 tennis courts that are lighted for days and nights. The automatic ball machine ensures that even single players get their workout.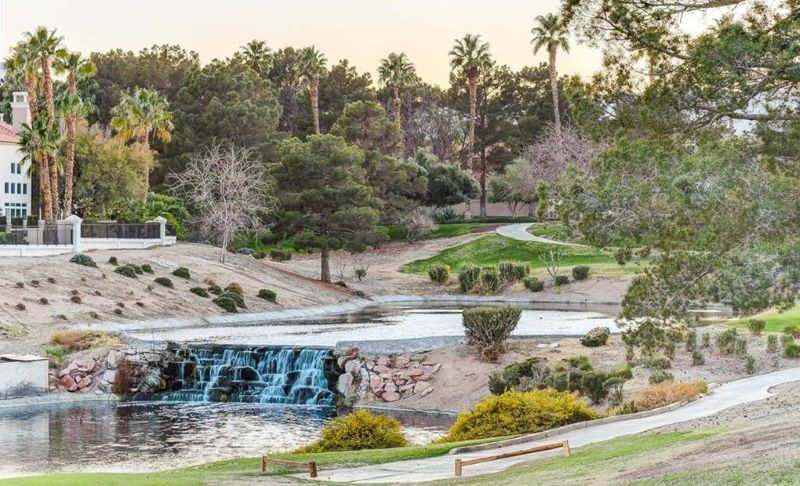 Whether you're a seasoned golfer or just starting out, the Spanish Trail Golf Course is a must-visit destination for anyone looking to play golf in Las Vegas. Book your tee time today by visiting their website at https://spanishtrailcc.com or by calling (702) 364-0357. Come see for yourself why this course has been a favorite of locals and visitors alike for over 30 years.
What Schools Are Close to the Spanish Trail area?
There are several schools in the Spanish Trail area that offer quality education to students of all ages. Here is a brief description of each school along with their website and phone number:
Kathy L. Batterman Elementary School - This is a highly rated public school that serves students from pre-K to grade 5. The school is known for its rigorous academic programs and excellent teachers. Phone: (702) 799-1910
Victoria Fertitta Middle School - This public school serves students in grades 6-8 and is highly rated for its academics and extracurricular activities. The school has a strong focus on STEM education and offers a variety of programs to help students excel in math and science. Website: Phone: (702) 799-1900
Durango High School - This is a public high school that serves students in grades 9-12. The school is known for its strong academic programs and extracurricular activities, including athletics, performing arts, and student clubs. Website: https://www.durangohs.org/ Phone: (702) 799-5850
Bishop Gorman High School - This is a private Catholic high school that serves students in grades 9-12. The school is highly regarded for its academic programs and athletics, and has a strong focus on preparing students for college and beyond. Website: https://www.bishopgorman.org/ Phone: (702) 732-1945
Note: It's always recommended to contact the schools directly to get the latest information on admissions, programs, and other details.
What is the Crime Rate in the Spanish Trail community?
The crime rate in Spanish Trail is lower than the national average, and it is a lower crime area compared to many other Las Vegas communities. Due to its Guard gated entrance and roaming security, it is considered one of the safest communities.
Spanish Trail Homes for Sale
Spanish Trail Las Vegas Homes include custom-built homes, townhomes, and villas. The community is known for its luxurious and spacious homes being built at a time when large rooms where common and people entertained in there homes. Custom-built homes are some of the most sought-after properties in Spanish Trail, and they range in size from 2,500 to 20,000 square feet.
These homes offer a range of architectural styles, including Mediterranean, contemporary, and traditional, with breathtaking views of the golf course. Most homes were built at a time when Las Vegas was at its best and the homes reflect the personalities of those who made Las Vegas their home. Your not just buying a home...your buying a piece of Las Vegas history.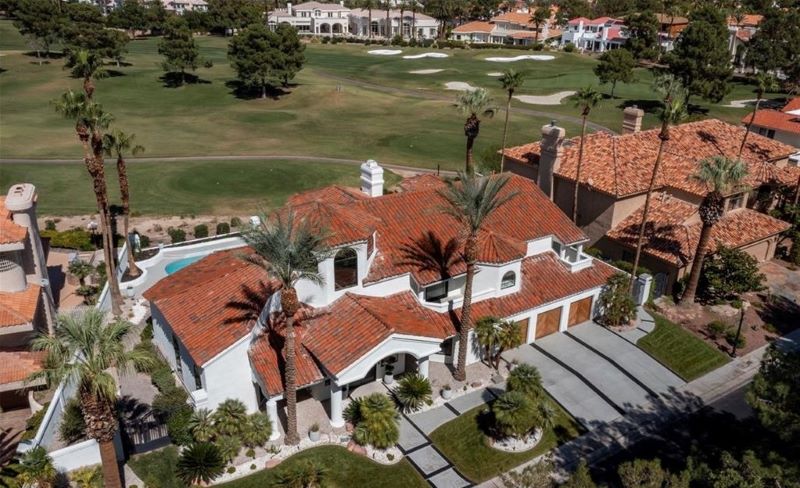 In addition to custom-built homes, Spanish Trail also has townhomes and villas available for those looking for a smaller, more low-maintenance property. Townhomes in Spanish Trail typically range in size from 1,500 to 3,500 square feet and offer a range of floor plans and features. Villas are smaller still, typically ranging from 1,000 to 2,000 square feet, and they are perfect for those who want a cozy, low-maintenance home.
With eleven distinct neighborhoods and 1,252 homes and townhomes (townhouses), the price range can vary from, say, $300K to $15,000,000. There is a rare diversity here, being that there are lock-and-leave townhouses available.
Spanish Trail Townhomes and Villas
Overall, this community offers close access to important amenities and facilities needed to maintain a good quality of life. Most importantly, the residents can enjoy extra security and comfort provided by the gated entrance and lighted streets. If you are interested in Spanish Trails homes for sale, check out some of the latest real estate listings for properties in the area.
From the lush landscaping and cascading waterfalls to the diverse recreational activities available here, Spanish Trails is sure to give its residents the ideal lifestyle they deserve. If you desire to become a resident yourself, this article will be of great help to you. We'll explore how to buy a home in this area and also discover some of the latest real estate listings for Spanish Trails Las Vegas homes for sale. So join us in this post as we dive into all this amazing place has to offer!
Searches Related to Spanish Trails Las Vegas
Las Vegas Country Club
Rhodes Ranch Las Vegas
Spanish Hills Las Vegas
We specialize in Spanish Trail Homse for Sale
Call 702-882-8240
Search Spanish Trails Homes
Back to Luxury Homes