SoHo Lofts Las Vegas for Sale
We Specialize in SoHo Lofts
ℹ️ More Information
SoHo Lofts for Sale by Size
Condos for Sale SoHo Lofts
SoHo Lofts Las Vegas Stats
December 3, 2023
SoHo Lofts Las Vegas Condos For Sale

SoHo Lofts located in the Art District of Downtown Las Vegas on the Las Vegas Strip and Hoover Avenue. Modeled after New York's artsy SoHo neighborhood, This $60 million upscale high rise development is a 16 story tower that has 120 units ranging from 1,336 square feet to 1885 square feet, including eight penthouse suites. Rooftop pool with spectacular views of Strip and mountains, spa, sauna, state of the art fitness center and five story parking garage.
For those looking at SoHo Lofts Las Vegas, there is potential interest in checking out similar listings in Newport Lofts Las Vegas, Juhl Las Vegas and Sky Las Vegas for Sale.
🏠 See SoHo Lofts for Sale ⬆️
Monthly association fee for amenities starts at $585/mo.*
SoHo Lofts Las Vegas
The luxurious complex SoHo Lofts is located on the Las Vegas Strip and Hoover Avenue of Downtown Las Vegas. Being situated within the Arts District, this complex offers you a way to live the true, urbanized loft style while having easy access to various amenities and facilities of the city. As the name itself may ring a bell, this complex is modeled after the famous New York's neighborhood SoHo, a highly sophisticated and artsy area.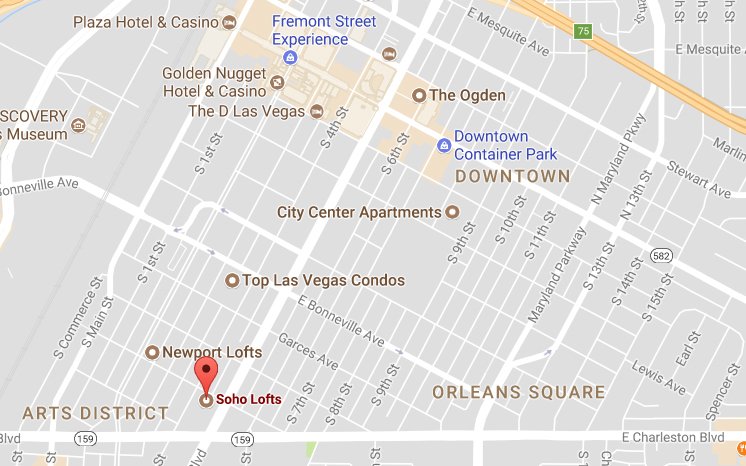 Built in 2006 and worth more than 60 million dollars, this modern high rise development features open style lofts with exposed water pipes and ventilation ducts. The high, 11 foot ceilings, which are usually considered a luxurious addition to any space, add to the exposed style of the apartments.

SOHO lofts are popular for those looking for a central location to Downtown Las Vegas. Other options that buyers normally choose are Allure condos and also Sky Las Vegas.

Originally, there are no walls dividing the area within the lofts, as everything except the bathroom is exposed. You can, of course, convert certain areas into separate rooms according to your needs to creare an office toom or an extra bedroom.
Condos for Sale in Downtown Las Vegas - SOHO
The 16 story tower consists of a total of 120 units, whereas eight of those are luxurious and upscale penthouse suits. What attracts most of the buyers to this complex are the stunning panoramic views of the Las Vegas Strip and the surrounding areas, such as the Red Rock. You can enjoy the views from the rooftop deck and the lofts as well, since they feature oversized windows perfect for catching the scene.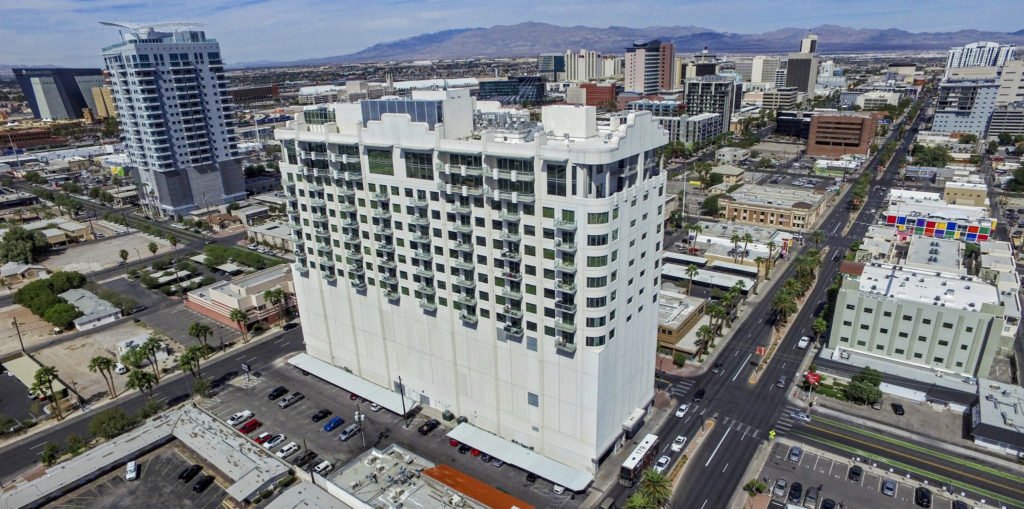 The building features seven different floor plans, giving you plenty of choices for your loft style living. The units range from 1336 square feet to 1855 quare feet and provide a wide variety of amenities. Each unit is equipped with top class, stainless steel appliances and kitchen essentials. Speaking of the kitchen, the SoHo Loft kitchens feature large islands, granite countertops and designer sinks and fixtures, as well as special Italian cabinetry by Dellacasa.
VIDEO: High Rise Condos Tour
🏠 See SoHo Lofts for Sale ⬆️
Other features of the units include sealed concrete flooring, which, in addition to the exposed pipes and duct work, adds essence of loft living. Each unit has its own, private glass enclosed terrace where you can relax, have a morning coffee and enjoy the beautiful views of the Las Vegas valley.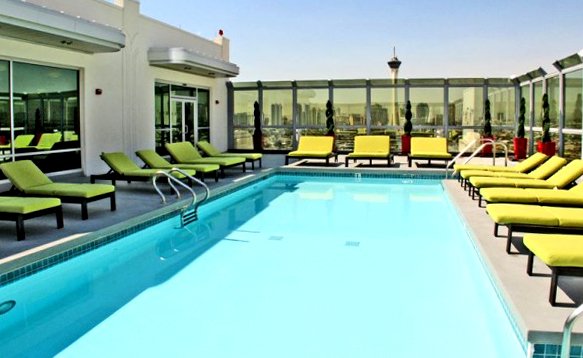 Moving outside the apartments, the SoHo Lofts complex has a lot more to offer. Besides spectacular views, the rooftop deck has many amenities you can enjoy in. Such is, for example, the rooftop pool with a jacuzzi and a spa that includes a sauna as well.

We shouldn't forget the sun lounge, also located on the rooftop, which is a spacious and comfy area perfect for hanging out. The rooftop of this complex is the full package for relaxation and entertainment that will make you feel as if you were on a vacation.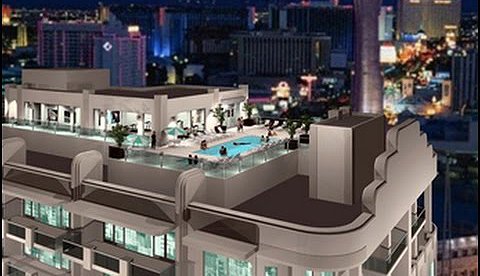 If you happen to be in a mood for a good workout, you can visit the fitness center within the complex, equipped with state-of-the-art fitness machines and equipment. The Hip Bar is also available within the complex, whenever you feel like getting a refreshing beverage without leaving the building.

This solid structure is located 225 feet above the famous Las Vegas Boulevard and only a short walking distance from world class casinos, venues and theaters. Entertainment is never in question when living in Downtown, especially when you have a unit in such an upscale complex as SoHo Lofts.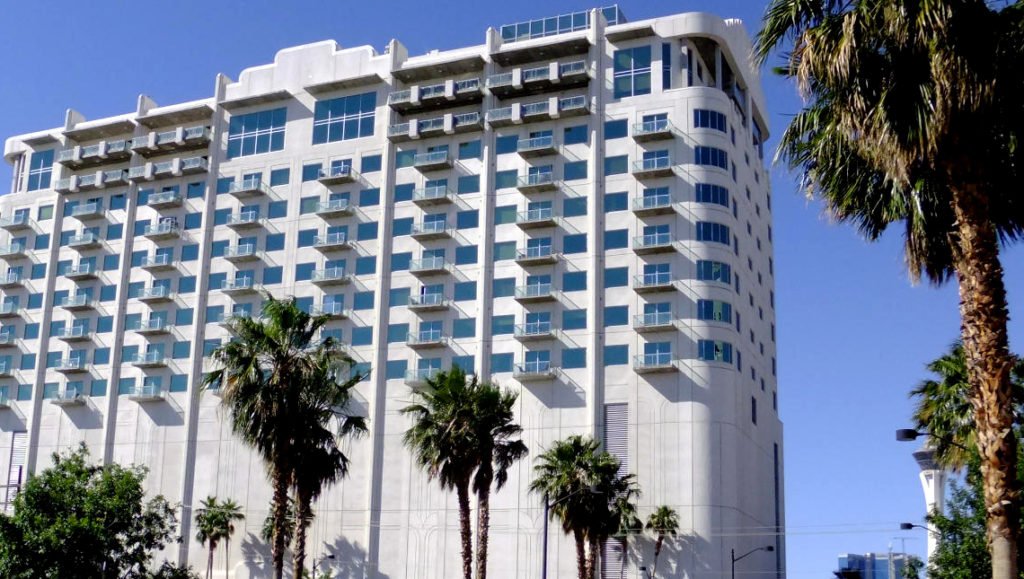 The grand lobby entrance will win you over the moment you walk in. The elegant style mixed with modern features leaves a great first impression but what will really make you choose one of these apartments is the variety of amenities, both within the units and throughout the whole complex.

More than 50% of the ground floor consists of retails and restaurants, providing you plenty of options when it comes to shopping and dining. You will also find the famous Resnick's grocery store at ground level of SoHo Lofs, along with plenty other stores.

Something that will definitely take one of your concerns off of your mind is the fact that the SoHo Lofts building has a five story parking garage with more than enough space to secure a safe spot for your car. The complex includes plenty of services, including a doorman available for you 24 hours. The staff of the SoHo Lofts are polite and reliable, and most importantly, they are at your service whenever you need them.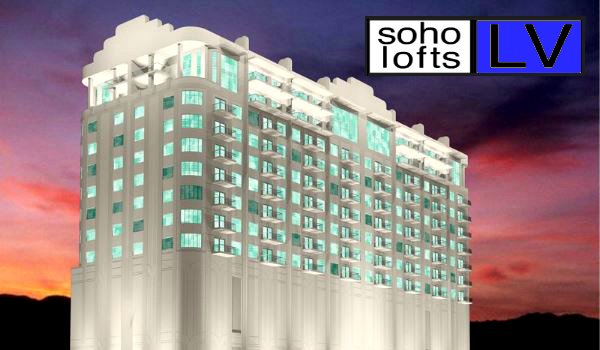 Besides the various amenities inside the complex, the convenient location of the SoHo Lofts allows you to experience the Downtown Las Vegas neighborhood first hand. The Art District is a great location to live in for numerous reasons. It is known for the monthly "First Friday" Art Walk event, where you can enjoy art works by dozens of artists as well as musical performances and food servings.

The Art Walk event has a festival-like atmosphere which you are surely going to love. The fact that you are located on the Las Vegas Strip gives you plenty of opportunities to get to know the lifestyle of this community. You wllbe surrounded by world class casinos, restaurants, shopping sites and art galleries the moment you step foot outside the SoHo Lofts complex. You can also have fun in the popular attractions of the Las Vegas Strip, such as the High Roller observation wheel and the soaring.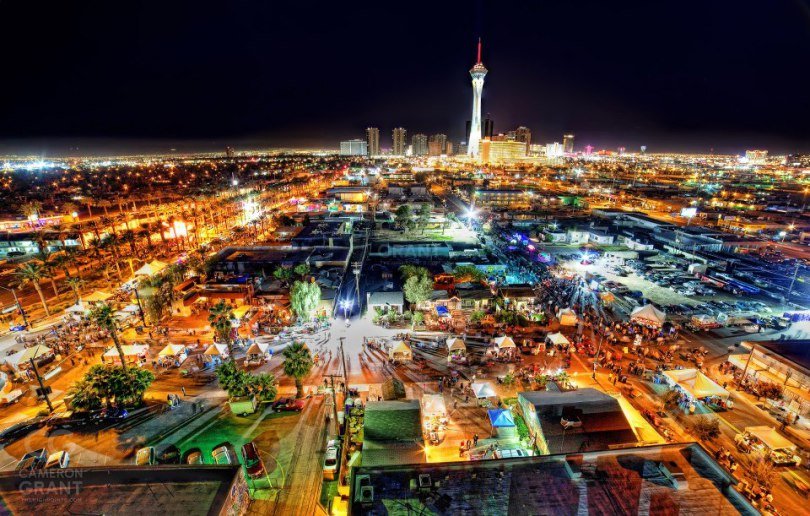 When great location and world class amenities are put together, you get an upscale luxury complex such as the SoHo Lofts Las Vegas for sale. This 60 million dollar worth structure will show you exactly what it's like to live the loft style while enjoying the fun side of Las Vegas.

Thanks to the rising economy, fun is not the only thing that draws people to this location, as there are plenty of job and business opportunities as well. Whether you came to Downtown Las Vegas for business or pleasure, you are going to love the luxury and elegance combined with the functionality you get at the SoHo Lofts complex! Contact us for more information about real estate for sale with open floor plans and luxurious features.
Searches Related to SoHo Loft Las Vegas
Newport Lofts Las Vegas
The Ogden Las Vegas
Juhl Las Vegas
○ We specialize in SoHo Lofts Condos for Sale
Call 702-882-8240
Las Vegas High Rise Condos:
| | | |
| --- | --- | --- |
| Allure Boca Raton City Center High Rises Manhattan Metropolis | Newport Lofts One Las Vegas Queensridge Towers Panorama Towers Park Towers | Regency Towers Sky The Martin TURNBERRY PLACE Turnberry Towers |
Search SoHo Lofts Condos
Back to Las Vegas High Rises