Sky Las Vegas Condos for Sale
We Specialize in Sky Las Vegas Condos
ℹ️ More Information
Sky Condos for Sale by Size
Condos for Sale Sky Las Vegas
Sky Las Vegas Stats
December 3, 2023
---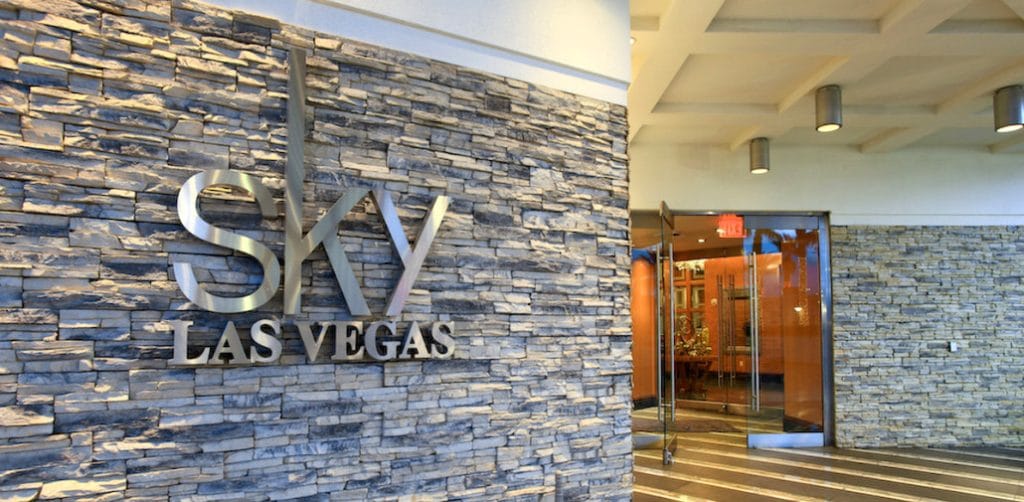 Sky Las Vegas is an ultra modern, luxury Las Vegas high rise condo tower situated on the world famous Las Vegas Strip. Sky condos for sale include 409 units ranging from 807 square feet to over 5,500 square feet Las Vegas Penthouses premium three-story suites with rooftop garden patios. Fitness center, indoor racquetball, business center with private meeting room, billiard room with bar, valet parking, concierge services, and 24 hour state of the art security.
Buyers who look for Sky Las Vegas Condos for Sale may also be interested in viewing similar properties in Turnberry Towers for Sale, Allure Las Vegas & MGM Signature Condos for Sale.
Sky Las Vegas Condos
Video: Sky Las Vegas Overview
🏠 See Sky Las Vegas for Sale ⬆️
Sky Las Vegas is an amazing modern high rise structure located on the Las Vegas Strip, right next to the famous Sahara resort hotel. This 45 story condominium tower screams luxury and prestige, offering you the charm of living in a contemporary, state-of-the-art facility. The building itself features outstanding finishing touches with unique blue glass framework and a structure that provides 400+ residencies.
Each of the units offers amazing views of the Las Vegas Strip and its surroundings. The homes range in size from 870 to 5500 square feet, giving you plenty of options to find something suitable for your needs. If you want to really step up your condo game, you can choose a 3-story penthouse condo in the Sky Las Vegas condo complex. These enormous penthouses offer outstanding views, great balconies and even a private spa.
Each condo features a luxury interior with plenty of space to work with. The kitchens are equipped with top class stainless steel appliances and granite countertops. The bathrooms feature tile marble and amazing tubs with views of the Las Vegas strip. You may want to choose a condo on the corner of the building because they have huge wrap – around balconies with plenty of space for relaxing on fresh air.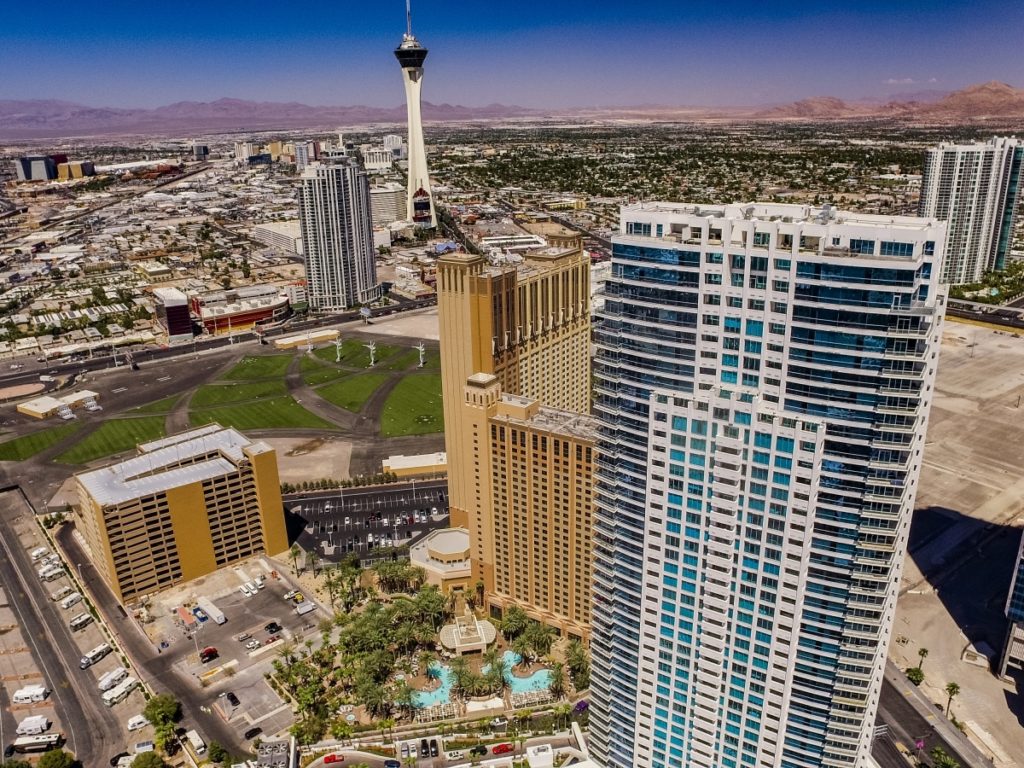 The Sky condos Las Vegas offers its residents numerous great amenities for entertainment, relaxing and pure convenience. Starting from the beginning, the gated entrance to the complex features a 24 hour concierge service as well as valet parking.
You don't have to worry about running out of parking space because each unit has its own space assigned properly. The premises of the complex are under 24/7 video monitoring system, so you can cross security off your list of concerns if you are going to live in this luxury condo complex.
The complex features a large outdoor area with plenty amenities such as hot tubs, BBQ areas and pool areas. Over an acre of green surface provides enough space for all sorts of activities, so if you like having guests over or enjoying family gatherings, the outdoor area of the Sky Las Vegas condo complex has everything you need in order to have a great time.
Amenities at Sky Condos
The pool in the outdoor Skygarden area has private cabanas to make your experience as enjoyable as possible. The cabanas have TVs and feature access to WiFi so that you can make the best out of your relaxation time. Besides the pool, you can enjoy in a state-of-the-art spa with full services, including saunas as well. The complex includes a fitness center with all the newest equipment for both cardio and strength training. For those who want to keep their body in shape, the gym is never too far away! The fitness center is for residents only so you don't have to worry about it being too crowded.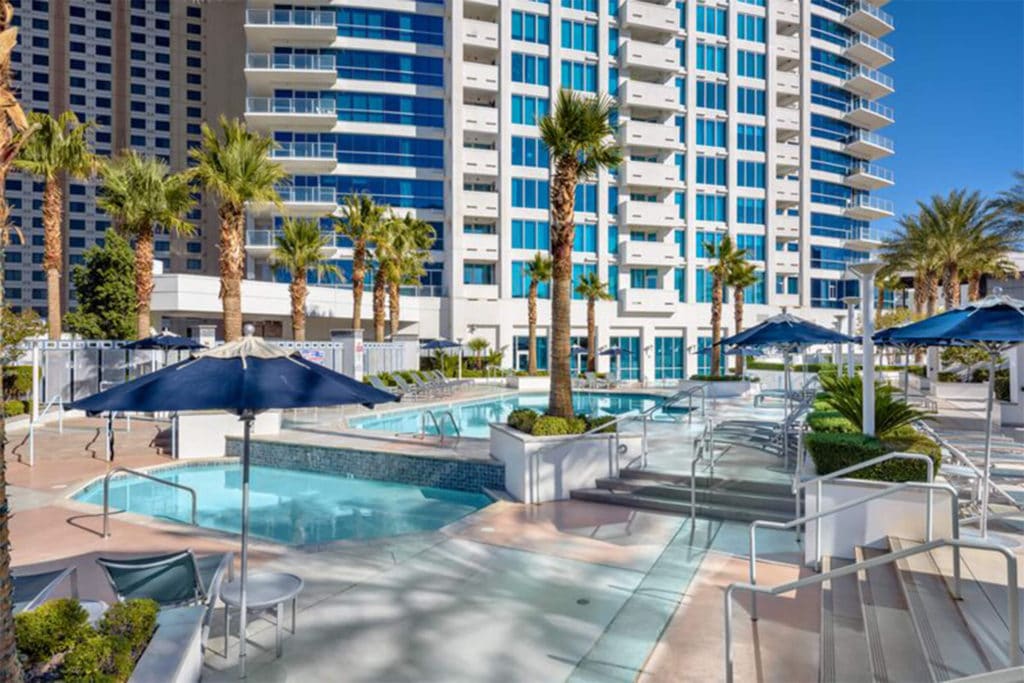 If you are looking for a good workspace to take care of your tasks, the complex also offers a business center with high speed WiFi access and a conference room for all your business needs. As far as entertainment goes, you can never get enough of it in the city of Las Vegas.
Within this complex you can enjoy a great social room with plenty of fun amenities, including billiard tables. There is also a private theater and a screening room if you feel like watching a movie with your friends without leaving home.
Entertainment wont be a concern because, besides everything you can do within the complex, there are tons of things you can do nearby. Thanks to the great location of the Sky Las Vegas condo complex, you will be right next to the Strip.
Speaking of the night, the amazing views from this luxurious 45 story towers are even better during night time! It is also important to mention that the complex is close to the Fashion Show Mall where you can shop in world famous retails, as well as the T-mobile arena, the University of Nevada Las Vegas, the Convention Center and the International Airport. All together, the location of the Sky Las Vegas condo complex is extremely convenient.
Besides the beautiful exterior, luxurious interiors, great unit features and outdoor amenities, this top contender in the luxury high rise game features great services such as 24 hour concierge and dry cleaning and laundry services. A CVS Pharmacy is conveniently located below the residential tower so, in case of any emergencies, you will have a pharmacy nearby.
We all have to agree that the best things about this condo complex are its location and the spectacular views. However, we wont overlook all other aspects it has to offer, such as top class appliances in each unit, spacious rooms and luxurious designs, fitness and business centers as well as great entertainment rooms.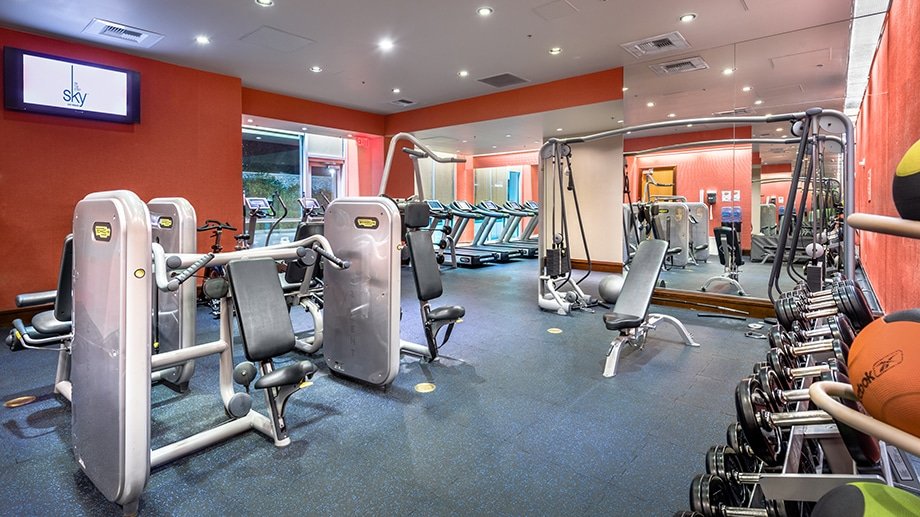 The units come in various shapes and sizes so you everyone can find what they like best. Possibly the most amazing units are the 3-story penthouses and those located on the corners of the building with wrap – around balconies.
No matter which unit you choose, you will get amazing views from every room, overlooking the Las Vegas strip and the mountains in the back. As far as services go, the staff of the Sky Las Vegas condo complex are very polite and are at your service 24/7.
Speaking of which, the complex is under 24/7 surveillance system to ensure your safety at all times. The security cameras cover the interior of the building, as well as all outdoor areas and the parking spaces.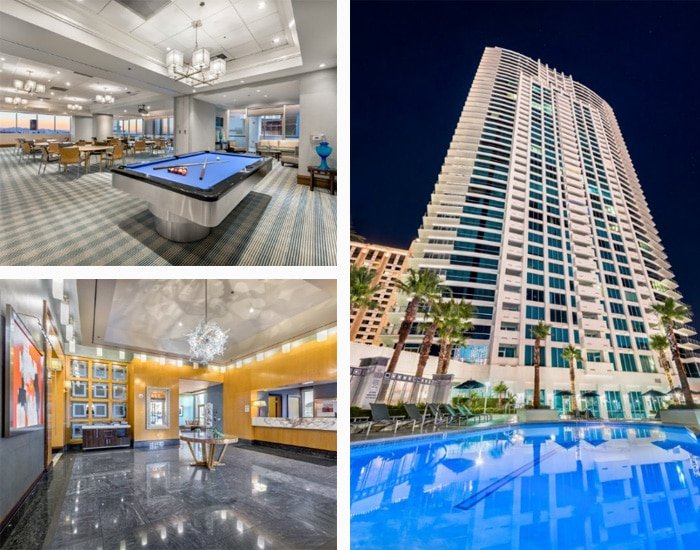 Sky Condos Overview
As one of the best Las Vegas condominiums, Sky Condos offers a over an acre of outdoor recreation area with pool and garden space complete with putting green, outdoor fire pit, barbeque area, and dog run. Indoor amenities, social media room overlooking with panoramic views of the Las Vegas Strip and surrounding Red Rock mountains, a spa and fitness center, indoor racquetball, and a business center with private meeting room. If you are interested in a high rise condominium such as a Sky condominium Las Vegas, be on a lookout for new mls real estate listings on our website. Choose from different floor plans and layouts to find a Sky Las Vegas high rise condo that suits your needs the best!
Searches Related to Sky Las Vegas Condos
Allure Las Vegas
Turnberry Towers Las Vegas
The Martin Las Vegas
-
We specialize in Sky Las Vegas Condos for Sale
Call 702-882-8240
Search Sky Las Vegas Condos
Back to Las Vegas High Rises