Ranch Bel Air & Circle Homes
We Specialize in Ranch Bel Air & Circle Homes
ℹ️ More Information
Ranch Bel Air & Circle Las Vegas
October 1, 2023
$1,644,750
Med. List Price
---
What and Where is Ranch Bel Air & Circle Homes?
Ranch Bel Air Las Vegas & Rancho Circle
Rancho Bel Air Homes for Sale & homes for sale in Ranch Circle historic guard gated communities have been a favorite of the worlds most famous celebrities for decades. If your looking for something special and with a flavor of the old Vegas than this is it.
Prospective buyers searching for Ranch Bel Air & Circle Las Vegas might also find interest in exploring comparable Scotch 80's neighborhood Las Vegas, Summerlin Homes for Sale and Rancho Nevada Estates.
🏠 See Ranch Bel Air & Circle Homes for Sale ⬆️
Rancho Bel Air Homes

Rancho Bel Air is a Las Vegas community with plenty of history and character. Located off the Rancho Drive on the north side of Alta Drive, Rancho Bel Air is a vintage yet highly exclusive community featuring large homes and exquisite properties. If you head a mile to the west from Rancho Bel Air, you will come across The Smith Center for the Performing Arts, as well as many amenities and faculties within Rancho Circle, which is another similar neighborhood in the area. Rancho Circle also offers a variety of luxurious homes built on spacious lots.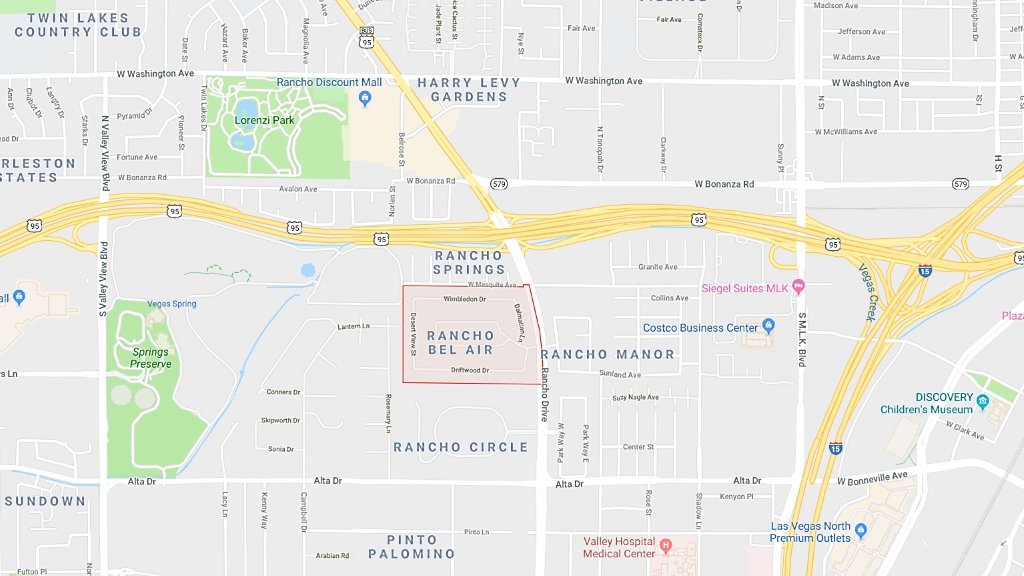 It features a total of 34 completely custom-built homes, whereas Rancho Bel Air is a significantly larger community with 122 custom homes within its gates. What's great about these communities is that all their properties sit on large lots, providing the residents with plenty of outdoor space. Besides having the benefit to spend time outdoors and let children or pets play around, residents can take advantage of these large lots to further customize their property. Whenever we talk about Rancho Bel Air and Rancho Circle, we must mention the history of this area. This classic yet highly exclusive neighborhood was home to some of the world's biggest celebrities.
Rancho Bel Air Community

Some of the biggest names who considered Rancho Circle their home were Elvis Presley and Michael Jackson, among many others. The community was considered one of the most exclusive spots in the whole state of Nevada where residents and celebrities often held parties and gathering events. One of the most prominent people who spent time in Rancho Circle was even the President Ronald Reagan. However, things weren't so great all the time in the area, as Rancho Circle went through many ups and downs in terms of economy and the number of residents/celebrities who lived within its gates.
Everything started back in the early 1940s when R.J. "Bob" Kalternborn saw a huge potential in the land that is home to Rancho Circle properties today. Along with his friend Bob Griffith, R.J. collected 2000$ and invested into the land. When he bought the space, he couldn't even dream that it would become such an important part of Las Vegas and home to the city's elite residents. During the 1950s and the 1960s, the Rancho Circle community grew rapidly. It became richer and more exclusive, as if money was growing on trees there. Kids from other communities and neighboring streets used to go trick or treating in Rancho Circle during Halloween because the wealthy residents provided a lot more gifts and candy.

Back in the day, everyone looked to Rancho Circle as the place where the wealthy spent their money and built lavish homes and mansions. As time went by and the economy changed, Rancho Circle lost its reputation of being the number one residency area for the elite in Las Vegas. Even though it might not be the highest end street in the city anymore, Rancho Circle is still a place where you will see luxurious real estate properties and a piece of American history.
Rancho Bel Air Las Vegas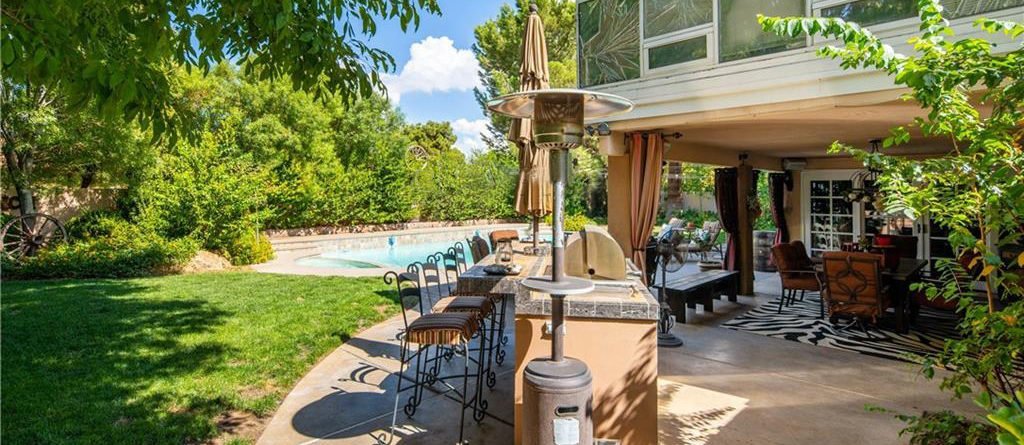 Returning to the present, the area still offers amazing homes and very expensive property rates. All of its homes were built on large lots of at least 0.88 acres, whereas the largest lot in the community measures 2.72 acres. Besides luxurious homes and spacious properties, the community provides plenty of open space and beautiful landscape. You can still find popular names and celebrities within the gates of this community. Some of the current homeowners in Rancho Circle:
Richie Chyme (the creator of the Las Vegas Motor Speedway)
Holly Madison
Pasquale Rotella
McGuire
Hassels
Recessions and economic ups and downs led to the lowering of property prices in Rancho Circle and Rancho Bel Air. However, the community has come back to life in the past few years and it is climbing its way back to the top of the list when it comes to luxurious communities in Las Vegas. If you are looking for a home in a community with character and history, Rancho Circle is a great option to keep in mind, since you will have plenty to talk about when people ask you why you chose this area. Let's not forget that Rancho Circle is very close to the Las Vegas Strip, meaning the residents have close access to all Las Vegas amenities and facilities.

Thus, the residents are only a short drive away from world-class restaurants, shopping areas, and entertainment venues located in the heart of Las Vegas. Besides entertainment and dining, the residents will have close access to top medical facilities with state-of-the-art equipment, top-notch schools and educational facilities in the area, as well as fully-equipped training centers. It is important to mention that Rancho Circle and Rancho Bel Air are guard-gated neighborhoods. Living in a guard-gated community brings plenty of benefits such as increased security and lower crime rates.
Homes for Sale in Rancho Bel Air

Daily traffic is a lot slower in guard-gated communities because the residents have to slow down to enter the community's gates. Access is only allowed to residents and their acquaintances. Other than that, you won't find any strangers roaming the streets of these exclusive neighborhoods. Besides better security, living in a guard-gated community offers a peaceful atmosphere and the feeling of a tight-knit community. Furthermore, Rancho Circle has plenty to offer in terms of properties and the variety of available floor plans, since each home was completely custom built.

Thus, these luxurious homes differ in sizes and designs. However, most of them have been renovated to meet the highest standards of modern living, which is what makes this community so attractive, besides benefits such as convenient location and exclusiveness. Overall, the community of Rancho Circle has plenty of character and an amazing history to look back on, which is why many buyers are interested in investing in its properties that are once again growing in value. The vintage style homes in this area offer a unique character and a very peaceful atmosphere!
Rancho Bel Air Neighborhood Close to University Medical
"We recently were at UMC from 10/29/18-11/3/18 where we received AWESOME SERVICE FROM EVERY SINGLE UMC employee we came in contact with. We were in Vegas on Vacation and had a family member get a foot infection that opened up and would not stop bleeding....We can not thank UMC for providing OVER the top quality care during a very serious infection so far away from our homes. The Nursing staff took such GREAT care and on time scheduled treatment that we were all amazed. The Drs were OVER THE TOP AMAZING and personable and we felt at all times our family member was getting the absolute best of care. We can not thank everyone enough!" - Yelp.com Review
Next to celebrities and busniness owners, doctors working at Univeristy Medical Center have called Rancho Bel Air home. It is located right out the gates and around the corner making it quick for heath professionals needing to stay close to the hospital.
○ We specialize in Rancho Bel Air Homes for Sale
Call 702-882-8240