Panorama Towers Las Vegas for Sale
We Specialize in Panorama Towers
ℹ️ More Information
Panorama Towers Condos by Size
Condos for Sale Panorama Towers
Panorama Towers Las Vegas Stats
December 3, 2023
What is Panorama Towers Condos?
Panorama Towers Las Vegas Condos for Sale

Panorama Towers Las Vegas, located just off the Las Vegas Strip, two blocks west of City Center, Bellagio and Aria on Dean Martin Drive. Two spectacular buildings, 33 and 34 floor stories high, consisting of 646 units of panoramic views of the fabulous Las Vegas Strip and Red Rock Mountains.
Buyers who look for Panorama Towers Las Vegas may also be interested in viewing similar properties in Turnberry Towers Condos, The Martin Las Vegas & MGM Signature.
Video Tour: Panorama Towers


24 hour guard gated security, valet, concierge, swimming pool and jacuzzi, fully equipped state of the art gym including Yoga & Pilates area.
🏠 See One Las Vegas Condos for Sale ⬆️
Panorama Towers Location
Panorama Towers is located at 4525 Dean Martin Dr, Las Vegas, NV across the Harmon Street Bridge from City Center, Aria and The Park. Panorama was winner of 'The Best of Las Vegas' Architecture Award & 'High-Rise of The Year'. The towers consist of a total of 635 condos across an 8.5 acres.
You'll experience a very open feeling with 10' high ceilings, floor to ceiling windows with spectacular views of the mountains and the Strip. The aqua-blue glass towers are 44 stories tall with Floor Plans ranging from 753 sq.ft. to over 4,000 sqft. Las Vegas Penthouses for sale.
Walking distance to the World Famous Las Vegas Strip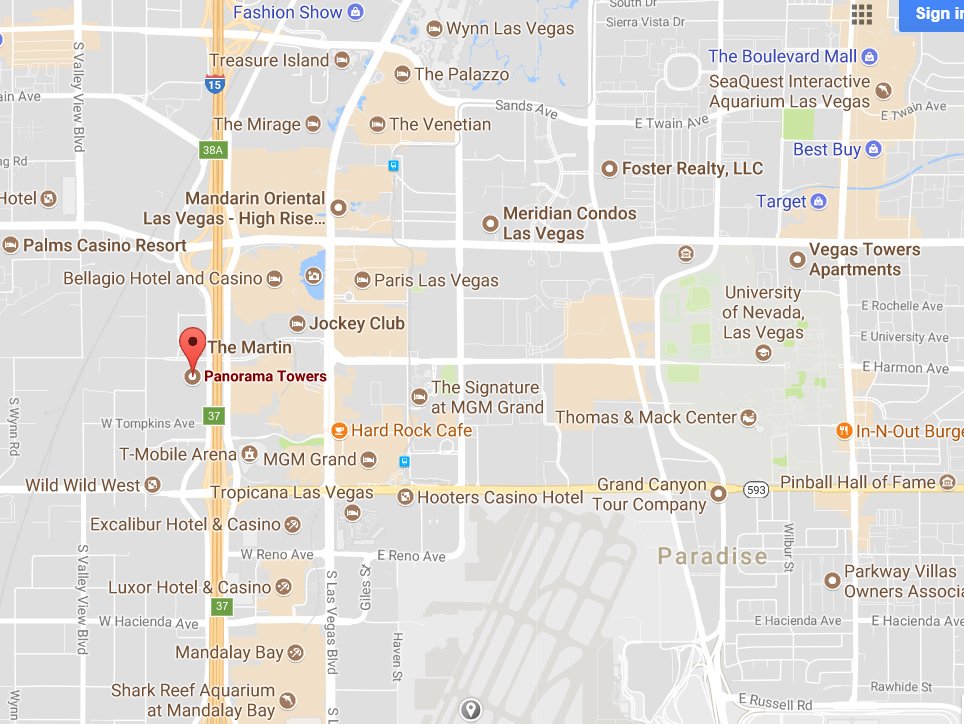 For more information contact your LasVegasRealEstate.org high rise specialist today at 702.882.8240.
Panorama Towers HOA Amenities
Panorama condos has a full list of world class amenities making the lifestyle more like a resort style living complex right off the strip. It's not uncommon to see people at all hours of the day either working out in the gym that faces the pool or people just lying about the pool relaxing.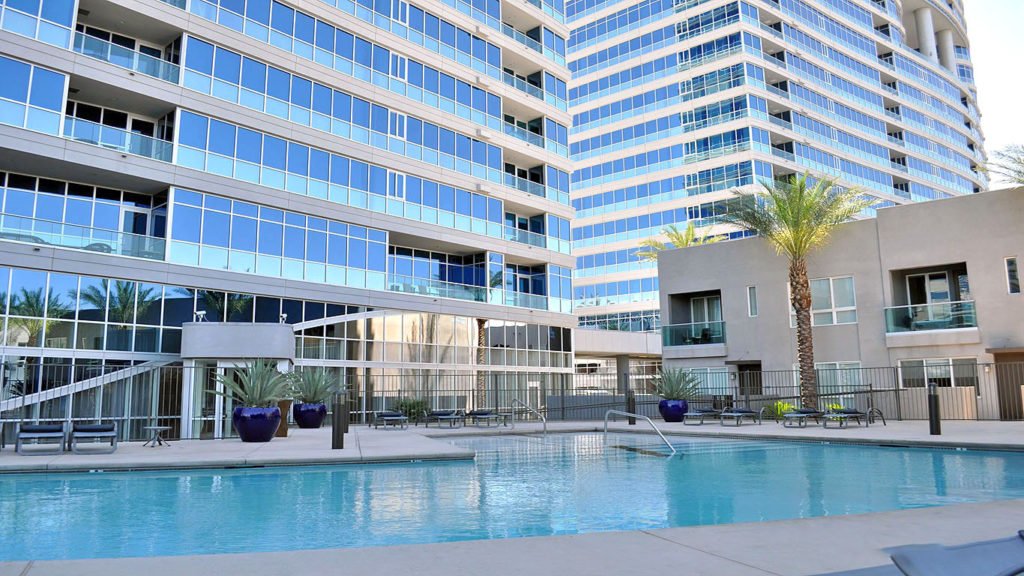 VIDEO: Panorama Towers Condos for Sale Overview
🏠 See One Las Vegas Condos for Sale ⬆️
Panorama Towers Pool & jacuzzi surrounded by lounging chairs Private cabanas facing the pool area with covers and protection from sun.
His and her spa facilities including massage, sauna and steam rooms (front desk has information for call in massage therapist)
Fitness Center with state-of-the-art gym equipment. Including Yoga Pilate area & sometimes classes (check with front desk)
Concierge at front desk 24 hours a day.


Valet service with multiple runners at all times.
24-hr. guarded gate security with state of the art HD cameras.
Conference room with round table seating
Conference room and business center with computer and printer.
Panorama Theater room with large screen and sound that can be reserved. Popular for sporting events and parties.
Panorama Condos Monthly HOA Fees are based on square footage of unit and level.
$486/mo. - 753 SqFt
$610/mo. - 946 SqFt
$730/mo. - 1,126 SqFt
$908/mo. - 1,406 SqFt
$1,013/mo. - 1,583 SqFt
$1,223/mo. - 1,809 SqFt
$1,281/mo. - 2,173 SqFt
$3,175/mo. - 4,820 SqFt
These are approximations. See individual property for specifics.
Panorama Towers Las Vegas Video Tour
Panorama consist of two full-service towers offering on-site Concierge, Valet Service, Gym, Pool, Hot Tub, Steam Room, Dog Park and a Screening Room. Panorama Towers also include The Villas, located in the front of the towers and The Townhouses, situated around the pools.

They offer additional services and space for large party or group events. Panorama HOA is on site during business hours and can work with the front desk and security to accommodate you or your guests to enjoy the public spaces for larger group gatherings on request.

Public amenities nice touches like hot tubs, poker rooms, yoga and pilates classes, conference rooms and 24-hour concierge desks. Limousine services are provided to residents to travel safely and in style. Visitors and residents alike speak highly of the steam rooms, though the most universally mentioned feature is the scenic views from up high—indeed, thirty stories in the air.
There are a few viewing balconies on higher floors that can be accessed by owners to relax or take in the views. The viewing balconies has dead on view of the Las Vegas strip and another with quieter views of the Red Rock mountains.
Panorama Towers
These residential condominiums were created to have the same mix of gorgeous but small modern space in the luxurious style that such famed cities as Los Angeles and New York City can offer in their locations. If people are looking for a high-end space that is well designed and luxurious, while still being in the middle of this busy city, than this is the perfect location to settle into.

This complex has won awards for their excellence. They won The Best of Las Vegas awards in Best Non-Hotel Architecture in 2010, as well as the Las Vegas Review Journal's Editor's pick. They have also won the Hi-Rise Association of the Year Award in 2008, which is awarded by the Community Associations Institute.

They won the AIA Merit Award in 2005, awarded by the American Institute of Architects, Nevada Design awards. Finally, they won the Best of Nevada – Concrete Project in 2006, which is awarded by Southwest Contractor.

In addition to the wide assortment of amenities that Panorama Towers has to offer, they also host events for residents to enjoy on a regular basis. This really helps them stand out from other locations like them.
For instance, they throw monthly mixers right on the Las Vegas Strip for their residents to enjoy and be a part of a community with each other. They also have the Panorama Towers Annual Art Show. This art show is put on to help showcase the talent of local artists.
Walking Distance to
See the Aria link for all City Center options.
What People Have Said About Panorama Las Vegas
"Love living here amazing Gym that includes a spa which has a steam room that I spray some sandalwood and eucalyptus oil sprays into and then just distress and decompress after a long work weekend.
Concierge staff to include Dee and the Hawaiann Carline who always take care of me when I have been a bit over served at one of our local establishments and need a ride back to PANO in our complimentary limos. .....!" - Richard Google Reviews
"Nothing better Matthew and I love the people and our place. It's like our little slice of heaven"
"Very upscale and exclusive just off the strip. Very very nice."
You must see for yourself why the towers were named "Panorama Towers" as a result of their incredible views. On one side of the complex, residents get a picturesque view of the Las Vegas skyline. The other side of the complex can get the breathtaking views of the Red Rock Canyon and the Spring Mountains. The location was chosen to be only around a block away from the center of the famed Las Vegas Strip.



The towers were designed by the famed Vegas-based architecture firm Klai Juba. Other renowned worked from this talented company includes their work on Mandalay Bay, MGM Grand, and the Hard Rock Casino. All of these locations have helped transformed this incredible city's landscape, including the iconic aqua-blue glass towers of this popular residential complex.

Panorama Towers for sale are in a guard gated community and to view these mls real estate units and luxury condos an appointment is necessary. Please allow 24 hours notice to set and arrange showings to get the best amount of units to see and the best experience.
Searches Related to Panorama Towers Las Vegas
Las Vegas High Rises Condos for Sale
The Martin Las Vegas
Turnberry Towers Las Vegas
○
We specialize in Panorama Towers Condos for Sale
Call 702-882-8240
Search Panorama Towers Condos
Back to Las Vegas High Rises