Palms Place Las Vegas Condos for Sale
We Specialize in Palms Place Condos
ℹ️ More Information
Palms Place Condos for Sale by Size
Palms Place
September 24, 2023
---
Palms Place Condos for Sale , a residential high-rise built on the west end of the Palms property. Palms Place is a multi-million dollar, 47-story hotel, condominium, and spa tower that provides 599 suites. 24-hour doorman service, valet parking, private pool and cabanas, easy access to the Palms Casino Resort's numerous restaurants, Theaters and world famous nightclubs!
Buyers who look for Palms Place may also be interested in viewing similar properties in Trump Las Vegas Condos , MGM Signature Condos & Vdara Condos Las Vegas.
Palms Place
VIDEO: Palms Place Condos Tour
🏢 See Palms Place Condos for Sale ⬆️
Peolple who are condsidering buying at Palms Place also look at the MGM Signature Condos for sale due to its location right on the strip. The MGM my be a bit busier, while Palms Place has the full Las Vegas strip views on the east side, larger 1 Bedroom condos and a more laid back vibe - but still the Las Vegas lifestyle. This has been a celebrity hangout for decades with owners including 'Playboys' Hugh Hefner and undefeated boxing champ Floyd "Money" Mayweather. The Palms is all about the "Strip Views" and the fitness center with pool.
Palms Place Las Vegas
Palms Place condos for sale offer boutique living at its finest – this is what you will surely experience when you live at Palms Place. Whether you are on your own or with a family, you will find a room that is perfect for your needs, each crafted to offer a memorable experience. It is detached from the casino, which gives you the privacy and peace that you need from the gaming facilities. Each room is teeming in terms of luxury and sophistication, making it ideal for elegant living in the Sin City.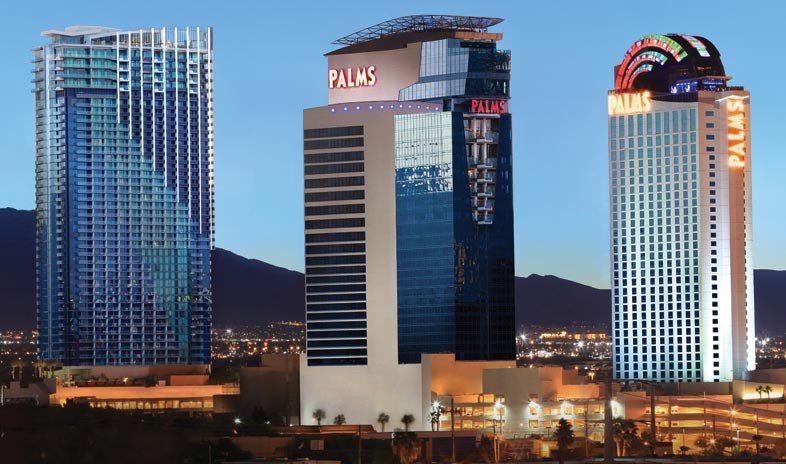 Shuttle service to the strip Yes, a shuttle runs every half hour from 11 a.m. - 8 p.m. daily. It departs from the main entrance at Palms and runs to/from The Forum Shops at Caesars.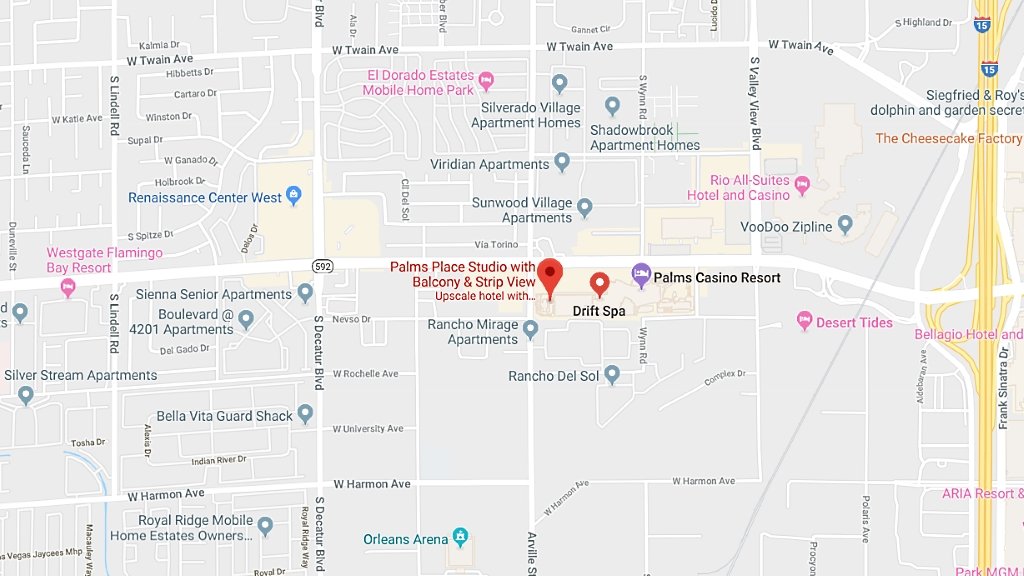 "My family LOVES his place! The wife and I love the shower with the jacuzzi enclosure making it perfect to wash up and jump in! The kids love it as well because they can fill the tub with bubbles and not worry about it overflowing. Definite A++ on the bathroom. The kitchen has everything you need to heat up your many leftovers from eating at all the restaurants around town or if you're up to it cooking your own meal. The room has 3 flat screen TV's, one for the living area, 1 in front of the bed and one small one in the bathroom in case you want to watch while brushing your teeth." - Yelp
Different Room Selections At Palms Place, depending on your budget and personal preferences, you will find the perfect room. The smallest is their Studio Suite, which has a size of 605 square feet. These floorplans come fully-furnished with a king-sized bed, a pull-out couch, and a kitchenette. It also has a standalone tub. If you need a larger space, on the other hand, the one-bedroom suite floor plan has a size of 1,200 square feet. For the most luxurious living experiences, you can consider their penthouses, which has elegant features that will make you live like royalty.

"We stayed here for New Years to see the fire works on the strip. The room was very nicely appointed. Marble was used all over the bathroom with large walk in shower with kind of a weird tub. There is a single basin in the bathroom but it has plenty of counter space for two people. The no smoking / no casino feature means no smokey smell on you and your clothes. That is a real plus. There are Gaggenau fixtures in the kitchen whcih makes the place feel rally luxe. Pay extra for high floor strip view. It is worth it if you can afford it / are going to be in the room. The rooms have great strip views from a distance. Make sure you get a room with a balcony that opens. Not all do." - Trip Advisor
State-of-the-Art Facilities Palms Place also boasts of having world-class facilities within easy reach of its residents. For instance, at Drift Spa, you can find the perfect place for relaxation. Here, you can get to enjoy a lavish spa and choose from their different treatments to recharge your body, mind, and soul. On the 6th floor of Palms Place, you can see the huge pool, which offers the perfect haven for a relaxing escape. With waterfalls, Jacuzzi, and a garden, it is an oasis at the heart of the city. It is easy to spend the entire day just lounging by the pool, reading a book or enjoying a refreshing drink.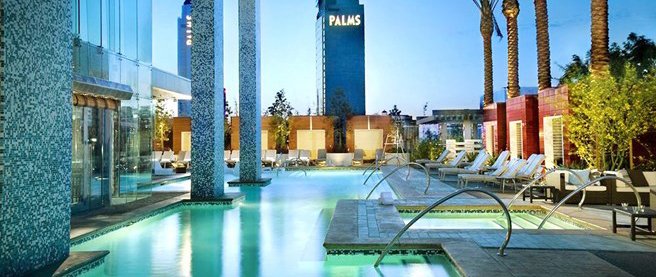 "This is my new favorite place to stay in Las Vegas. The pool is relaxing with good people to hang out with. The rooms are huge and we had a view of the mountains in the distance off our balcony which was a pleasant surprise. I can't say many bad things about palms place. Well there's a thick aroma of perfume in the lobby which was a bit aggressive. Self park was close to the door. Kaos night club is a must to check out if you're in to that nightlife vibe. I will definitely be staying at Palms Place on my next visit. Oh dogs are allowed too which is nice." - Trip Advisor
Palms Place HOA fees: These are estimates based and each unit needs to be verified. But this will give you an idea.
$494/mo. - 780 SqFt
$610/mo. - 946 SqFt
$695/mo. - 1,054 SqFt
$730/mo. - 1,126 SqFt
$908/mo. - 1,406 SqFt
$1,013/mo. - 1,583 SqFt
$1,281/mo. - 2,173 SqFt
$3,175/mo. - 4,820 SqFt
Monthly fees are based on size and level of unit. This includes all normal association amenities and access. Room service for food and cleaning can be extra. This is a resort condo hotel so owners can order services as if they are a guest of the hotel and have access to areas, events and sometimes special events by being an owners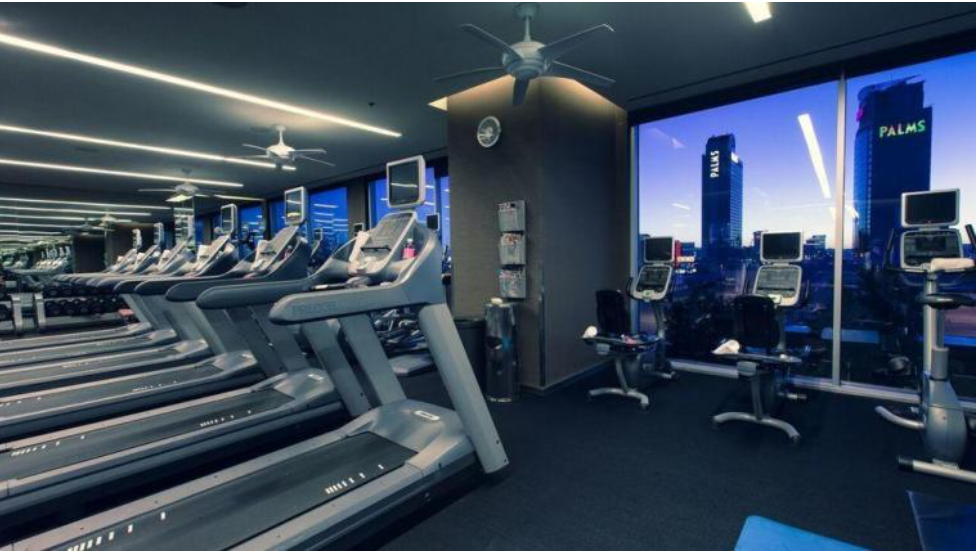 The fitness center at Palms Place also includes Pilates with Pilates machines, some classes and a full use of equipment. This is one of the top rated in hotel fitness centers in Las Vegas high rise living. You can literally do cardio while being entertained by people watching the pool. The Palms is notorious for having some of the best looking people residing pool side during the season.
Palms Place LifeStyle
The nearby Palms Casino Resort houses the Pearl Theater, which serves as the venue for some of the most stunning performances and popular shows. Pearl Concert Theatre, and 14 multi-use movie theaters.

If your stomach needs a filling, you will never run out of choices when it comes to where to eat within the vicinity of Palms Place. There are several fine dining restaurants that are managed by some of the top chefs in Las Vegas.

If you want a scrumptious meal, you can head over to N9NE Steakhouse, Nove Italiano, or Alize. They also have options for casual dining, including 24 Seven Café, Café 6, and Hooters, among others.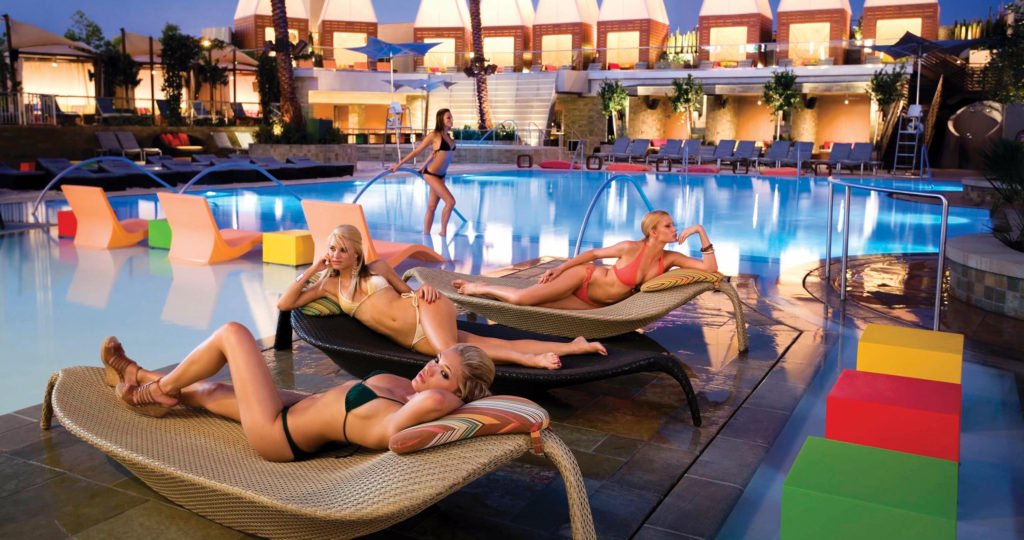 Palms Hotel and Spa at the Palms Las Vegas is just a mile from the Las Vegas Strip and features a 30,000-foot full-service spa. The Drift Spa includes a hammam, 20 treatment rooms, a steam room, a sauna, soaking seasonal pools, and garden lounges. Guests can dine in the pool or poolside, rent cabanas, or enjoy cocktails at the full-service bar.


Palms Place has a long history from the filming or the MTV reality series "Real World", to the 'Playboy' playmates and many other social groups who calls the Palms home or a 'home away from home'.
Palms Place Rental Pool Option
Most owners put their Palms Place condominiums and real estate properties in the rental pool and rent the unit out and use it on demand for there stays. While the Palms does have some year-round owners who live year in and year out, most stay a few weekends, a few weeks or a month at a time.

There are currently only 4 hotels where people can actually buy a room and live in it year round as a residence or rent it out. They include MGM Signature, Palms Place, Trump and Platinum. These lock and leave units has been proven to be great opportunities for people looking to take advantage of the Las Vegas lifestyle.

Being a condo hotel unit with the option to rent out is a big plus as owners can offset their association fee or make a small income. You can request the P&L and rental history on any unit once you make an offer for real estate for sale. This gives you a chance to see if you wish to purchase this as a rental, and then use as you wish. Besides great amenities such as an exercise room and pools, the hotel is located close to Las Vegas Strip.

Whether you're interested in purchasing a Palms Place condominium to live in or to rent out, it's a smart investment to consider. What's even better is the opportunity to use your unit as a vacation home while renting it during the times you're not there. Having a vacation home in a world-class resort-like complex such as Palms Place can truly change your life! Be on a lookout for new real estate listings to find the best options for you and your family.
Searches Related to Palms Place Condos for Sale
Vdara Condos for Sale
MGM Signature Condos for Sale
Condo Hotel Las Vegas
○ We specialize in Palms Place Las Vegas Condos for Sale
Call 702-882-8240