One Las Vegas Condos for Sale
One Las Vegas is a 2 tower, 21 stories, high rise condo complex just south of the Las Vegas Strip with 961 units, and floor plans ranging from 637 square feet to over 2800 square feet.
We Specialize in One Las Vegas Condos
ℹ️ More Information
One Las Vegas Condos by Size
One Las Vegas
September 30, 2023
---
One Las Vegas Condos
One Las Vegas offers residential condominiums in state of the art high rises. These condominiums are really going to catch your eyes while checking the real estate listing, thanks to the great set of amenities they offer. From various floor plans to a two story fitness center, One Las Vegas real estate for sale has everything you need for a comfortable and upscale life, as well as magnificent views of the Las Vegas Strip.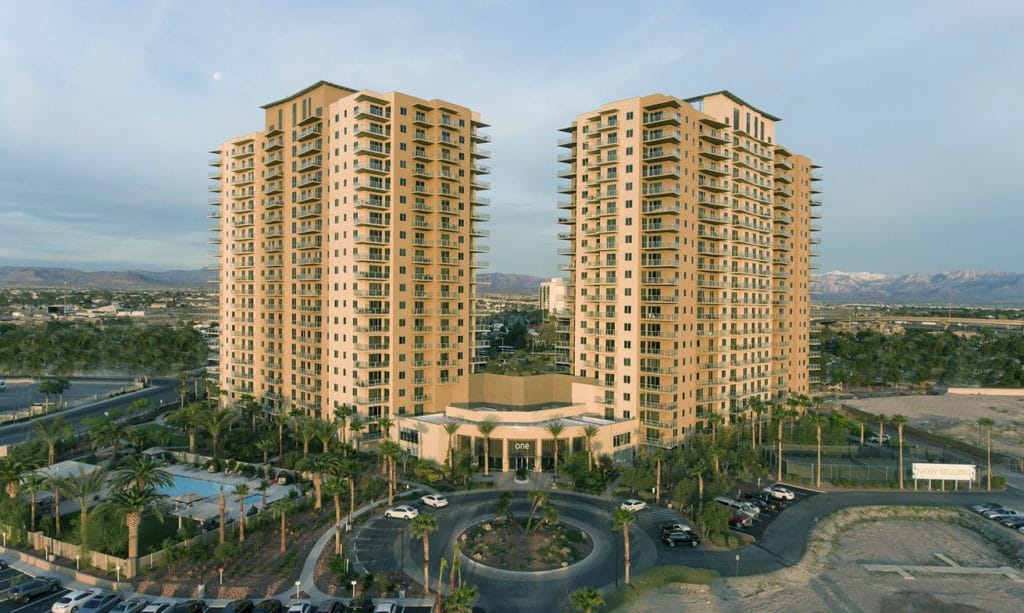 The two high rises of One Las Vegas consist of 20 stories, featuring condominiums with 17 different floor plans. This master-planned residential village stretches along 19.5 acres of land on the south side of the Las Vegas Strip. The condominiums in this community offer the modern lifestyle and resort-like amenities for its residents.


Buyers who look for One Las Vegas may also be interested in viewing similar properties in Turnberry Towers for Sale, Boca Raton Las Vegas & MGM Signature Condos for Sale.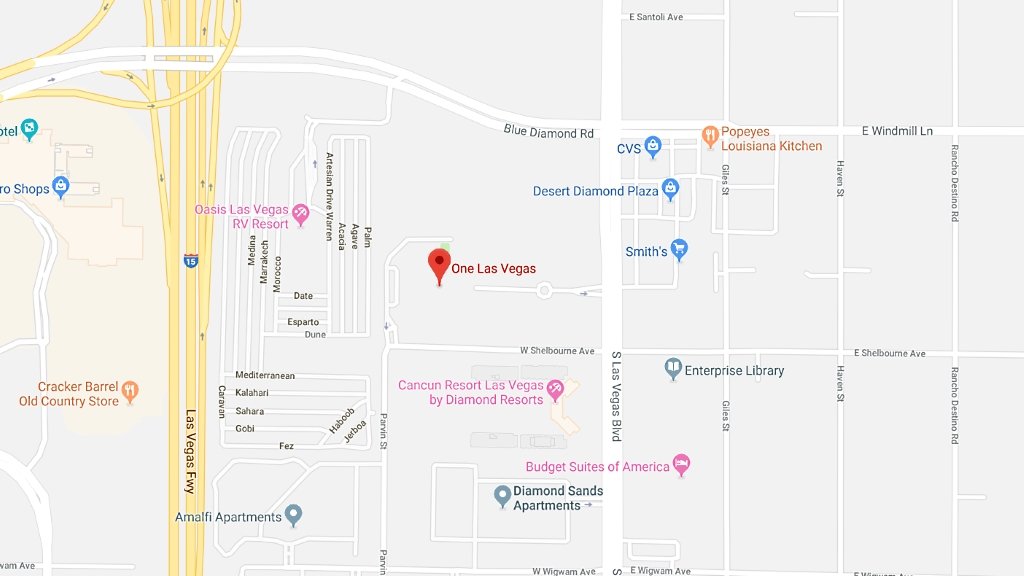 Amenities at One Las Vegas
· Large swimming pool
· Two story fitness center
· Multiple saunas
· Yoga room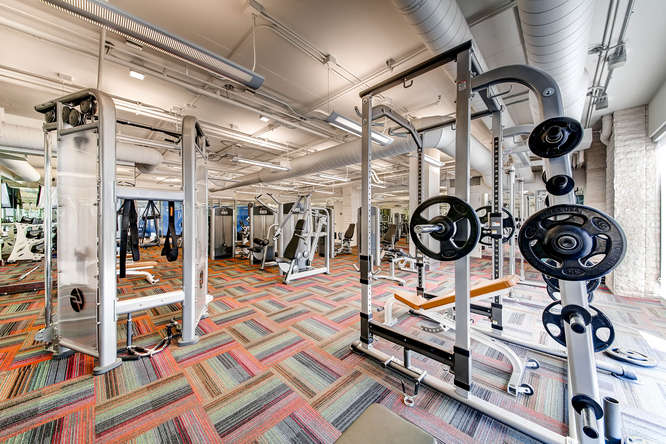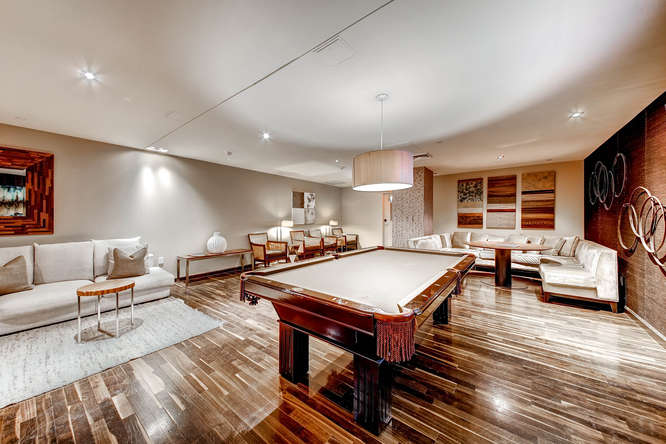 · Theatre
· Outdoor fire pit
· BBQ areas
· Tennis courts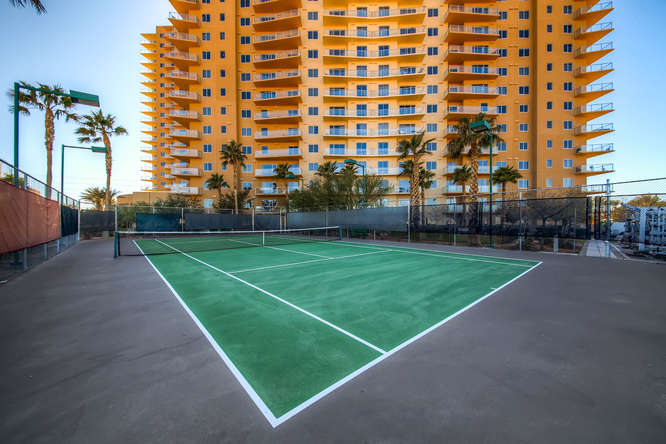 · Event hall with catering kitchens
· Dog parks
· Sports lounge
As a resident of One Las Vegas, you get access to a two story fitness center, fully equipped for all types of physical training. Saunas, swimming pools and relaxation areas, such as hot tubs and saunas, are within one's reach as well, including other amenities such as the large, heated swimming pool, a lighted tennis court and yoga rooms.
VIDEO: One Las Vegas Condos Tour
🏠 See One Las Vegas Condos for Sale ⬆️
"The ONE location is just far enough away from the traffic and craziness of The Strip, but just close enough to The Strip to be in the heart of everything within ten minutes. We love Vegas, but we also like a little breathing room and quietness when the day (or night) is done. With that said, in addition to being a few miles down the street from Mandalay Bay, you're a couple minutes to the highway, airport, mall, grocery store, and an endless array of activities (including the new Raiders Stadium--pro football, UNLV, UFC, concerts, etc.)." - Yelp Reviews
Condo Options at One Las Vegas
Each condominium has a stylish design with a modern finish, as well as 10 feet ceilings that add elegance and make the space fresh and airy. Condominiums also feature balconies of more than 200 square feet, high quality hardwood flooring and large walk-in closets for extra storage space.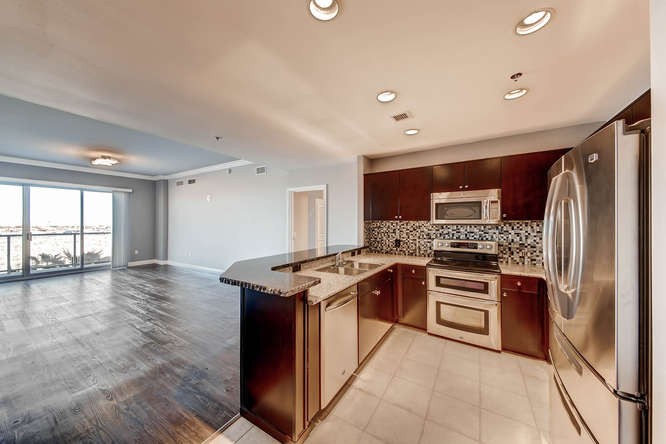 The luxurious condominiums of One Las Vegas feature modern, stainless steel GE appliances and a magnificent, contemporary style. With the laundry area being inside the unit, it is safe to say these condominiums combine luxury and functionality in a perfect way. The chef-level kitchens feature large islands with plenty of storage space and high quality countertops for the best cooking experience. The spa-like bathrooms have oversized soaking tubs that are going to make you feel like you are in some sort of a high-end resort.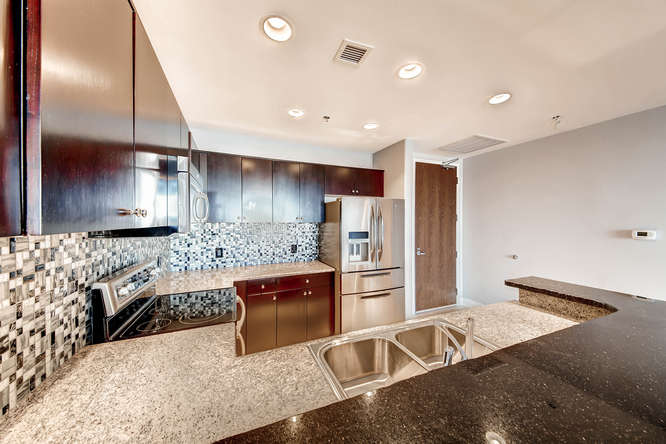 which is quite convenient. As a resident of one of the residential towers, you will have access to a secured garage parking to make sure your car is safe at all times. It is important to mention that this is a pet friendly community, so if you have a little companion to bring along, you're welcome to do so! They will have space to play around in the two dog parks with agility courses for training.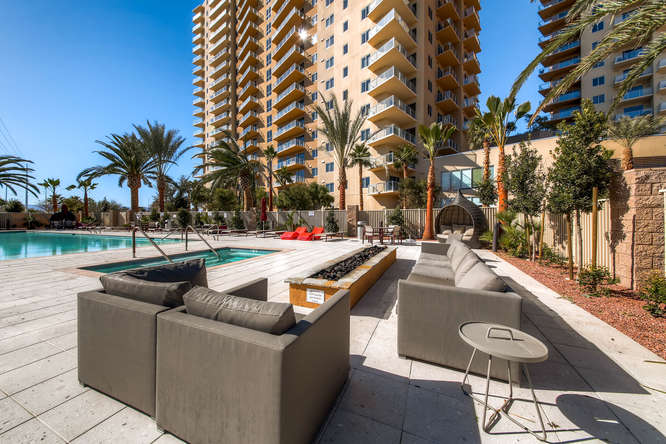 One Las Vegas offers you the elegant and urban style of living with the option to choose from many different floor plans to find what suits your needs best. Each unit was thoughtfully designed to provide comfort and functionality in a modern and luxurious way. The units are maintenance free, thanks to the special personnel that takes care of those issues.

Storage space is not in question with these condominiums, as they are spacious and also offer an over-sized walk-in closet. Besides the great residencies, the array of exclusive amenities is what drags people to One Las Vegas. The Lifestyle Director of One Las Vegas organizes monthly entertaining events for the residents of the community. You can enjoy various events, including movie nights besides the pool, filled with great atmosphere and laughter.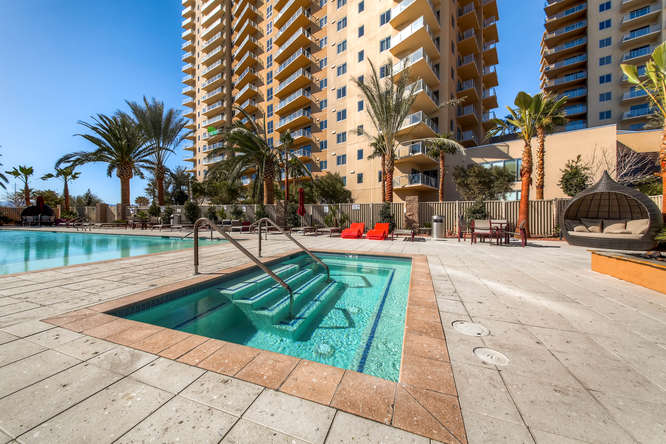 "We've just purchased this condo unit in November as a second residence. We live in California and make once a month trip to Vegas. Great price, Great location.(next to highway, airport nearby, two shopping malls nearby, and many restaurants), 15 minutes to strip casinos and new Raiders stadium, and HOA fee is reasonable which include water, cable/wifi. It has two story work out rooms with various updated machines, pool table, table tennis, video game machine, pool, jacuzzi, tennis court, library, business room, theater room, dog parks, party room with full kitchen, and storage room(yes, I never seen any high rise condo come with lighted temp controlled storage unit.) Indoor garage parking. 24hr security team and concierge personnel. We feel very secure staying here. You need key fob to get in to the building and to operate the elevator. Also, we have noticed that inside of our unit, temperature does not fluctuate much during summer or winter, between 74-78 degree, we rarely use heat or A/C. Whole building has water softener also. This condo is selling very quickly since Raiders announced new stadium in Vegas(15min drive)." - Yelp Reviews
If you're in need of a space for celebration or event hosting, One Las Vegas offers you an event hall with a full-service catering kitchen. For those who need a space to work and host business meetings, they can head to the One Las Vegas Co-Op working business center.

For a more of an entertaining evening, you can head to the movie theatre, which features oversized reclining leather seats for maximum comfort, or the arcade room and sports lounge where you can enjoy a game of billiards, ping pong and more! Besides the two story fitness center, the residents can get a great workout while practicing their tennis skills at the state of the art One Las Vegas tennis court.

Even if you don't have a partner to play with, you can practice your skills with a ball machine. After a tiring day of work and fun events, you can get some rest in the One Las Vegas spa and relax in private massage rooms and saunas. For a break during your work hours, you can head over to the daily coffee bar to recharge your batteries. Speaking of charging, One Las Vegas also offers electric vehicle charging stations for outmost convenience.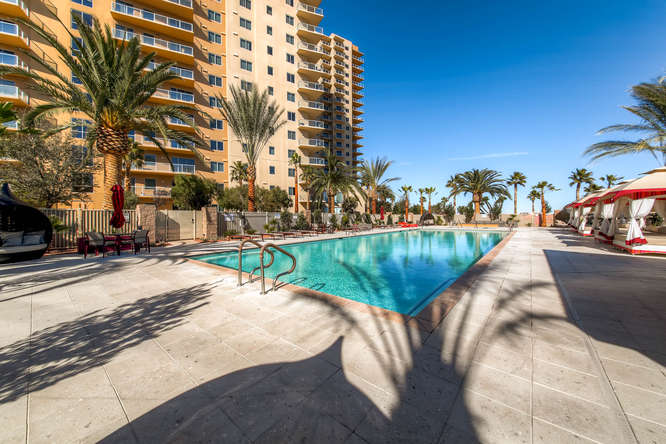 "I know this place for the last few years And just now I'm writing my review for this place It's very close to the airport And on Las Vegas blvd so it make in very comfortable access the building! The gym is big and have many exercise options The pool is very cosy and always empty. The view is nice you can see the mountains And the staff are very friendly." - Yelp
All together, there is no doubt all your needs are going to be met at One Las Vegas. As a resident of these condominium towers, you get access to a variety of state of the art amenities
One Las Vegas Overview
Here at One Las Vegas, the amenities: massive Palm grove pool, private cabanas & outdoor jacuzzis, secondary pool at north side of community, tennis & basketball court, half mile fitness trail, outdoor event areas, state of the art 2 story fitness facility, billiards room, media theatre, concierge service, 24 hour security, party and special events rooms, guard gated entrances, controlled access to parking, large garage accessed storage units available.

There is a reason why people like to call One Las Vegas home. If you are interested in data related to real estate listings held at the moment, contact us for more information. New mls listings for One Condos Las Vegas are available every month. Don't forget about all the amazing amenities this condo complex has to offer, along with close access to the Strip!
Searches Related to One Las Vegas Condos for Sale
Panorama Towers Las Vegas for Sale
Manhattan Condos Las Vegas
Sky Las Vegas
○ We specialize in ONE LAS VEGAS Condos for Sale
Call 702-882-8240