Mountains Edge Homes for Sale
We Specialize in Mountains Edge Homes
ℹ️ More Information
Mountains Edge Homes for Sale by Property Type
Mountains Edge
September 24, 2023
---
What and Where is Mountains Edge Homes?
Mountains Edge Homes
Mountains Edge homes for sale our located in the South West part of the Las Vegas valley and is a master planned community of 3000 acres, out of which 500 acres is reserved for green areas and recreational fields, including community parks and trails.
Buyers interested in Mountains Edge Homes might also find it worthwhile to explore comparable properties in Providence Las Vegas Nevada, Southern Highlands Homes for Sale and Cadence Homes Henderson.
🏠 See Mountains Edge Homes for Sale ⬆️
Mountains Edge Homes for Sale
Situated in a secluded desert canyon, Mountains Edge is the last residential community you will find while heading out of the Las Vegas Valley in the west. This master-planned community sits right off the Blue Diamond Road on the southwestern edge of the Las Vegas Valley.
As a master-planned community, Mountains Edge has a lot to offer both in terms of amenities and real estate listings. The community stretches across a surface of 3000 acres, out of which 500 acres is reserved for green areas and recreational fields, including community parks and trails.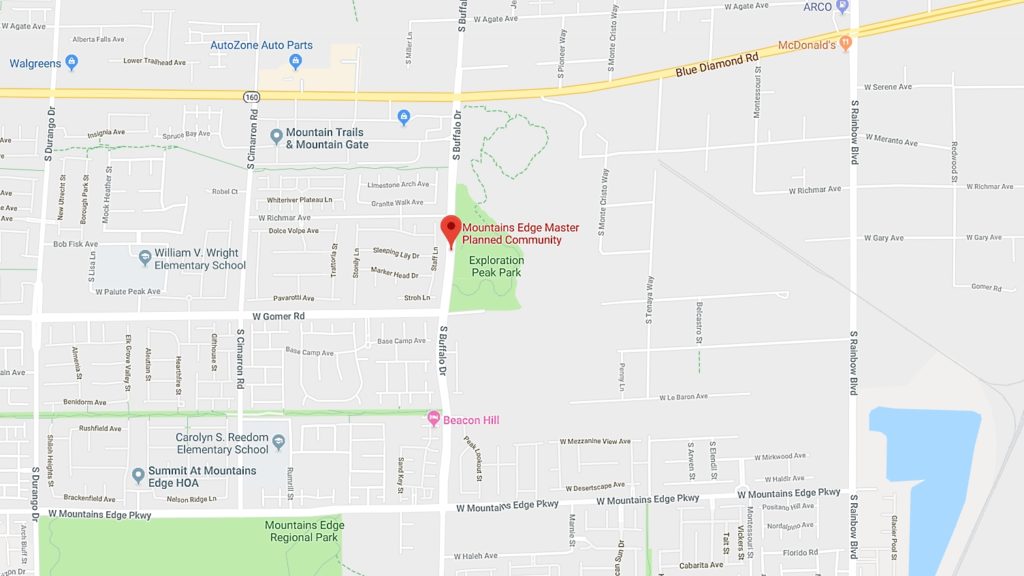 It is important to mention that the Mountains Edge community carries a piece of American history in its roots. The area where this community is located used to be the primary spot where ancient Indian tribes came to find water and hunt for food.
Even today, you can find petroglyphs craved in the canyon walls and the nearby mountains. During the 19th century, the Old Spanish Trail stretch right through the entrance of today's community and allowed merchants and frontiersmen to travel and trade goods.
Mountains Edge Community
Besides its historical significance, the Mountains Edge community is a very important part of the Las Vegas Valley. The community is so large that it includes over 30 separate villages that offer diversity and uniqueness.
It took over 70 teamed up builders, among which was the Focus Property Group, to build the entire residential community of Mountains Edge. The result of their efforts is a diversity in housing options and recreational amenities.

All villages within the Mountains Edge community are connected via biking and walking trails. You can easily access different areas of the community by riding a bike or taking a walk or a morning jog. This kind of connectivity provides the residents space to become more physically active, engage in healthy activities and reduce their needs for a motorized vehicle.
Furthermore, each of the Mountains Edge separate villages has a different style and atmosphere. Having been built by different companies and builders, each of these areas offer different floor plans and architectural details, meaning there is plenty of diversity when it comes to housing options in the area.
Mountain's Edge has an...
Planned schools
Professional offices
Restaurants
Shops (from grocery stores to malls)
Short drive from the Las Vegas Strip
If you are choosing your new home for the first time, Mountains Edge is a great residential community to consider. Besides multiple housing options, ranging from maintenance-free condominiums to large sq ft single family homes, the community offers a variety of useful amenities.
Mountains Edge Las Vegas Neighborhood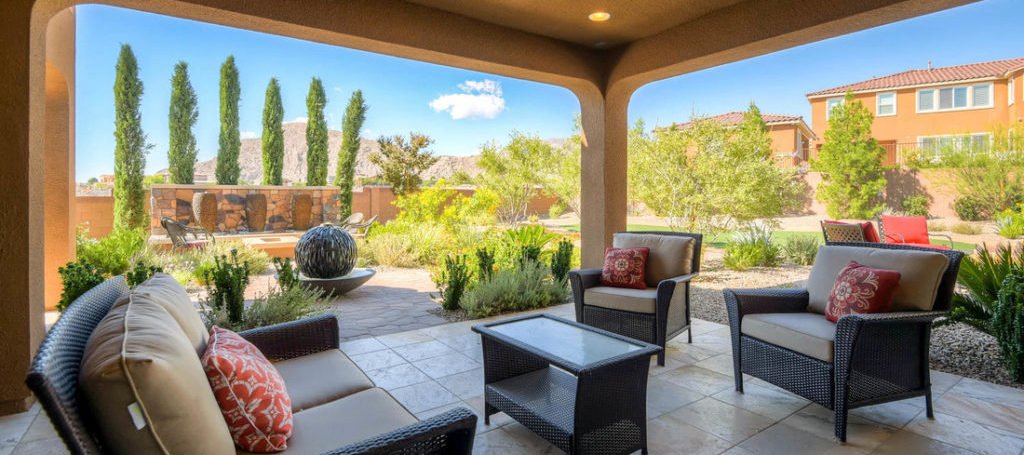 It is important to mention that the Mountains Edge community is home to one of the largest parks in the Las Vegas Valley, known as the Exploration Peak & Exploration Park. The Exploration Peak, as its name suggests, is the tallest spot in the mountains.
This 2846 feet tall natural mountain park sits right at the entrance of the Mountains Edge community, welcoming new residents and tourists each day. Taking biking or walking trails from any part of the community will take you right to the Exploration Peak, where you will find many historical markers along the way, including an authentic old sundial.
"Kids absolutely love this park and beg to come here! I am so happy to have this park nearby. It has a nice pavilion with tables and rocking chairs for parents to chill while kids play." - Yelp.com Reviewer
Once you get to the top of the Exploration Peak, you will get a chance to enjoy in some of the most stunning panoramic views of the Mountains Edge community, the surrounding mountains, and the whole Las Vegas Valley stretching far into the distance.
If you head over to the mountain's base, you will enter the famous Exploration Park that features a classic Western theme. The park stretches across a surface of 80 acres and features plenty of recreational amenities where you can have a great time with your friends and family.
It offers specifically designed picnic areas, entertaining water play areas, playgrounds for children, an archaeology dig site, s well as an outdoor amphitheater and a replica of a Western town and an Indian village.
Great place to visit In neighborhood of Mountains Edge is New London Barn Playhouse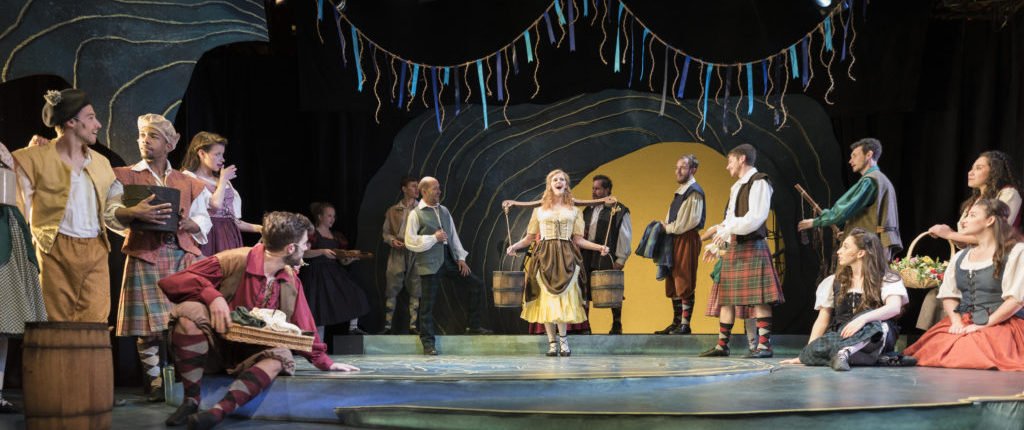 "The cast was diverse and talented! Singing, acting and dancing-a trifecta of true artists! The show itself was magical! How refreshing!" - TripAdvisor
Homes for Sale in Mountains Edge
Those who want to experience more of Las Vegas, a quick drive down the road will take you to the center of the Valley and the famous Las Vegas Strip. The best part about living in the Mountains Edge community is that you are always located near all the Las Vegas amenities but you get to enjoy a quiet atmosphere of a Western-themed community.

The area is close to North Las Vegas and the school district and most of its properties sit on a decent lot size with outdoor areas. Besides numerous housing options, the Mountains Edge master-planned community offers a unique desert feel with beautiful landscaping and lots of plants, cacti, and rock formations characteristic for this area.
Whether you're looking for a multi-family or a single family property type, the mls listings offer a variety of options including new construction properties and townhome residences that you can look at during open house hours.
Searches Related to Mountains Edge Homes for Sale
Rhodes Ranch Homes for Sale
Coronado Ranch Homes for Sale
Homes for Sale in Las Vegas
-
We specialize in Mountains Edge Community Las Vegas Homes for Sale Call 702-882-8240