Mountain Trails Summerlin
We Specialize in Mountain Trailes Homes
ℹ️ More Information
Mountain Trails Summerlin
September 24, 2023
$2,762,000
Med. List Price
Mountain Trails Homes
Mountain Trails Las Vegas is a custom home neighborhood consisting of only 103 homes all of which are built on large half-acre or more lots located in the award winning master planned community of Summerlin. Waling distance to tennis & basketball courts, parks, bike trails, hiking, and pools are many of the amenities Mountain Trails owners enjoy within Summerlin. Mountain Trails homes for sale are in a guard gated community, private residential neighborhood by appointment only 702.882.8240
Potential buyers with an eye on Mountain Trails Summerlin might also find comparable properties worth considering in The Cliffs Las Vegas Homes for Sale, The Trails Summerlin Properties and Canyon Fairways Summerlin Las Vegas.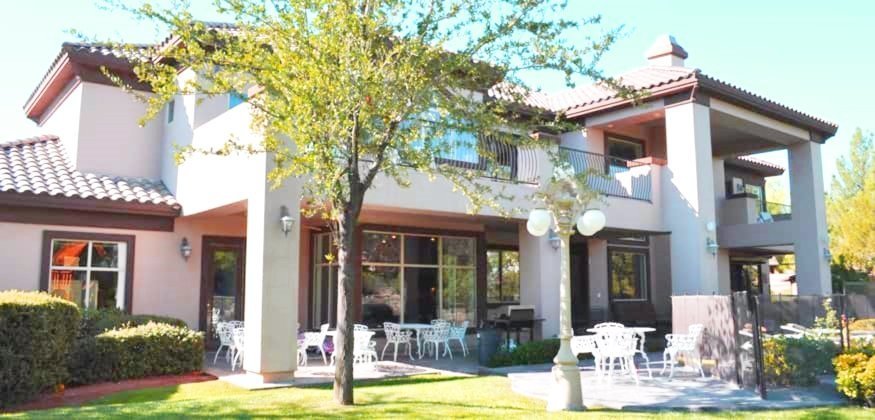 Mountain Trails - Las Vegas Luxury Homes For Sale
Mountain Trails is a luxurious and guard gated neighborhood located within a larger master-planned community called Summerlin. The neighborhood of Mountain Trails is situated within Trails Village in Summerlin and it consists of a total of 101 custom homes. Thus, the neighborhood is placed in a vert convenient and attractive area close to the Summerlin Parkway that allows fast and easy access to other areas within the Valley. The community is also close to all Summerlin amenities and facilities located near the gated entrance. It is important to mention that Summerlin is one of the largest and best structured communities in the entire state of Nevada.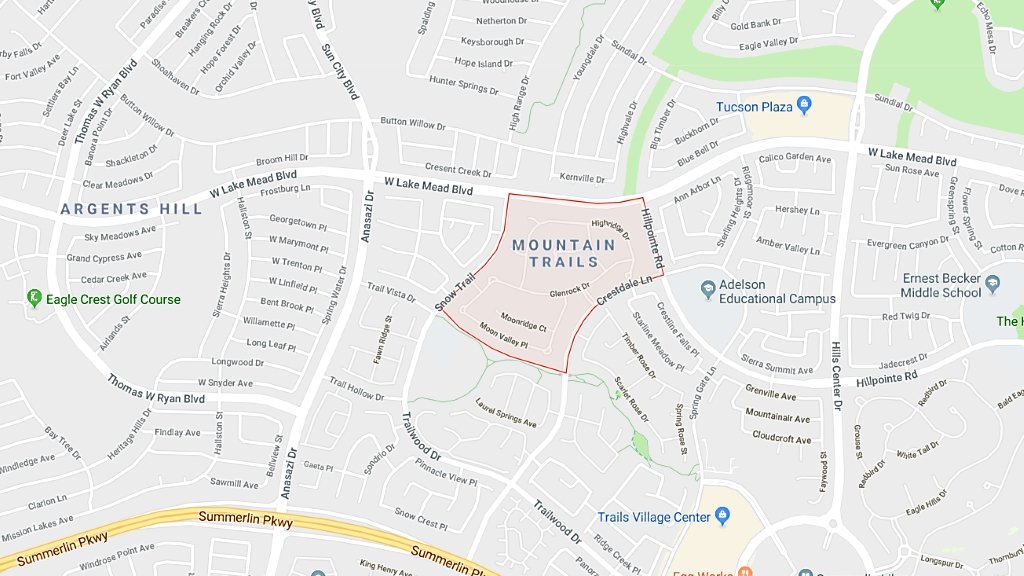 Therefore, being close to world-class amenities within Summerlin's gates is a great benefit for all residents of the Mountain Trails neighborhood. Let's not forget that the Summerlin Hospital equipped with state-of-the-art devices is located only two miles away from Mountain Trails. As a private hospital, this facility is owned by the Universal Health Services and it provides the highest standard medical services to eveyone in the area with a total of 485 beds in private rooms. The neighborhood itself is quite small, which makes it exclusive and safer than larger communities. All homes within the gates of Mountain Trails were custom built. The first home was constructed in 1995, whereas the latest construction was finished only 11 years ago in 2008.
Mountain Trails Community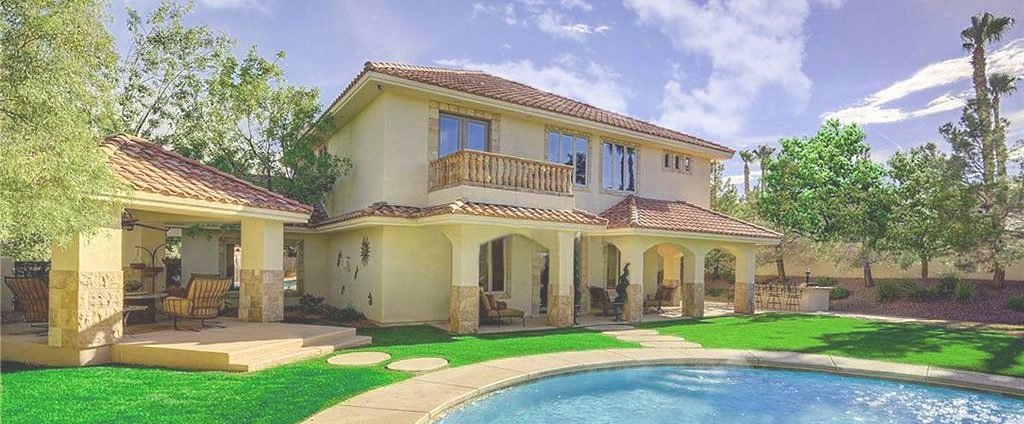 Since there are only custom homes in the neighborhood, each property offers unique features, sizes, and floor plans. Each home is built on a large lot of minimum half an acre in size. This gives the residents plenty of outdoor space to customize or spend time in the nature. The majority of homes also feature private pool areas. When it comes to sizes, homes in Mountain Trails range from 3758 square feet to 13106 square feet. Therefore, potential buyers can choose from a wide array of different properties in order to find the perfect fit for their family. The majority of homes feature a traditional style, even though there are several properties that lean more toward contemporary architecture. Older properties have been renovated in order to meet the highest standards of safety and design.
The Mountain Trails Las Vegas Homes for Sale VIDEO Overview
The neighborhood of Mountain Trails is a great location for families with children who are looking for a permanent home close to schools. The community offers close access to many nearby schools:
Sheldon Adelson Private Schools
Meadows Private Schools
Ethel W. Staton Elementary School
Sig Rogick Middle School
Palo Verde High School
Furthermore, the residents of Mountain Trails have close access to a mile of parks and shopping venues at the Trails Village Center, a popular shopping area within Summerlin. The Lake Mead Corridor is also nearby, offering plenty of choices when it comes to shopping sites and restaurants on the north. There is a recreational park within the community's gates, featuring tennis courts and playgrounds for children, as well as a lovely picnic area. It is important to mention that the Mountain Trails community offers close access to a dozen of golf courses located nearby.

"My wife and I were in Vegas for the week. She played 3 courses with me and I played 2 more on my own. 2 average courses and 3 upscale. Summerlin was in excellent to pristine condition. Greens were fast but not crazy even tho the tour will be there in 2 weeks. A lot of interesting holes, good layout, very nice staff and beautiful views. We got a deal due to our network club, but I would recommend this course at $100-200. It is private, but if you have the opportunity to play, I highly recommend it!" - Golfadvisor.com Reviewer
If you are a golf enthusiast, you will be happy to know that the world-class private TPC Summerlin golf course is only a few minutes away from the community. Other golf courses can easily be accessed via a short drive down the valley. Even though many homes in Mountain Trails have their own pools, the neighborhood still offers a community pool within the community center, open to every resident in the area. Those who lead a healthy and fit lifestyle will be happy to know that the Agassi's 24 hour Fitness is located nearby. Let's not forget that Mountain Trails is in fact a community located within another community, which means it offers an enormous amount of amenities, including shops and restaurants in The Village, stores and facilities in Summerlin, as well as the large Summerlin library.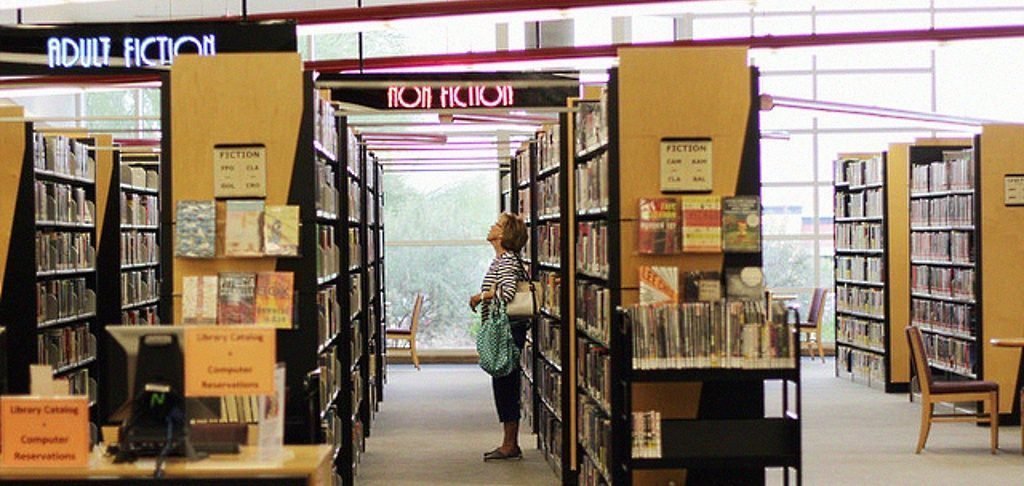 "We are so fortunate to have this incredible asset in our community. I walked in stressed to the max and was immediately drawn to the gallery showcasing a fiber artists work. Walking through the art exhibit took half of my anxiety away. I then looked around this beautiful library & saw people quietly working, reading and studying. At the Reference Desk. I was able to reserve a study room for free!!! and connect to the WiFi. I worked without interruption for 2 hours - bliss! I used to come here weekly when my kids were little for story time and to get books. Now it will be my go-to for some quiet time to work away from my office and home." - Yelp.com Review
Mountain Trails Las Vegas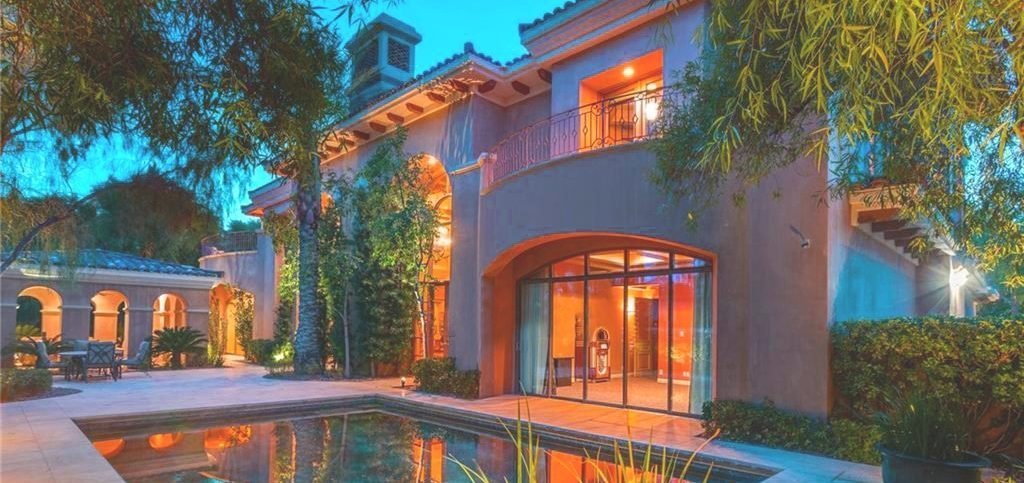 The Summerlin Library and Performing Arts Center located in Las Vegas offers a quiet and peaceful space for reading, studying, or doing research. The Center is also a host to many cultural events and shows throughout the year. It is a great opportunity for people interested in this type of content or students who are looking for a comfortable place to study at. The Mountain Trails community is situated at a very convenient location close to the Summerlin Parkway and 215 Beltways that offer easy access to the Las Vegas Strip. Besides the great location, the community of Mountain Trails offers exclusivity and intimacy, since it is a smaller gated area located within another community.



There are many benefits to living in a guard gated community such as this one. Besides increased safety and security, guard gated communities are a lot more quiet and peaceful, allowing the residents to live peaceful and happy lives without criminal activities nearby. The traffic in guard gated communities is much slower, which makes this neighborhood a safe area for children and adults. Besides the nearby Trails Park that offers plenty of recreational space, two lighted softball fields and a baseball field, the residents can take a short trip to the nearby Red Rock Conservation Area and spend time with their friends and family.
Homes for Sale in Mountain Trails
Overall, the community of Mountain Trails offers a peaceful atmosphere full of exciting opportunities and nearby events. The residents can rest assured that their family and property are safe at all times thanks to the guard gated entrance and extra surveillance. Those who love outdoor activities will like the fact that each home has at least half an acre of outdoor space and the community itself offers plenty of parks and recreational areas. Since it is located within Summerlin, the residents can easily access the large Summerlin walking trails that stretch over 150 miles through the entire area. Don't forget that each property in Mountain Trails was custom built and offers unique floor plans and features. Overall, potential buyers will have plenty of opportunities when it comes to finding a permanent home in Mountain Trails, Las Vegas.
○ We specialize in Mountain Trails Summerlin LV Homes for Sale
Call 702-882-8240