Mira Villa
September 24, 2023
$1,282,995
Med. List Price
---
What and Where is Mira Villa Homes?
Mira Villa Luxury Condos for Sale in Summerlin
Mira Villas is the only development of its kind in Summerlin and is considered to be the best value for luxury living off the popular Canyon Run drive due to the incredible views from balconies or common areas with east access to Casino's, shopping, dinning and the walking trails of Summerlin. TPC Public golf course and Angel Park golf course within half a mile from this luxury property.
Buyers who look for Mira Villa Las Vegas may also be interested in viewing similar properties in Turnberry Towers, One Queensridge Place & Allure Las Vegas Condos.
🏢 See Mira Villa Luxury Condos for Sale ⬆️
Mira Villa Las Vegas

Mira Villa is a luxurious condominium development located in Summerlin, more specifically in the area of Canyons Village within this master-planned community. Choosing a condominium over a single-family home or another housing option brings along quite a lot of benefits. The biggest benefit of living in a condominium is the fact that all necessary amenities are included in the price, such as parking garages and outdoor pool areas.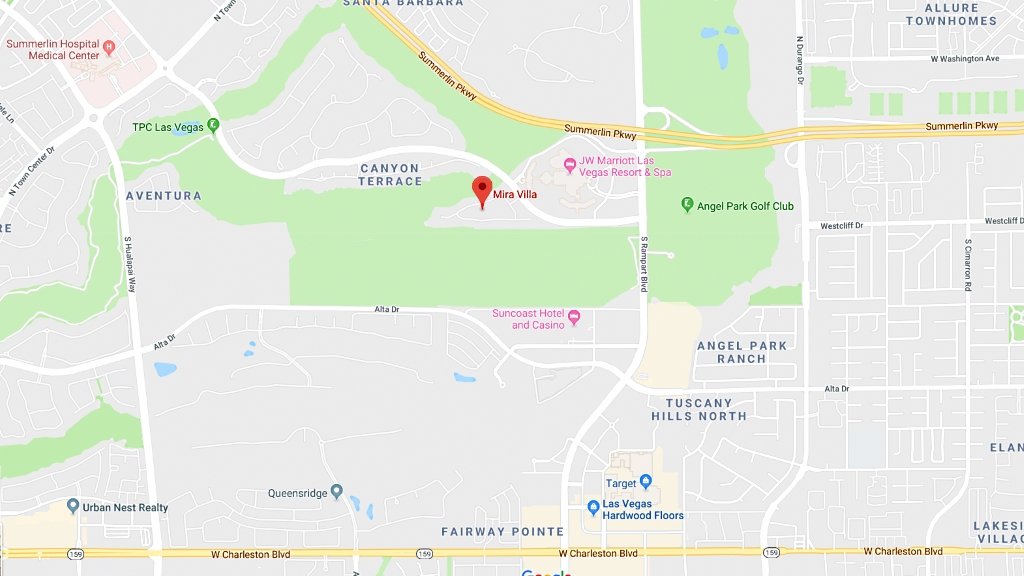 Speaking of the outdoor, residents of condominium complexes aren't responsible for the maintenance of any outdoor facilities or amenities. They also have the freedom to renovate and repair the interior of their condo any way they like. Furthermore, living in a condominium means living in a close community where you can build friendships with neighbors and form trustworthy relationships. On top of that, security is another reason why you might want to choose a condo complex, as they are usually guard gated.
Mira Villa Condos

Mira Villa is one of those condominium complexes that offers community living and security, all packed up in a very luxurious manner. This community is almost like a private resort that will make you feel like you're living your life on vacation. Mira Villa features luxurious single-level condominium equipped with state-of-the-art appliances and latest technologies. The development features 103 mid-rise condos in total, each of them having a unique and elegant style.



One thing residents appreciate about these condos are the amazing views they get to wake up to every morning. Depending on which side your condo is, you might end up with the view of the scenic mountain ranges, the city skyline or the Angel Park golf course. Besides overlooking the Angel Park golf course, Mira Villa is also close to the famous TPC Las Vegas golf course, meaning the fans of golf are more than welcome to join the community and have a chance to practice their skills on world-class courses.

"Cannot say enough good things about the course, and the people who work here. We were in Vegas on spring break, so we were not traveling with our clubs. But the course managers took care of everything. And they were the nicest people, willing to do whatever to make our round enjoyable. Not to mention, the price is what drew us in, the ALL IN package, but the customer service once we were there is what drew us back. We played both the Mountain course and the Palm course. Went back a second time simply because of the great service. HIGHLY RECOMMEND." - TripAdvisor
The luxurious home designs of the Mira Villa development feature direct elevator access, gourmet kitchens and master suits. For those who love cooking, oversized kitchens in these condominiums will be the best advantage. However, the whole condo design gives out the idea of luxury and elegant lifestyle, from amazing master suits to spa-like bathrooms. It is important to mention that each resident of the community has access to private garage parking with an assigned spot, putting an end to the struggle of constantly looking for parking spaces.
Mira Vira Condos for Sale VIDEO Overview
The luxurious Mira Villa community provides plenty of recreational opportunities that you'll never run out of things to do. Community includes plenty of amenities...
Community pool
Clubhouse
Multiple spa
Park areas
For those looking for extra physical activity or training, the Canyons walking paths are easily accessible and provide plenty of space for a morning run or an afternoon walk.
Mira Villa Community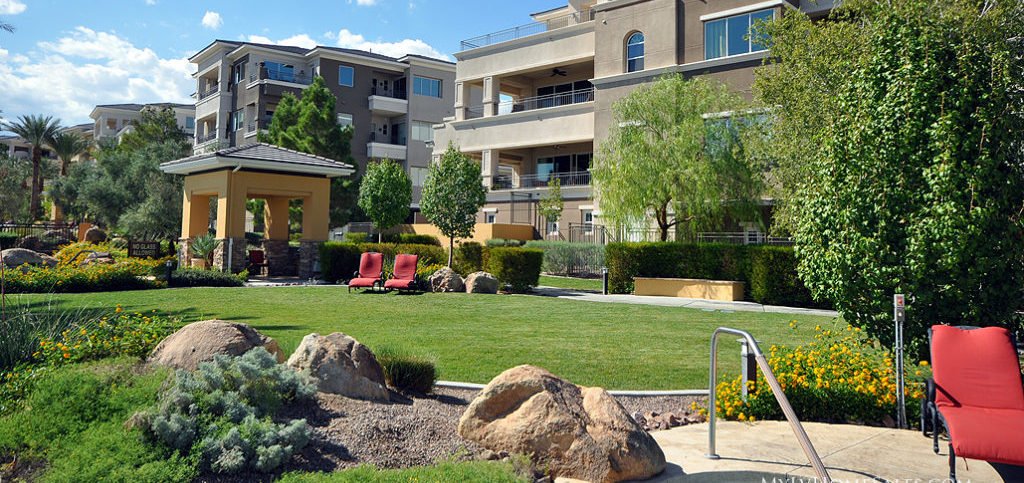 Since the community is located within Summerlin, it offers close access to all Summerlin amenities and important facilities. As one of the biggest and best developed master-planned communities in Las Vegas, Summerlin is an amazing place to spend your time at. The residents of Mira Villa are close to Tivoli Village and the Boca Park where they can go to fulfill all their shopping needs. Downtown Summerlin also provides plenty of luxurious and world-class restaurants, shops and venues to visit, whether you're planning a special dinner or looking for places to shop. Being so close to Summerlin, the residents of Mira Villa also have access to the top rated private and public schools, making this community a great place to move to with children. The Summerlin trail system and fitness facilities aren't far either, providing an opportunity for residents to enjoy their workout routines and stay fit and healthy.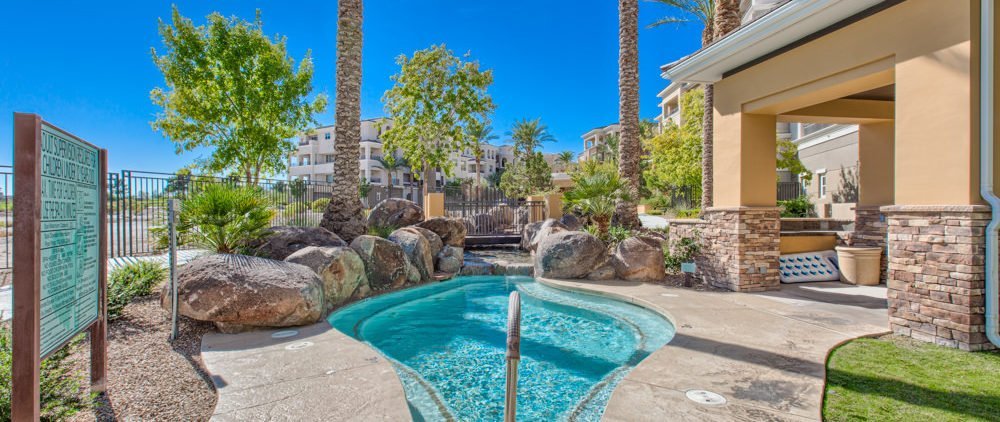 Overall, this five story community development located in the heart of Summerlin will definitely win you over with tremendous luxury and style. The community is surrounded with various sources of entertainment and it's a perfect fit for those living an active lifestyle in Las Vegas. The condo design is surely going to suit anyone who loves luxury combined with functionality. It is important to mention that every condominium features a spacious balcony, your own private little resort where you can enjoy a morning cup of coffee to start of the day.

For those looking for a gambling opportunity in Las Vegas, the Marriot Rampart St Casino is just across the street from the luxurious Mira Villa condos. With the Downtown Summerlin Mall being only a short drive away, you can enjoy great shopping without having to commute far. Besides golf fans who will enjoy the closeness of the Angel Park that features three golf courses, tennis enthusiasts will find a place for themselves too at the nearby Darling Tennis Center.

"Having moved here from the South, I can tell you that Las Vegas is very fortunate to have such a great tennis facility with such reasonable prices. Prior to moving here, we paid several hundreds of dollars a month just for our tennis club membership then had to pay for tennis on top of that. Our family has truly enjoyed the facility, pros and other players here. Finally, Jeff Foley is absolutely great with the kids -- he works well with players of all ability levels." - Yelp.com Review
The famous Las Vegas Strip is only a 20 minute drive from the community, allowing the residents to enjoy the heart of the city whenever they like. From world-class restaurants, luxurious and branded shops to theaters, casinos and venues, the Las Vegas Strip has it all! As a resident of the Mira Villa condominium complex, you will get to enjoy beautiful outdoor amenities such as the pool and the BBQ area, while living in spacious and perfectly designed condos with large balconies.

The location of the community is quite ideal, as it offers close access to not only the great Summerlin amenities but also to the Las Vegas Strip. If you're looking for a community to move in to with children, Mira Villa is a great choice to consider. It does not only offer amazing recreational activities but it also offers close access to the best private and public schools in Summerlin. This private resort-style community will leave you speechless with its charm and design. Besides the large balconies and private garage parking, the condominiums offer outstanding amenities such as state-of-the-art equipped kitchens and luxurious master suits. On top of it all, the whole complex provides all the benefits of living in a guard gated community, which includes improved safety and less maintenance required.
○ We specialize in Mira Villa Luxury Condos for Sale in Summerlin
Call 702-882-8240