MGM Signature Condos for Sale
Mgm Signature Condos inside a hotel. It's a Condo, in a hotel. You Own It! Live year round or put in rental pool for investment. 6.2 acre waterpark, jacuzzi, fitness center.
We Specialize in MGM Condos for Sale
ℹ️ More Information
MGM Condos for Sale by Size
MGM Signature
October 1, 2023
---
What are the MGM Condos in Las Vegas?
MGM Signature Condos

MGM Signature Condos for Sale are the most popular out of the 5 Las Vegas condo hotels due to it's ammenities and the 6.2 acre water park. You can own a piece of the Las Vegas strip and stay year round in your own unit or put it in a rental pool as an investment property.
Video Tour: MGM Signature Condos
The MGM complex consists of three luxurious high rise towers. Each tower packs a total of 38 floors with 576 units. Altogether, the complex features over 1500 units of pure luxury and modern design. It allows you to enjoy all the features of the MGM Grand complex while living in a much quieter and peaceful environment.
Buyers who look for MGM Signature may also be interested in viewing similar properties in Vdara Condos, Trump Las Vegas for Sale & Palms Place for Sale.
MGM Condos Fequently Asked Questions
What is the location & address of the MGM Signature?
What amenities are included with the MGM condos?
Can I rent out my unit when I'm not using it?
What kind of return on investment can I expect if I rent out my condo?
What is the HOA fee at MGM Signature?
Can I finance my purchase?
What are the Pros & Cons of owning a condo hotel?
What are some of the reviews about MGM signature?
What are the closest attractions, restaurants and shopping?
MGM Condos offer some of the best priced Las Vegas luxury condos on the market today. Those who are looking for a quieter, more sophisticated experience lean towards Trump Las Vegas condos. Experienced condo hotel investors with a larger budget may want to consider the 2-bedroom units at Vdara condos in City Center Las Vegas.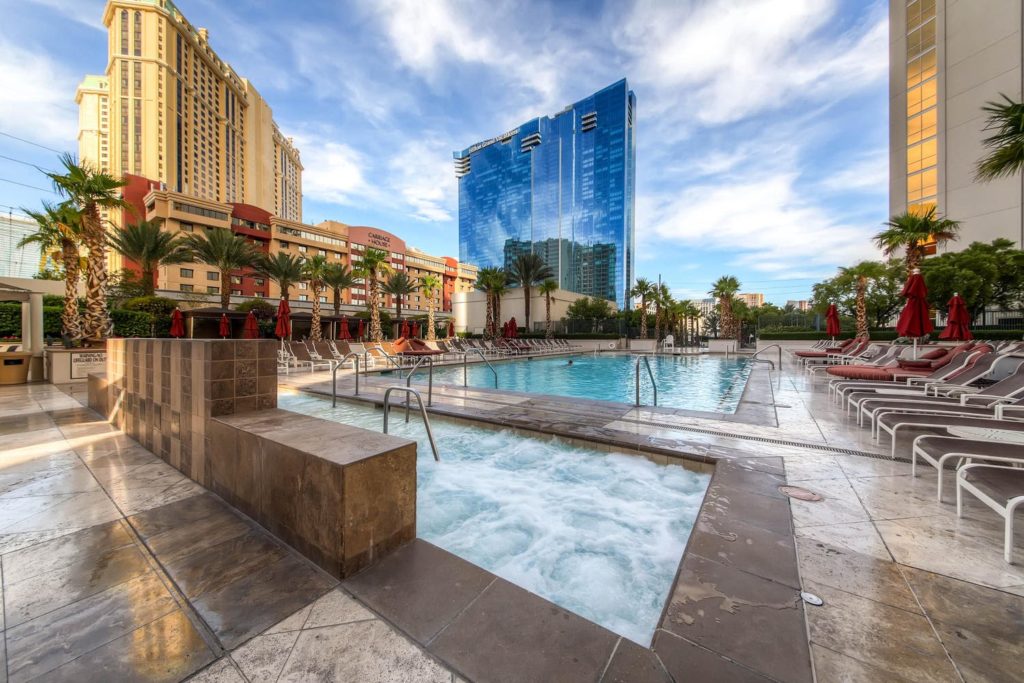 🏢 See MGM Condo Hotels for Sale ⬆️
What is the Location and Address of the MGM Signature?
The MGM Signature is located at 145 East Harmon Avenue, Las Vegas NV 89109, right in the heart of the Las Vegas Strip. This prime location puts you just steps away from some of the most iconic landmarks in Las Vegas with Monorail access to all the major attractions such as the High Roller Observation Wheel, the Las Vegas Convention Center & walking distance to Top Golf.
VIDEO: See The "VIEW" from The Signature
MGM Signature Condos Amenities
MGM Signature features a variety of amenities, including relaxing lounges, private pools, restaurants, and fitness centers. The complex is secured 24/7 and even provides concierge services. The towers one and three feature fully equipped fitness centers, while the second tower has a spacious business center equipped with everything you need for work purposes.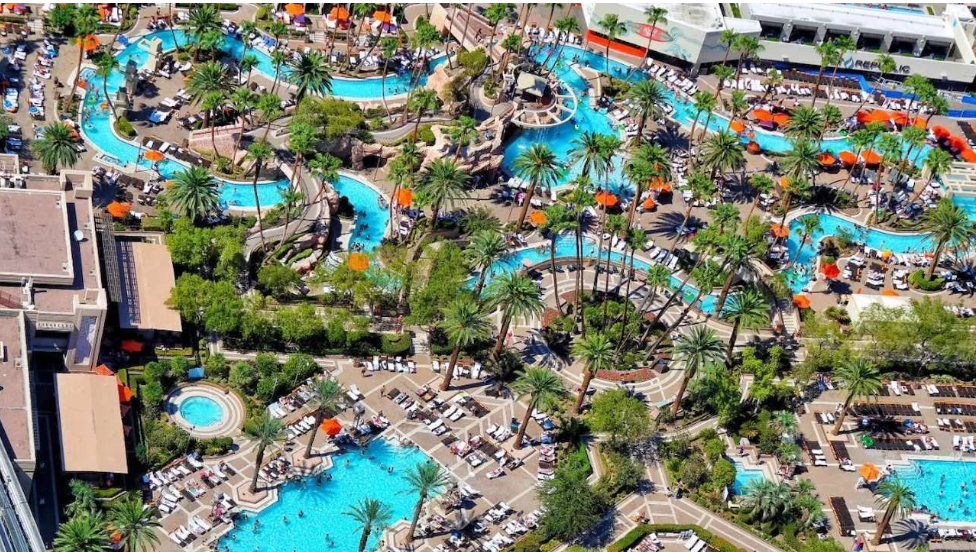 Here are some of the community amenities at MGM Signature Condos, along with a brief description:
Access to 6.2 Acre waterpark and the popular WetRepublic
Private pool and spa: Enjoy a dip in the sparkling pool or relax in the soothing spa, both of which are exclusively available to MGM Signature residents.
Fitness center: Stay in shape with state-of-the-art cardio and weight equipment, as well as access to personal trainers.
On-site restaurants: From casual dining to fine cuisine, MGM Signature has a range of dining options to suit any taste or mood.
Concierge service: Our friendly and knowledgeable concierge staff is available 24/7 to assist with everything from transportation to show tickets.
Business center: Stay connected with high-speed internet, printers, and other business amenities.
Valet parking: Park with ease and let our professional valet staff take care of the rest.
Conference rooms: Host business meetings or private events in our stylish and fully-equipped conference rooms.
Room service: Indulge in the ultimate luxury with 24/7 room service, available from our on-site restaurants.
24-hour security: Rest easy knowing that our round-the-clock security staff is keeping a watchful eye on the property.
Housekeeping: Our housekeeping staff will keep your condo in pristine condition, with regular cleaning and linen services.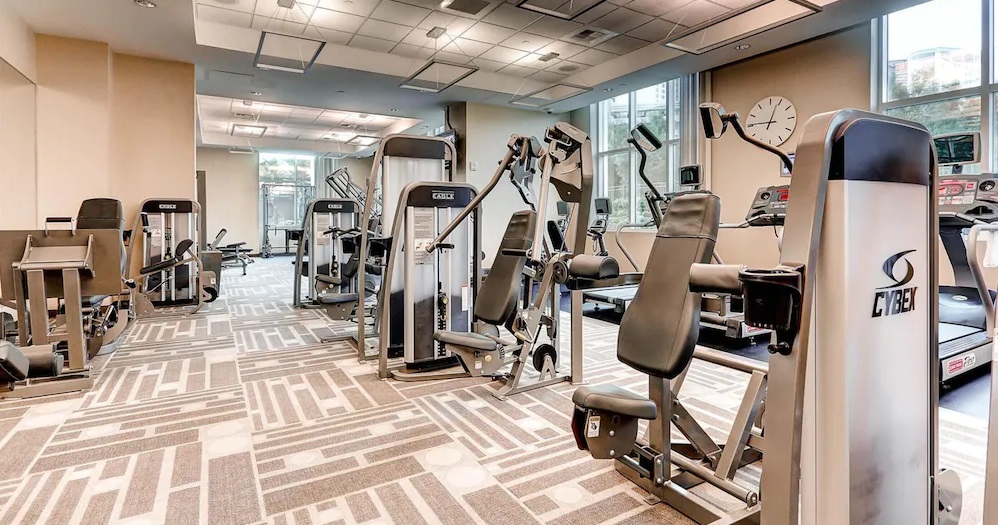 These are just some of the many community amenities that make MGM Signature Condos the ultimate in luxury living.
5 Reasons Why Poeple Buy and Invest in MGM Condos
Location - Situated on the Las Vegas Strip, MGM Signature Condos offer unparalleled access to the city's best entertainment and dining options.
Comfort - From the plush furnishings to the private pool and spa, every aspect of MGM Signature Condos is designed to provide the ultimate in comfort and relaxation.
Convenience - With on-site restaurants, a fitness center, and a private pool and spa, everything you need is right at your fingertips.
Relaxation - From the private pool and spa to the comfortable furnishings, everything at MGM Signature Condo Hotels is designed to provide the ultimate in relaxation and comfort.
Investment Opportunity - Buying a condo at MGM Signature is a smart investment opportunity, with the potential for rental income and property value appreciation.
Can I Rent My Condo?
Yes, MGM Condos are designed specifically so that owners can put them in a rental pool to make a potential income. The 2 most popular methods are directly thru the hotel at a 50/50 split or thru JetLuxury at a 75/25 split.

Most our buyers have chosen JetLuxury as they are investors looking to make the most amount of money per unit. However if you come weekly or even monthly, maybe consider staying with the hotel owner services. It is best to consult with both options before making a decision.
What kind of Return On Investment (ROI) can I expect?
While each unit is different, it has been shown that 1 Bedroom units with the balcony, washer/dryer and end cap units with views are requested the most. However, investors who own multiple studio units typically choose Tower 1 close to the monorail with strip views.

A unique opportunity is purchasing a side-by-side studio & 1-bed unit next to each other. They do not come on the market very often and sell faster than a normal single unit. Investors looking to do 1031 exchanges or diversify their real estate portfolio may want to acquire these.
The great thing about condo hotels is that they are regulated by the SEC as a financial product so you can request a Profit & Loss Statement P&L for the last 2-years once you are in escrow as part of the due diligence process.

For a sample P&L of recently sold unit contact us at 702-882-8240
MGM Signature Condo HOA Fee
The homeowners association fee HOA for MGM Signature start at $705+/mo* and include access to all the amenities including the 6.2 acre waterpark. For the money and the amenities it's easy to see why some people live year round in their condos.
Studio 520sqft. $705+/mo
1-Bed 874sqft. $1,348+/mo
Side-by-Side 1,394sqft $2,025+/mo
The monthly fee depends on unit size, location and elevation and you can verify per unit as you get closer to locating your actual unit.


Can I Finance or Get a Loan?
Yes, financing has been available to purchase as a second home on 1-bedroom units with normally 25%-35%+ down. Based on the buyer's credit and amount down, some lenders may consider loans on studios with up to 40% down.

For a list of lenders for high rise condos and condo hotels, contact 702-882-8240
What are the Pros & Condos to Consider?


Buying an MGM condo hotel can have many benefits. Here are some of the most significant ones:
Rental income: When you own a condo hotel unit, you can rent it out when you're not using it. This can provide you with a steady stream of rental income that can help cover your expenses and potentially even turn a profit.
Access to hotel amenities: As an owner of an MGM condo hotel unit, you'll have access to all the amenities of the hotel, including pools, fitness centers, restaurants, and more. You can enjoy all the benefits of staying at a luxury hotel while having your own private space.
Hassle-free ownership: With a condo hotel unit, you don't have to worry about the day-to-day responsibilities of property management. The hotel staff will take care of everything, from housekeeping to maintenance, allowing you to relax and enjoy your property without any hassle.
Potential for appreciation: As with any real estate investment, there is potential for your MGM condo hotel unit to appreciate over time. As the value of the property increases, so too does the potential return on your investment.
Flexibility: Owning a condo hotel unit gives you the flexibility to use the property as much or as little as you want. You can stay in your unit whenever you like, and rent it out the rest of the time. This allows you to maximize your return on investment while still enjoying the benefits of ownership.
While owning a condo hotel unit can have many benefits, there are also some potential drawbacks to consider. Here are some of the most significant ones:
Limited personal use: At MGM you can live year round as a condo since you own the unit or put your unit in the rental pool. Units in the rental pool may require a timeline of notice if the owner wishes to pull it out of the rental pool.
Maintenance fees: As an owner of a condo hotel unit, you'll be responsible for paying maintenance fees and other ongoing costs associated with the property.
Rental restrictions: Some condo hotels have restrictions on how owners can rent out their units. For example, the hotel may require that owners use their rental program exclusively, which can limit your ability to generate rental income on your own terms.

MGM condos are open to using a 3rd party management like JetLuxury or doing your own AirBnB. Consult with your real estate agent first for experienced advice from actual owners on which may be your best option.
Overall, owning a condo hotel unit can be a great investment, but it's important to consider the potential drawbacks as well. By weighing the pros and cons, you can make an informed decision about whether condo hotel ownership is right for you.
TRY BEFORE YOU BUY! 4 Star MGM Condos
Most our buyers are people who keep staying and returning to the MGM as guests - That says alot. They have found the easy access to the strip and the airport a major plus. Reading the reviews online one can see how well ran this development is.
It is one of the few condos hotel units you can actually pick and own your own unit, making it a rare opportunity. Owners rave on New Years, Valentines and special events like boxing or concerts when they or there friends or family can use the unit.
Yes, you can buy and own your own 4 Star MGM Condo right here!

What Are Some Reviews About MGM Signature?


"The (MGM Signature Condos) staff were very helpful and welcoming. The rooms were super clean and had everything we needed. We were pleasantly surprised with all the facilities - hob, microwave, coffee machine, blender, kettle and all cutlery etc. Beautiful rooms and hotel. Perfect location. We loved it so much.......! This time we are booking a balcony room!" - Juliet UK "

"The MGM Signature was everything I could have hoped for and more. The room was spacious and had all the amenities I needed, the location was perfect, and the staff was friendly and helpful. I would highly recommend this place to anyone looking for a luxurious stay in Las Vegas." - Reviewed on Apartments.com

"The rooms at the Signature are spacious and beautifully decorated with high end furnishing. We stayed in a junior suite which have a small kitchenette which is ideal for saving some cash on Breakfast and Lunch if you want. The bed is very comfortable and the pull out couch worked great for the kids. The bathroom is stunning and includes a jacuzi tub and seperate walk in shower." Trip Advisor
Attractions, Restaurants and Shopping close to MGM Signature


here are some of the closest popular attractions, restaurants, and shopping destinations to MGM Grand Las Vegas:

Attractions:
The Park: This outdoor dining and entertainment district is located right next to the MGM Grand and features live music, art installations, and a variety of restaurants and bars.
Website: https://www.theparkvegas.com/ Address: 3784 S Las Vegas Blvd, Las Vegas, NV 89109 Phone: (844) 346-4664
Topgolf Las Vegas: This multi-level entertainment complex features golf games, food and drinks, and a rooftop pool with cabanas and a live DJ.
Website: https://topgolf.com/us/las-vegas/ Address: 4627 Koval Ln, Las Vegas, NV 89109 Phone: (702) 933-8458Top Golf connection gives you walking distance to one of the most state of the art golf and activities centers that includes games, corn hole, and another pool. (paid per visit).


TOP GOLF Las Vegas

Bellagio Fountains: This iconic attraction features a choreographed water show set to music and lights, located just a short walk from the MGM Grand. Address: 3600 S Las Vegas Blvd, Las Vegas, NV 89109 Phone: (702) 693-7111
Restaurants:
Morimoto Las Vegas Address: MGM Grand, 3799 S Las Vegas Blvd, Las Vegas, NV 89109 Phone Number: (702) 891-3001
L'Atelier de Joel Robuchon Address: MGM Grand, 3799 S Las Vegas Blvd, Las Vegas, NV 89109 Phone Number: (702) 891-7358
Hakkasan Las Vegas Address: MGM Grand, 3799 S Las Vegas Blvd, Las Vegas, NV 89109 Phone Number: (702) 891-7888 Website: https://hakkasanlv.com/
Shopping:
Miracle Mile Shops: This massive indoor shopping mall is located inside the Planet Hollywood resort, just a short walk from the MGM Grand, and features over 170 stores, restaurants, and entertainment options. Website: https://www.miraclemileshopslv.com/ Address: 3663 S Las Vegas Blvd, Las Vegas, NV 89109 Phone: (702) 866-0703
The Forum Shops at Caesars: This upscale shopping mall located inside the Caesars Palace resort features over 160 stores, including high-end brands like Gucci, Louis Vuitton, and Versace. Address: 3500 S Las Vegas Blvd, Las Vegas, NV 89109 Phone: (702) 893-3807
Fashion Show Mall: This popular shopping destination located just a short drive from the MGM Grand features over 250 stores, including flagship locations for brands like Nordstrom, Macy's, and Neiman Marcus. Address: 3200 S Las Vegas Blvd, Las Vegas, NV 89109 Phone: (702) 369-8382
Monorail Access - Signature at the MGM Grand
Have you heard of the Monorail? It is an amazing way rail line to access Las Vegas and starts at the MGM. This leg of the monorail goes all the way to the SLS with stops by the "High Roller" and the back of Paris were you can walk to the Bellagio. The monorail allows residents a chance to visit or live on the strip with out having to have a car.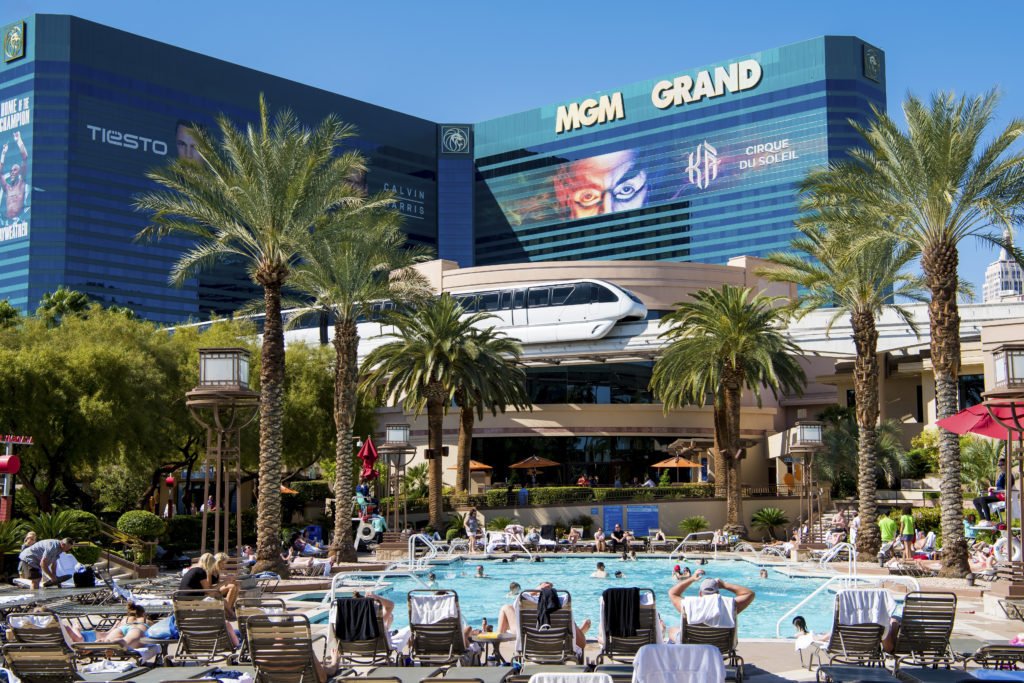 Each of the Signature Residences at MGM Grand includes a private owner's lounge and fully staffed lobby. Lushly landscaped, five gorgeous outdoor swimming pools, the Grand Spa with 30 treatment rooms and a world class fitness center, in-room dining, concierge and housekeeping service, a variety of signature and casual restaurants, shopping and entertainment venues and a 171,000 square-foot casino.
MGM Condos for Sale with View of "Wet Republic"
"Wet Republic" is an alluring 54,500-square-foot venue comprised of large saltwater pools, intimate dipping pools, daybeds, banquets, tricked-out Bungalows and Party. This location definitely delivers if you want to be around the action and never have to leave your own neighborhood.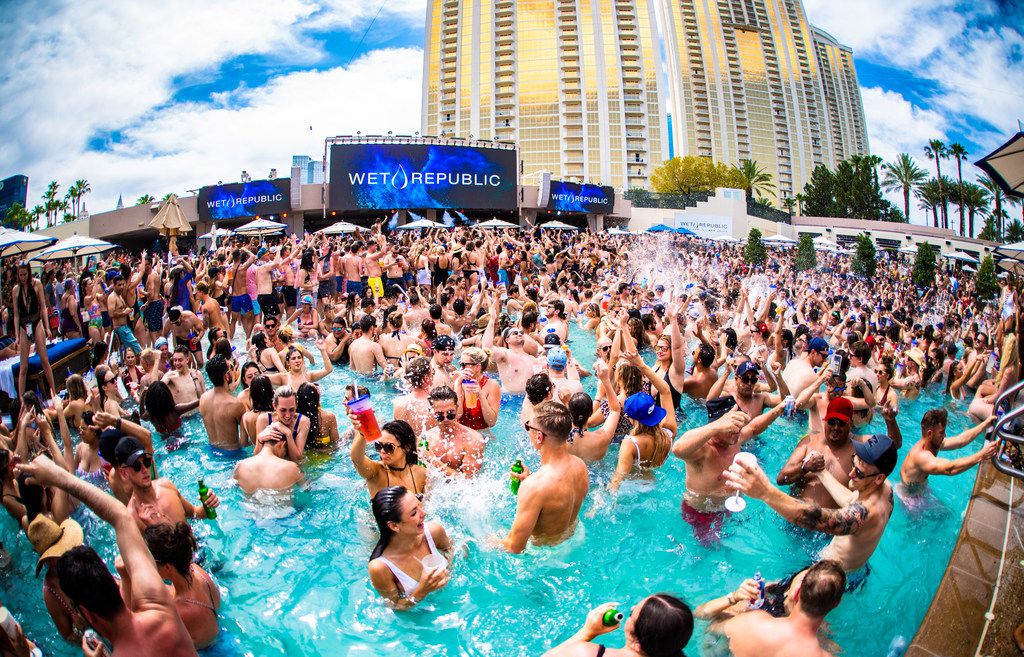 One of people's favorite amenities at the MGM Signature condo high rise complex is the pool. The resort-like pool area will make you feel as if you were on a vacation every single day. Besides, the complex often hosts amazing pool parties for residents and their friends and family.
MGM Condo Features
The units in this non-smoking complex are exceptionally clean and modernly designed. It is important to mention that this complex doesn't feature two bedroom suites. Instead, its floor plans include one bedroom suites, studios, and large penthouse units. The penthouse units start at the 30th floor and stretch across the eight top floors of each tower.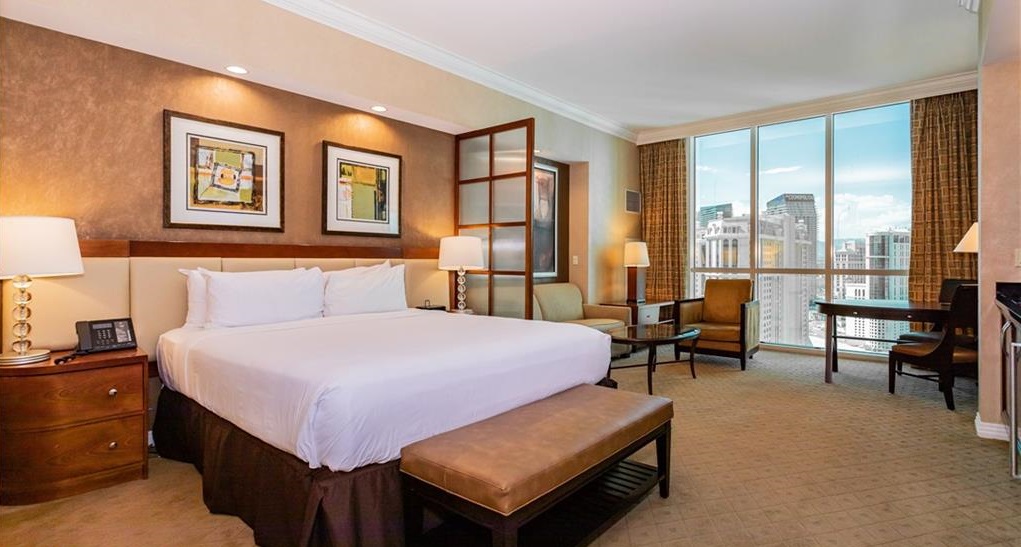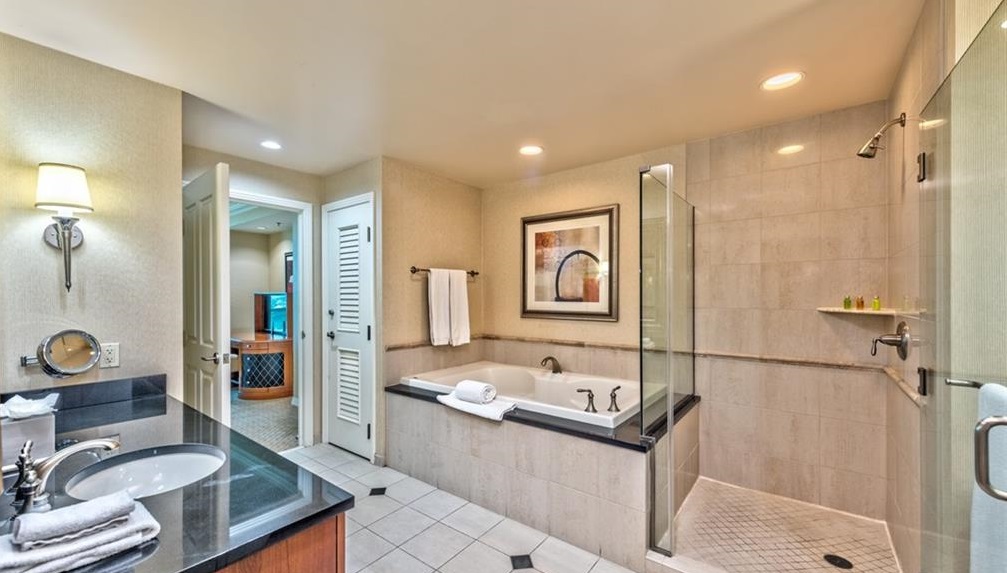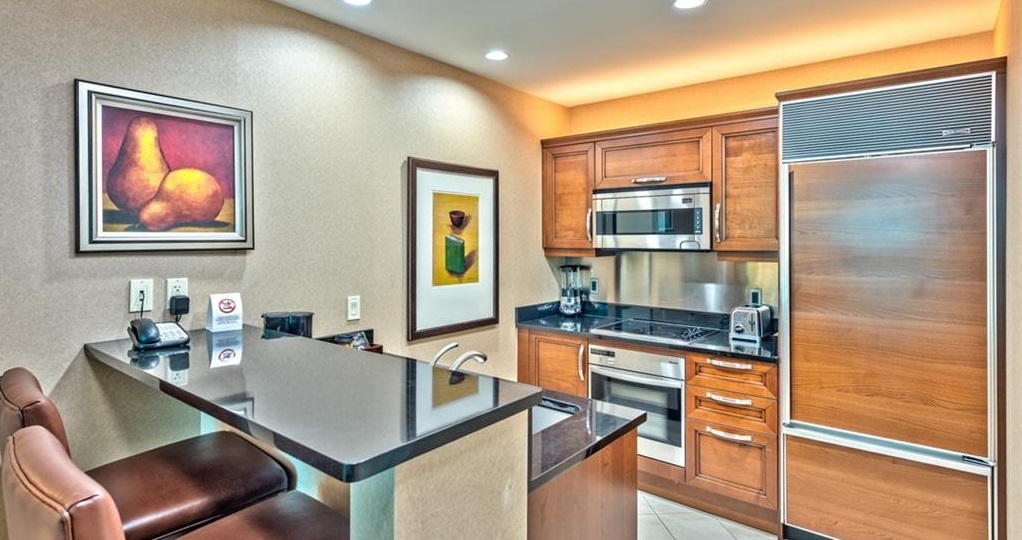 MGM Condo Room Amenities
fully furnished
flat-screen TV with satellite channels
large bathrooms with garden soak jacuzzi tubs
full kitchenettes with granite countertops a microwave, kettle, refrigerator ect
1 bed room units have washer & dryer
select units have balconies
The guard gated entrance with secuirty surveillance makes the MGM Signature a very safe and secure complex to live in. The gated entrance will keep you and your family safe 24/7. Another benefit of living in a gated complex is the fact that you can pick up your things and leave the unit any time you need to without having to worry about the security. Besides having a secured entrance, the unit is surrounded by neighbors who will look after it while you're gone.
MGM Signature VIDEO Overview
If you are looking for high rise condos and other real estate properties for sale, make sure to check out all active real estate listings on our website. Don't forget all the benefits of living at the MGM Signature condo complex, including luxurious units, pools, gyms, and 24/7 security. The complex is also close to other areas such as the MGM Mirage Las Vegas Hotel and Casino.
🏢 See MGM Condo Hotels for Sale ⬆️
○ We specialize in MGM Signature Condos for Sale
Call 702-882-8240
Searches Related to MGM Signature Condos for Sale
Vdara Condos for Sale
Palms Place Condos for Sale
Las Vegas Condo Hotel for Sale