Los Prados Las Vegas
We Specialize in Los Prados 55+ Homes
ℹ️ More Information
LOS PRADOS Homes by Features
Los Prados
September 29, 2023
What and Where is Los Prados Homes?
Los Prados Homes

Los Prados homes for sale are located in the Guard Gated community of northwest las vegas on a popular public golf course that has a popular club house and activities year round. The course and restaurant have consistence 5 star reviews.
Prospective buyers searching for Los Prados Las Vegas might also find interest in exploring comparable Painted Desert Las Vegas Homes, Desert Shores Homes and Homes for Sale in Silverstone Ranch Las Vegas.
🏠 See Los Prados Homes for Sale ⬆️
Video Tour: Los Prados

Los Prados Real Estate Market
| | | |
| --- | --- | --- |
| Los Prados Homes for SALE | Recently SOLD | For Rent |
Los Prados Las Vegas

Located in the northwest area of the Las Vegas Valley, Los Prados is perhaps the best value for a guard gated community in Las Vegas. It is close to Aliante Resort & Casino and has good access to both the 95 and the 215 Freeway - yet far enough away not to have noise or unwanted car traffic. It is considered a gem and a 'diamond in the rough' being affordable for living, golf or just grabbing lunch at the clubhouse.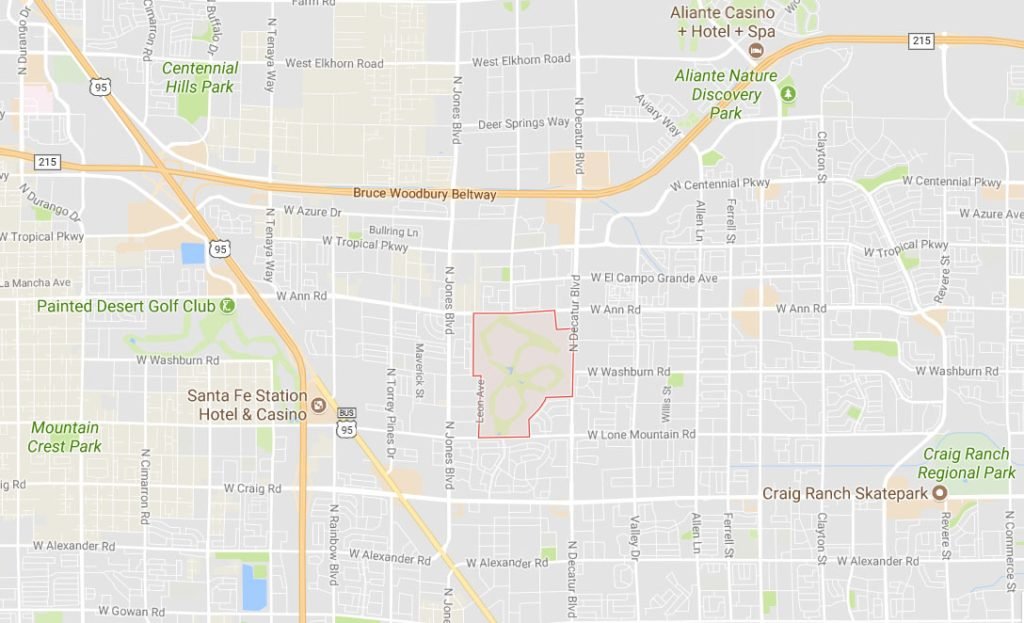 The Las Vegas Strip is only 20 minutes away from the community and it is packed with all sorts of amenities. Its main attraction is the par-70, 18 hole Los Prados public golf course along with an amazing clubhouse and plenty of other useful amenities. The golf course stretches across almost 6000 yards and features challenging elevations and terrains.

is owned by the Los Prados Community Association, an association that does a great job at operating and maintaining the course, while it was designed by Jeff Hardin. Besides practicing golfing skills on the challenging terrains, one can enjoy beautiful views at the same time from the community golf course of Los Prados. Another thing that makes this community the perfect place for golf lovers is great weather all year long!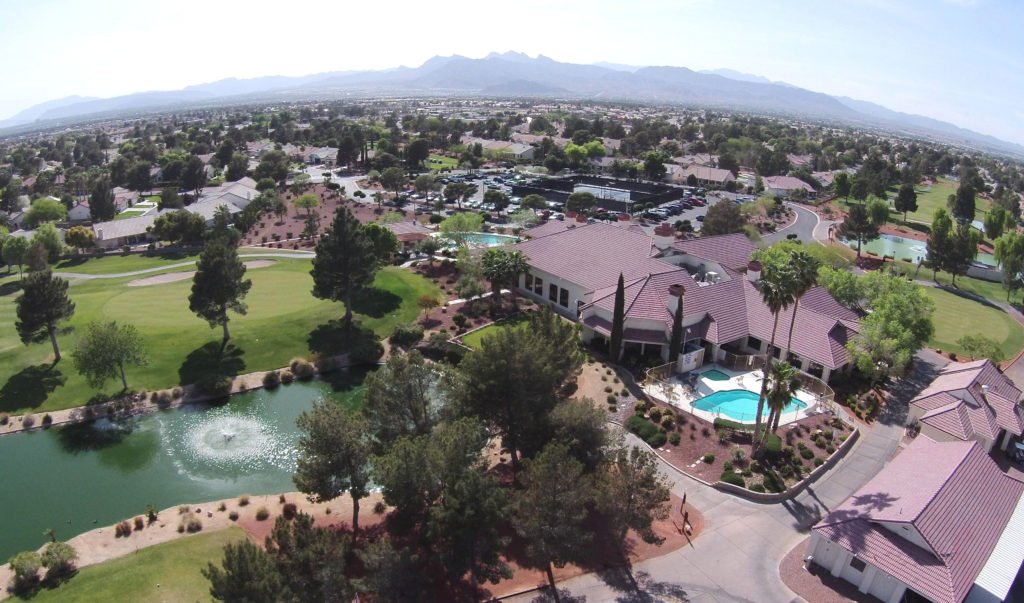 Los Prados Club House
Los Prados Golf Course
Tennis
Pool
Restaurant at Los Prados
After a great day of golfing, the residents as well as visitors can enjoy the wonders of the Los Prados Clubhouse that features several multi-purpose rooms for crafts, arts and gatherings. There is one large gathering room for the main social events within the community, as well as smaller areas for other activities. The clubhouse also features a restaurant that serves world famous dishes, the perfect place to relax and have a lunch after a tiring game of golf. Other amenities within the clubhouse include a large library, two outdoor pools and two tennis courts.
Los Prados Las Vegas Homes for Sale
This 55+ guard gated community provides the right feel of resort-style living. The residents of Los Prados can enjoy a number of shopping areas as well as dining areas with world class restaurants. Besides the amenities offered within the community, the residents have close access to everything the famous Las Vegas Strip has to offer, from world famous entertainment to the best chefs in the country. The community of Los Prados counts 1358 homes in total and, even though all homes have been sold soon after the community's opening, there are plenty of resale homes currently available on the market.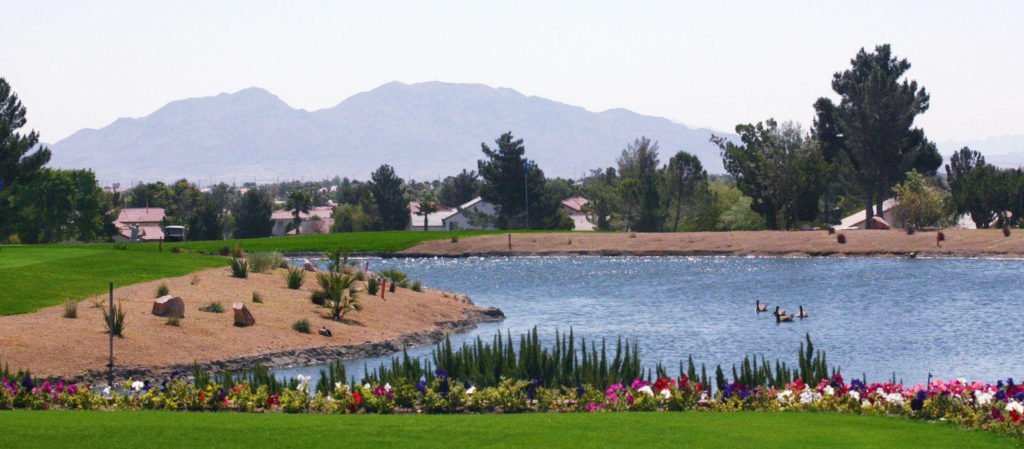 Los Prados Homes on Golf Course
"A great course for the money. Green fairways and rough and very fast greens. Bunkers, best I have been in maybe ever. Lots of well groomed sand in bunkers. A somewhat shorter course, not many super memorable holes but great condition and great price. Friendly employees."
"Came back again and enjoyed our round. Very relaxing, quiet course. Moves along pretty good. We enjoyed the restaurant after our play just like last time. Worth the trip." -- Yelp Review
The homes of this community are nicely structured around the golf course. Each home features beautiful scenic views and is close by the walking and biking trails that stretch throughout the community. The development of Los Prados and the building of houses began way back in 1986 while the official opening took place in 1998. Throughout this period of time, plenty of well designed and properly structured homes have been built that are today available as resale homes.

Homes in Los Prados differ in sizes and layouts. Thus, you can choose from several different floor plans in order to find a place that suits you most. The size of the homes ranges from 1083 to 3300 square feet. The homes have from two to four bedrooms, depending on the size, and each features an attached garage, securing each resident a private and secure parking place. Another great thing about Los Prados homes is that they are very low maintenance. Each resident pays a monthly fee to the home owners association, which takes care of any possible breakdowns or malfunctions in the home. The association also manages the general upkeep and maintenance of the shared areas and facilities within the community.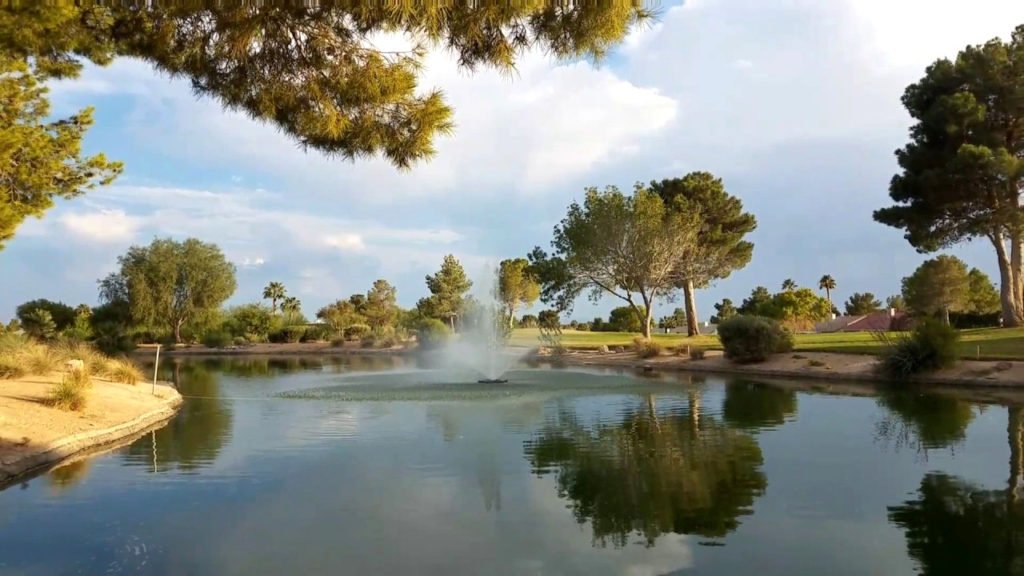 What attracts people to Los Prados, besides the great golf course in its center, are natural parks, cultural attractions and world class entertainment. Even besides the perfect location of the community that gives residents close access to the center of Las Vegas, Los Prados features plenty of amazing places itself.

Overall, the Los Prados community of the northwest area of the Las Vegas Valley is the perfect age restricted community for those who want to meet like-minded people and live an active and healthy lifestyle. The residents of this 55+ community have a busy schedule, as there are always things they can do, from sports activities, golfing and community gatherings to reading, learning and playing games. There are menty interest clubs and groups within the community that include activities such as bowling, quilting, fitness, water aerobics, bunco, etc. The most popular clubs of the Los Prados community are the car club and the book club.

Come eat breakfast, lunch or have a drink at the Restaurant at Loas Prados. The menu is affordable and the staff has a 5-Star rating.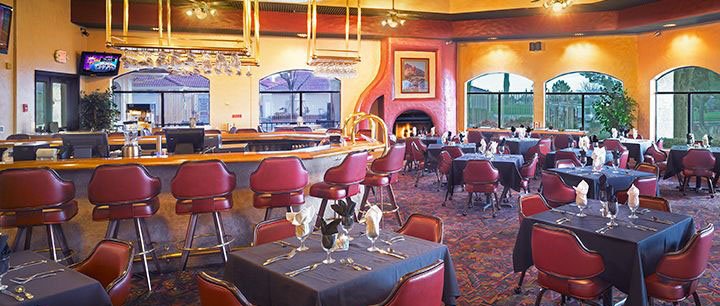 "Went to the last Los Prados Champagne Brunch with my family this past Sunday. Their brunch always abounds with pastries, fresh fruits, salads, breakfast and lunch entrees and made-to-order omlets. Although my favorite part was the free flowing champagne. All for $14. Such a deal. But now, the managment says they do not make any profit so they are endinf it. They will be having a regular breakfast and lunch menu on Sundays starting this Sunday. The view of the golf course, a small lake and strolling ducks makes a pleasant atmosphere for any meal."
"The Restaurant at Los Prados golf course is a nice sit-down restaurant with bar that serves reasonably priced lunch at the turn or dinner after your round. Just like the rest of the staff at Los Prados, the people who work here are outstanding." -- Tripadvisor review
Therefore, no matter what your interests are, you are for sure going to find something that suits your liking and fills your life with joy. In terms of real estate, the community offers plenty of desirable resale homes with state of the art appliances and practical floor plans. Besides the convenience and the luxury of high end lifestyle, these homes also feature beautiful views. Overall, the community provides great security, as it is a guard gated area.
Buy or Sell Homes for Sale Los Prados
What residents enjoy the most when it comes to living in Los Prados is the closeness of one of the most advanced golf clubs in the city. Golfers enjoy the luxury of living near such a challenging and fun course and even those who aren't big fans of this sport will want to come and check out what the Los Prados golf course has to offer. On top of it all, the community offers all conveniences of the downtown Las Vegas area and the combination of its amenities and location are what makes it one of the most desirable places to live in nowadays! Whether you're a golfer or you're looking for a place to settle in, Los Prados is one of those places that is going to make you feel as if you were living in a resort!
-
We Specialize in Homes for sale in Las Prados Las Vegas NV Call 702-882-8240