Las Vegas Mansions
October 2, 2023
$3,862,500
Med. List Price
---
What and Where is Las Vegas Mansions?

Las Vegas Mansions for sale are typically large lot homes with at least 7000+ sq.ft. Las Vegas currently leads all major cities for best value per square footage and amenities on luxury properties over 20,000 sq.ft.. Las Vegas luxury homes are constantly being featured on TV & magazines due to the design and diversity uniquely found here in world famous Las Vegas.
For those looking at Las Vegas Mansions, there is potential interest in checking out similar listings in Most Expensive Homes in Vegas, Luxury Homes in Las Vegas Nevada and 1 Million Dollar Homes in Las Vegas.
🏠 See Las Vegas MANSIONS for Sale ⬆️
See Also: Las Vegas Luxury Homes
Las Vegas Mansions
Mansions are the epitome of living the luxury lifestyle, and if you're one of the people close to achieving the aspiration of owning a huge home you're at the top of the real estate food chain.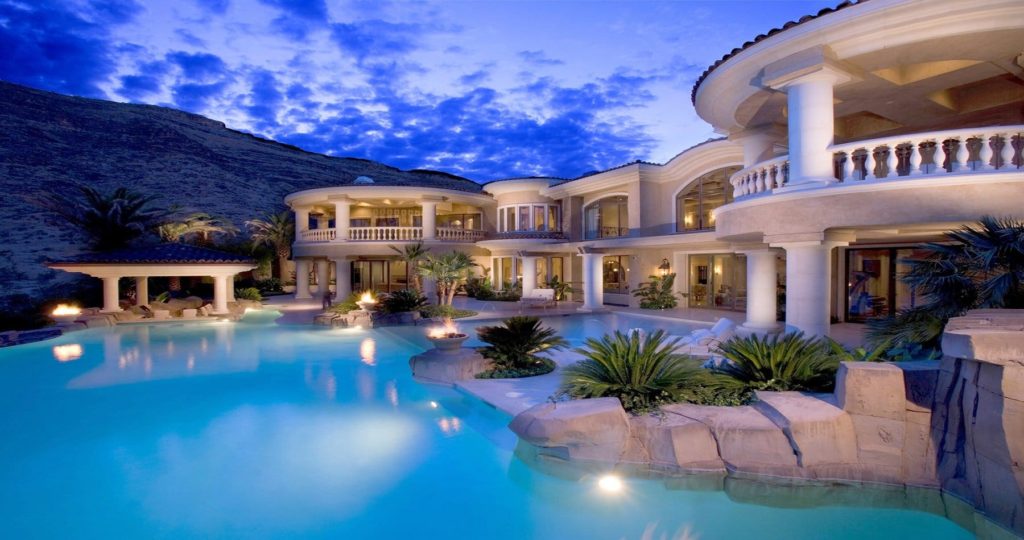 Mansions for Sale in Las Vegas, Summerlin & Henderson
Las Vegas is famous as much for its mansions as it is for the casinos and nonstop fun and entertainment. A mansion is a property of over 7,000 sq ft, but many are much bigger than that - and in Las Vegas, a home isn't really considered a mansion unless it's over 9,000 sq ft. In Las Vegas, you will find that 7000 square feet luxury homes are normal. 6000 sq ft homes are referred to as good size and 7000 sq ft as large. In fact, it is homes having more than 9000 sq ft area that are considered as mansions in Las Vegas.
Video: Las Vegas Mansion Tours

🏠 See Las Vegas MANSIONS for Sale ⬆️
On this page you see homes listed over 8000+ Sq.Ft
They also tend to be endowed with high end features that you wouldn't find in your average home; from marble floors to tennis courts, staff quarters to enormous landscaped gardens, swimming pools to home movie theaters; mansions reflect the most desirable lifestyles in America.
Other features that are found in mansions are entertainment room with a movie theater, swimming pool, basements, fireplaces, and quick and easy access to shopping and dining facilities or golf courses. In general a mansion is a house that spells grandeur and class and consists of features and amenities that reflect a lifestyle reserved for the high class only.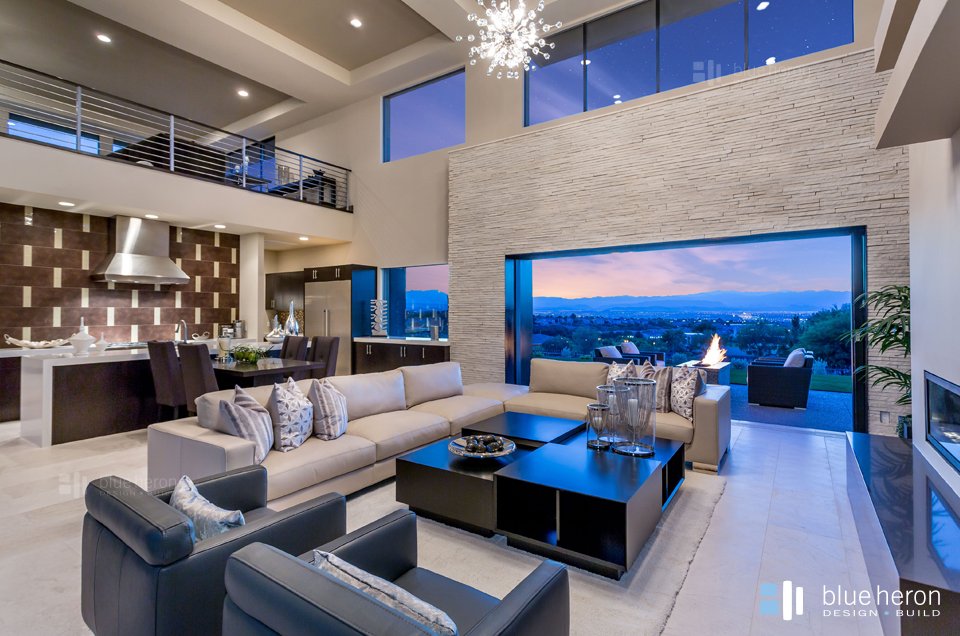 Interior Las Vegas Mansion.
Living area is only the starting point as a property needs to have many more features and amenities to be labeled as a mansion in Las Vegas. These include a large foyer at the entrance gate, marble flooring, large staircases, servant quarters, large closets with full sized mirrors, butler kitchen, and so on.
Mansion for Sale in Las Vegas May be Best Value in USA
Low Prices
OK, so no mansion is ever going to come cheap in comparison to your average house price. But right now, Las Vegas has the lowest price per square footage out of all major US cities to buy the mansion of your dreams.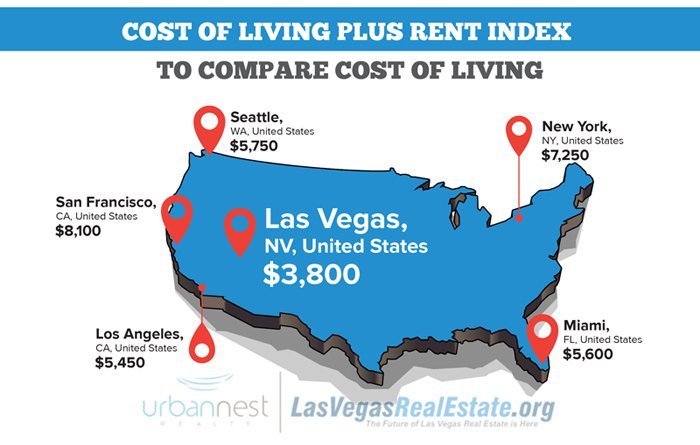 What attracts these wealthy people to buy a mansion in Las Vegas is not just the glamour and status but also low property taxes, no personal income tax, and a relatively low cost of living in the U.S. In Nevada, you pay taxes calculated on 30% of the value of your property. The cost of living in Vegas is much lower than in other major metro areas of the country like Seattle, New York, Miami, and Los Angeles.
Lower Property Taxes & Cost of Living
Comparing data collected on various cities, bestplaces.net compares the cost of living in Las Vegas to that of other major US cities - and the numbers show that Las Vegas is a strong choice if you want to enjoy big city life without paying extortionate rates.

The average cost of living index for the whole of the USA is 100. Overall, the Las Vegas cost of living index is 104.5. To look at just a few other cities, Seattle's is 176.5; Los Angeles' is 166.2; Oakland is 179.3; and Manhattan's is 260.60.

Las Vegas property tax rates are some of the lowest in the US for major cities. So if you're tax-savvy and want to ease the burden placed on your finances by the high taxes you'll have to pay in other cities, this is the place to buy.

Tax rates are currently at approximately $1 per $100 of assessed property value which is at 30% in Nevada. And this means genuine savings for property owners in Las Vegas in comparison to elsewhere, so you'll have a better quality of life - or some more cash to spend looking after your beautiful home.

The second largest home in the USA is in Las Vegas: it's called the Tomiyasu Lane Estate, and measures in at 73,000 square feet. It last exchanged hands in 2011 - casino mogul Phil Ruffin bought it from the Sultan of Brunei for just under $25,000,000 - which comes to less than $350 per square foot.
You'll Be Living Among The World's Top Celebrities
Las Vegas Luxury Homes are among the most desirable properties in today's real estate market. At present, 30% of the buyers snapping up mansions in Las Vegas are from California, known to be one of the most affluent locations on the globe.
VIDEO: Las Vegas Mansions

🏠 See Las Vegas MANSIONS for Sale ⬆️
So the people currently making the move to Las Vegas are among the global elite of celebrities and business people; buying your own mansion here means that they'll become your next door neighbours. Celine Dion; Andre Aggasi; Wayne Newton; Mike Tyson; and Rita Rudner are just a few of the stars who call Las Vegas their home.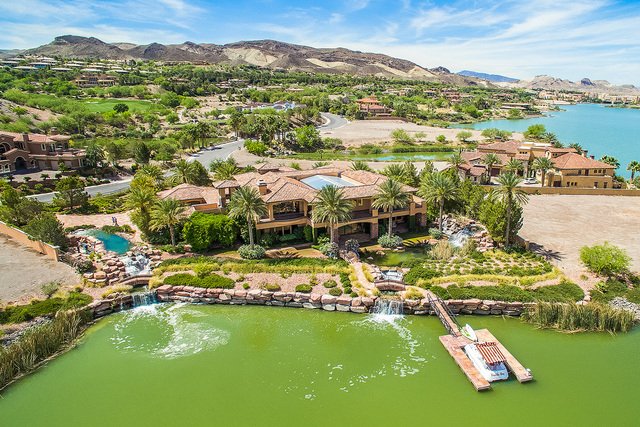 And what is it that's making the most wealthy and influential people on the planet want to buy a home in Las Vegas?

Well, the city happens to have some of the most stunning luxury mansions in the world. If you're in the market to buy a mansion, the chances are that you've worked incredibly hard and are ready to reap the rewards, creating your own paradise within the walls of your private grounds. You'd be hard pressed to find a better selection of homes to choose from than you'll find in Las Vegas;

If you have upwards of a million dollars to spend on a property, this is the city to get a place that has everything you want - your money will go further here, and you'll be buying into the city at an incredibly exciting time.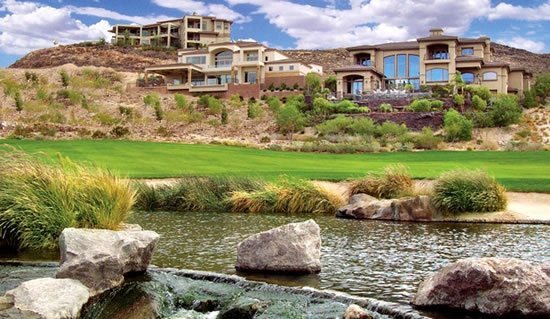 You will be surprised to know that one Luxury Home over $1-Million sells every single day in Las Vegas. It is a good idea to contact a reliable and experienced realtor to strike a bargain deal for yourself if you are interested in buying a mansion in Las Vegas.

If you're in the market for a mansion but you're overwhelmed by choice as to where to buy one - contact are office for a consultation. More important than buying is selling - when the time comes to sell you want to be that Mansion in an area where people are getting the most amount of money for their investment.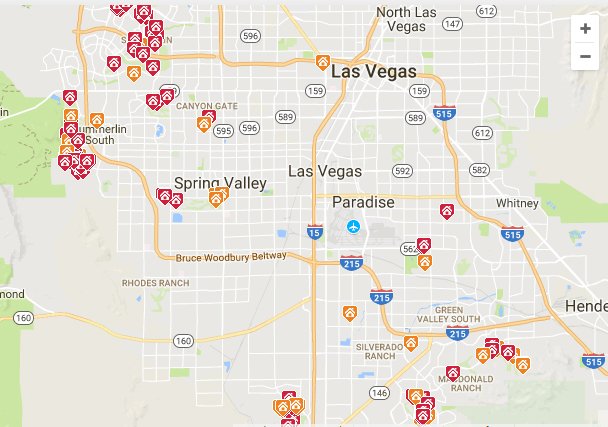 Our team will be able to show you any property on the market that is for sale & maybe a few celebrity listings that are not on the market but may be available. From classic architecture to beautiful modern design, with a vast range of amenities, you won't be disappointed in Las Vegas luxury real estate.
If you are interested in home sale in Las Vegas - contact us today for a tour of Las Vegas mansions for sale and other real estate listings information in guard gated communities.
_
We specialize in Las Vegas Mansions for Sale from $1.4M
Call 702-882-8240
Searches Related to Las Vegas Mansions
Most Expensive Homes for Sale in Las Vegas
$1 Million Homes in Las Vegas
Luxury Homes Las Vegas