Las Vegas Luxury Homes


Las Vegas Luxury Homes
We Specialize in LUXURY Homes
ℹ️ More Information
Las Vegas LUXURY Homes by Type
Las Vegas LUXURY Homes by Area
Today's Best Deals for Luxury Homes
2 Properties
Las Vegas Luxury Homes
September 29, 2023
$2,275,000
Med. List Price
Las Vegas Luxury Homes by Price
---
Luxury Homes of Las Vegas Search: Las Vegas has some of the most incredible luxury homes on the planet, some of which are listed in the 40 Most Expensive Homes in Las Vegas. If you have worked hard and deserve to have your own private paradise, then Vegas may be the choice for you. Luxury homes in Las Vegas may include guard gated communities with tennis courts, basketball courts, clubhouse, waterscapes, playgrounds and other amenities.
Exploring options for Las Vegas Luxury Homes? You might also want to take a look at similar properties in Mansions for Sale in Las Vegas Nevada, 1 Million Dollar House in Las Vegas and Henderson Luxury Homes Las Vegas.
🏠 See Las Vegas LUXURY Homes for Sale
Las Vegas LUXURY Homes by Communities
| | |
| --- | --- |
| Anthem Country Club | Red Rock Country Club |
| Canyon Fairways | Seven Hills |
| Eagle Hills | Southern Highlands |
| MacDonald Highlands | Spanish Trails |
| Mountain Trails | The Ridges |
| QueensRidge | Tournament Hills |
Las Vegas Luxury Homes for Sale Migration Map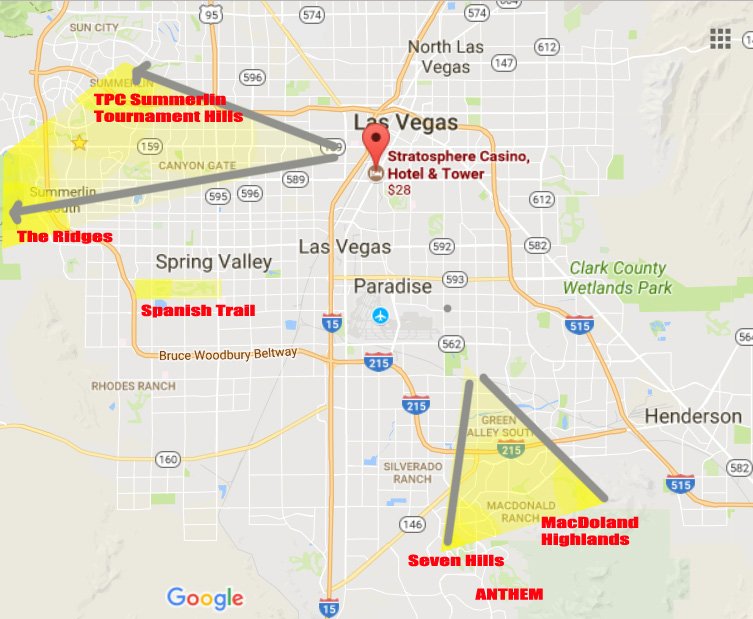 We are not suggesting where you should buy, that is your decision. This is just a representation of the migration of the luxury homes market in Las Vegas for the past 50 years as Vegas has been one of the fastest growing cities in the USA for the last 50 years and you should be aware that there are some amazing homes close to the strip and in little hidden neighborhoods from one area to the other.

From the strip area of "Rancho bel Air Circle" to Section 10 with big lots and then you have "Canyon Gate" to "Queensridge" out to "Summerlin" to the today's "The Ridges".
21+ Years Experience in Luxury Homes
Since 95' our team has been actively involved in the Las Vegas real estate market and have a very unique advantage of both time in the business and the experience of being in all these communities, driving the streets and showing the properties.

When going to buy a $1-Million+ property, one of the most important questions should be "If I had to sell today, how long will it take & how much can I get?". There are just some areas of town that have never seen a strong luxury market.
Todays Top 7 Luxury Homes Communities in Las Vegas by Sales
The Ridges (Summerlin) - This guard gated master planned community in Summerlin is currently the leader for high end sales. It has several communities inside with the popular Christopher homes to large custom lots that back up to preserved land. Sits on the public Bear's Golf Course with one of the most 18 unique holes to play in the valley.
Red Rock Country Club (Summerlin) This community sits next to The Ridges and has been consistent from the beginning as it backs up to the Red Rock conservatory views on one side and some have Las Vegas strip views the other direction. There is a diversity of builders and floor plans from small to large.
Tournament Hills (Summerlin) Located on the TPC Summerlin golf course. All the communities on the TPC Summerlin and Canyons golf courses are consistent for sale. Its neighboring communities Corta Bella to Eagle Hills should all be taken into consideration if looking in this area.
MacDonald Highlands (Henderson) There are some MONSTER homes in here. Some of the biggest in Las Vegas with drop dead gorgeous views of the strip. "Street of Dreams" was first held here and you can even find the popular Christopher homes floor plans.
Seven Hills (Henderson) There are many communities in Seven Hills and each with its own unique feel. This is a popular neighborhood close to St Rose parkway. If you are considering Henderson than this may be a community you don't want to miss previewing.
Southern Highlands To the south of the Las Vegas strip on the road going to California is this large master planned community. Being that 30% of are buyers are from California, many see this community first on there way into town. It has some of the new home builders award winning models and designs here.
Map Showing Luxury Home Sales
You can see the relation between the first map and this one along with the 7 communities mentioned. From Summerlin to Henderson and south of the strip there is something for even the most discerning luxury home buyer.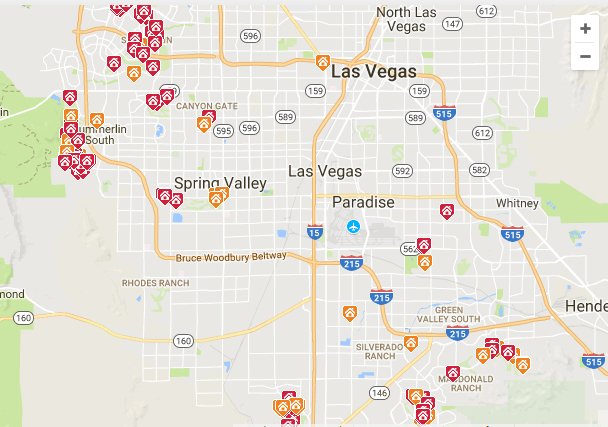 Benefits of Living in Luxury Home
Las Vegas, known as the leading real estate city in Nevada recently, is a place with a significant growth of new, modern,and luxurious neighborhoods and homes. There have always been people who are looking for more than just a home, however, there are some people who are always searching for homes with the essence of luxury.
There are several benefits why people prefer living in a luxury home and some of the top ones are the following:
Security
One of the most important features of luxury homes is that those types of homes have the latest security measures installed. They have the highest security, depending on if it is a home in a residential building.
Residential buildings usually might be trained security personnel, or just a regular luxury house, with up-to-date security technologies installed. Luxury home owners definitely rest easy and enjoy a greater safety with all those gates, alarms and cameras, or simply the great position of the neighborhood itself.
🏠 See Las Vegas LUXURY Homes for Sale
Smart Home Technology
Luxury home buyers are seeking types of homes that will make their lives easier.When speaking about luxurious living it is necessary to mention the smart home technology, which is very popular these days. The Smart Home Technology uses internet of things to automate and monitor all the in home systems.
Also known as home automation, this is mostly common advantage for luxury homes. Basically, a smart home technology is a way to control devices in your home remotely, via your device (smartphone or PC). The new definition of luxury is in high demand these days as it is a total relieve for the homeowners in many aspects.
Whether it is locking the doors, controlling kitchen appliances, the thermostat, lightening or sounds, a homeowner is able to look after their home from anywhere at any time, simply from their smartphones in hands. Importantly, this is just another way of providing a better safety and security in one's home.
Attractive neighborhoods
Commonly, luxurious homes are typically located in the best neighborhoods in one city. These types of homes are usually built in sought after communities with top and attractive landmarks around. Although away from the bustling city life, this types of homes are placed in perfect locations with an easy access or close to some of main locations such as shopping centers, schools, or universities.
They are ideally placed in locations from where both children and adults can benefit by hanging out and growing in the localities. Moreover, this types of homes are places which usually have the most scenic and outstanding views in one area.
Comfort
Living a luxurious lifestyle is a dream of many people and sometimes, just because of all the modern amenities available. Luxury homes come with customized rooms fully equipped with machines or spaces for gym, yoga or pilates, depending from individual's preferences.
Nowadays, these homes provide all the modern comforts one can imagine such as children play area, lovely balconies suitable for any type of events and gatherings or sports courts and fields. What else could someone wish if all this features are available in their own home?
Luxury home buyers are looking for properties with a spaces where they can lounge with family and friends. For example, most of the high-end homes today have impressive home theaters with a customizes seating and fully equipped with the latest technologies.
🏠 See Las Vegas LUXURY Homes for Sale
Indoor and Outdoor Spaces
When considering a luxury home, more and more home buyers are now interested in open spaces. It means that open floor plans became a must have in the interior floor plan of luxury homes. Representing a comfortable and flexible living experience, modern luxury homes come all together as a one large living space.
Providing a feeling of elegance, spaciousness, and helping in keeping a cooler area, higher ceilings are also common for luxury homes. High ceilings interiors definitely add depth and dimension of the whole house and make it utterly remarkable. The large, floor-to-ceilings windows offer magnificent views and make the living space more spectacular.
Additionally, outdoor backyards and patios are another symbol of luxurious homestyle. Luxury homeowners enjoy in the unique comfort of the outdoor spaces of their home, and usually those homes are designed with eccentric features that blur the lines between indoors and out.
You can choose from single-story luxury properties to penthouse real estate to find your dream home. Most importantly, Las Vegas luxury homes for sale offer great mountain views and close access to great locations such as Lake Las Vegas.
Las Vegas Luxury Homes Real Estate Agent
Contact us today is you are considering buying Las Vegas real estate in the luxury home community market. We can help narrow your search from equestrian, golf course frontage, Las Vegas strip views to even your own basketball court under your house.
If you can dream it, Las Vegas either already has it or can build it. We have 2 office locations on each side of Las Vegas to serve our clients. If you are interested in Las Vegas Luxury real estate, look for mls real estate listings to find the best luxury properties in Las vegas Summerlin, North Las Vegas, and the surrounding areas.
Searches Related to Luxury Homes Las Vegas
Luxury homes for sale in Henderson
Luxury homes for sale in Summerlin
Las Vegas mansions for sale
-
We specialize in Luxury Homes in Las Vegas for Sale Call 702-882-8240