Las Vegas Golf Course Homes
We Specialize in Las Vegas Golf Course Homes
ℹ️ More Information
GOLF COURSE Homes by Type
Golf Course Homes by Area
Today's Best Deals for Golf Course Homes
4 Properties
Address
Beds
Baths
Sq.Ft.
Price(%Chng)
$/Sq.Ft.
On Site
5313 Fountain Palm St
Las Vegas, NV 89130
3
2
1,722
$478,888
$278.10
25 days
7476 Desert Flame Ct
Las Vegas, NV 89149
3
2
1,872
$497,000
$265.49
3 days
7833 Astral Ave
Las Vegas, NV 89149
4
3
2,698
$685,000
$253.89
4 days
16 Reflection Cove Dr
Henderson, NV 89011
3
2
2,319
$819,000
$353.17
17 days
Las Vegas Golf Course Homes
October 2, 2023
Las Vegas Golf Course Homes by Price
Golf Course View Homes
Las Vegas Golf Course properties for sale one of the most overlooked opportunities when buying a home. Even if you do not play golf, the views are dominating and normally the best with strong resale value. The VIEWS, VIEWS, VIEWS, are described from epic, dramatic to indescribable. With over 33+ golf course in the valley there is and option for any location, east or west.
Prospective buyers searching for Las Vegas Golf Course Homes might also find interest in exploring comparable TPC Summerlin Homes, Homes for Sale Canyon Gate Las Vegas and Spanish Trails Homes.
🏠 See Las Vegas Homes on a Golf Course for Sale ⬆️
Las Vegas Golf Course Communities
| | |
| --- | --- |
| Anthem Country Club | Rhodes Ranch |
| QueensRidge | Canyon Gate Country Club |
| Red Rock Country Club | Seven Hills |
| The Ridges | Las Vegas Country Club |
| MacDonald Highlands | Spanish Trails |
| Tournament Hills | Southern Highlands |
Golf Course Homes in Las Vegas NV for Sale
Las Vegas Golf course homes are quite demanded nowadays, with people showing more and more interest in living in a golf community. Many people wonder why someone would like to live in a golf course and risk having a golf ball flying through their window.


Firstly, Las Vegas golf communities are well planned. They have plenty of amenities, besides the golf course itself. By living in a golf course, one has access to plenty of amenities such as pools, fitness centers, different sports courts, restaurants and bars.

Each golf course community has a clubhouse which is the source of all fun and good food. The clubhouse is also the home of plenty events held throughout the year, during which you can meet people with the same interests as yours.
5 Reasons to Buy Las Vegas Golf Course Homes
One doesn't have to be a complete golf addict to live on a golf course. In fact, Las Vegas golf course homes for sale are one of the best investments you can make when looking for a perfect place to live. These communities are always very quiet and cozy, and the view is truly spectacular.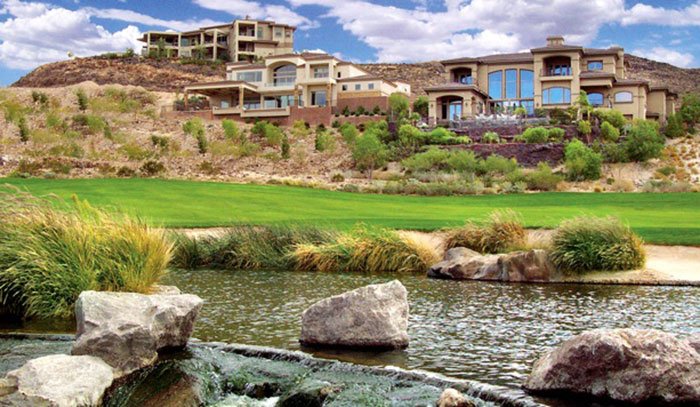 Benefits of Investing in Las Vegas Golf Course Homes for Sale
Over the years, I've talked to dozens of people who have chosen to settle in golf course communities. Our talks gave me some insight into what it's really like to live in these special and beautiful places. Other advantages of buying a golf course home in Las Vegas include:
1. A community of Likeminded Individuals
This is usually the first thing mentioned by the residents of said communities. They are made up of people with the same social status, common interests, and similar lifestyles. This means it'll be easy to make friends and get the feel of a true community.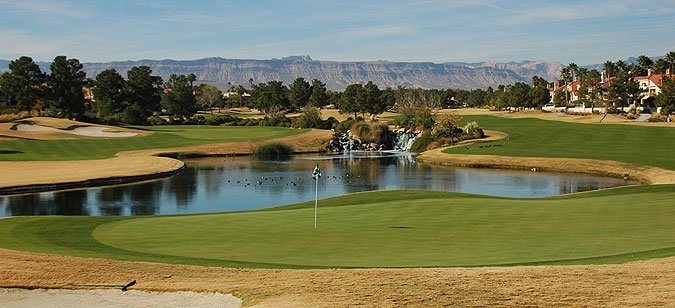 The greatest thing about living in Las Vegas golf course communities, in my opinion, is that, despite the people being close, the properties are quite far apart. This means that you get to enjoy your privacy while benefitting from having great neighbors.

This is even more important in Las Vegas, which is a global city in every sense of the word. This place is a mix of cultures, which is inspiring for entertainment, dining, and education.
2. Fantastic Amenities
Pools, clubhouses with luxury restaurants, high-end bars, a variety of sports game courses, gyms, and access to a golf course – that's what you get by investing in Las Vegas golf course homes for sale.
3. Rich Event Calendar
Clubhouses on Las Vegas courses aren't just for show. They actually are for shows and parties, and concerts, and a dozen other interesting events. Life in this city of endless entertainment has some festive celebration every other week. Sometimes, the parties are even more frequent.

When buying a home on a golf course in Las Vegas, you get an exclusive invite to all events hosted by the club. This event calendar is sure to add to your already robust list of fascinating festivities.
4. Safety
All Las Vegas golf course homes for sale offer top-notch security features. Those are complemented by the fact that you are living in a closed community that comes equipped with a professional security team. Outdoor courses in Vegas are as safe as casinos, which means this is a great place for enjoying a quiet life with your family.
5. Golf, Golf, Golf
Surprisingly, the majority of people living in a golf course property forget to mention this advantage. And yet, they use it extremely often.

By literally living on the course, you get access to it whenever you like. No need to struggle with traffic and trying to obtain a club invite. You can simply pick up your clubs and go for a round to unwind after a busy day.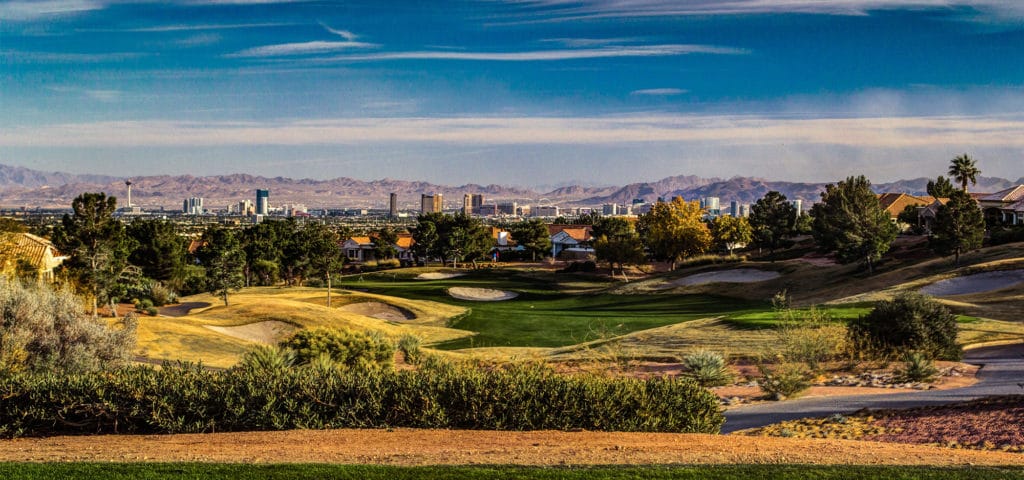 Even if you aren't a fan of the game and choose to invest in Las Vegas golf course homes for sale for other reasons, you'll grow to enjoy the sport. I can assure you from personal experience that golf grows on you. And once you've lived on the course, any other type of community will seem vastly inferior.
Are There Disadvantages to Living on a Golf Course in Las Vegas?
They say nothing is perfect. While living in a community like this in Las Vegas comes really close, there are a few things you should be aware of. The first (and honestly the only) factor to consider is broken windows.

Sometimes golf shots misfire, and there's a chance your windows will pay the price. On the bright side, though, you get free golf balls. Las Vegas insurance providers are well-versed in the strengths and weaknesses of these properties. Thus, you'll be able to get a good policy no matter what.

I'd also like to highlight that a risk of a broken window pales in comparison to the risk of having your home washed away by a hurricane. As Las Vegas is the safest major US city with regard to natural disasters, a few pieces of broken glass is a small price to pay.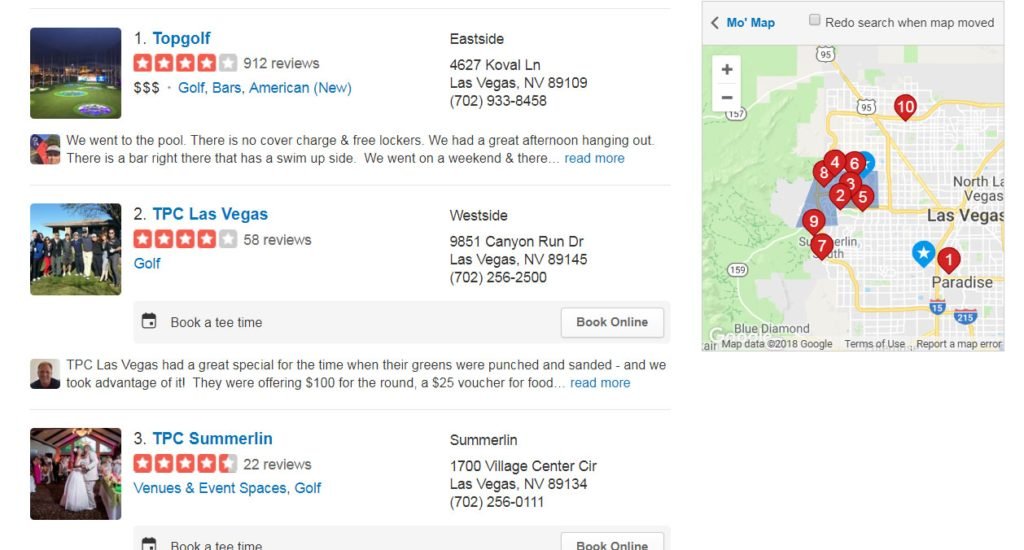 From TopGolf to TPC Summerlin to 55+ Communities - Las Vegas Has it ALL!!!!
Las Vegas Golf Course Weddings
"The day of the shower, the set up was perfect. Everything looked beautiful. The food was beyond delicious. The servers were amazing. It was truly an amazing day. We thank everyone at TPC profusely for this experience and highly recommend them!" - TPC Summerlin Golf
Las Vegas Golf Course Living
"A bear's best when they first open we almost bought a house out there my wife and my mother-in-law it was it three bedroom house with a small house attached to it that my mother-in-law was going to live in it we were going to share it but we decided not to." - The Ridges Summerlin
Las Vegas Golf Course Homes
Life on a Las Vegas golf course is sure to be exciting but not overwhelming, as this city might get. If that's the kind of experience you seek and if you are an avid fan of beautiful landscapes, buying this property is for you.

Some golf course communities have age restrictions when it comes to moving into golf course homes like Sun City Summerlin homes. Those who usually live in these homes are at the age of 55 and up. Therefore, most of your neighbors will be in your age range and with a common interest which is already a good base for a friendship.

Those who enjoy golf as an everyday hobby will find it extremely convenient to just walk out of their house and find themselves on a course, ready to hit the ball. They also get to participate in golfing events and tournaments any time they want, as they always have easy access to the course.

Another great benefit is security. Golf courses were always a secure place but they've improved a lot since the time golf course housing became popular back in 1980s. Today they have good security systems including gates, security cameras, etc. As a part of the golf course community, your home will be safe within the gates of the course.

However, what people seem to enjoy the most about living in golf course homes is the breathtaking views they get to experience each day. The community is full of beautiful landscapes and, depending in which part of the course the house is located, you may get a view of the water hazard or a sand trap, or maybe the long, green fairway.

Either way, you will have beautiful scenery to wake up to every day and enjoy in the view of the enormous lawn in front of your house. The best part is, someone else takes care of it and you don't have to bother mowing it. You can also enjoy watching other players golfing every day, without having to leave the comfort of your home.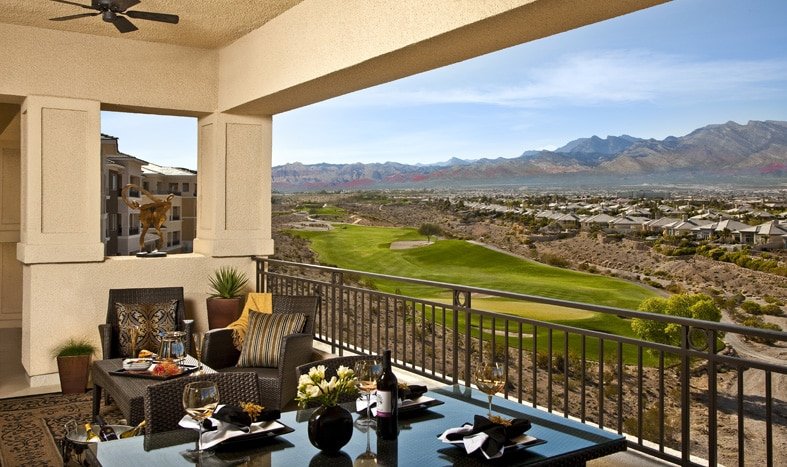 18 hole golf course homes often represent luxury and prestige. Plenty of high end golfing resorts offer villas and remarkable real estate properties on their golf courses. These top class homes come with state-of-the-art amenities and have functional layouts with beautiful interior as well es exterior designs. Having a golf course home gives you something to brag about that most people are going to find interesting.
Frontage Views
Community
Normally a Gated or Guard Gated Community
Most Have Club House and Cafe to Eat and Relax
Golf Club Events and Activities
Spanish Trails private has weekly music and date nights and a pretty nice schedule so always ask to see what type of entertainment schedule they hold.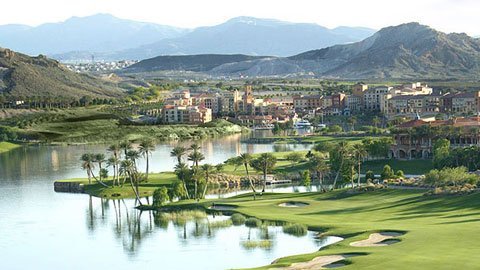 People love to enjoy this type of an environment, especially the golf lovers who get the convenience of enjoying their favorite sport at any time of the day.

It's always a benefit to have your home located near the east of the Strip or the Las Vegas Valley. These areas, including the west side of Las Vegas have many housing properties including high rises and town homes, as well as semi custom homes. Be on a lookout for new mls real estate listings if you are interested in a home like this!
🏠 See Las Vegas Homes on a Golf Course for Sale ⬆️
Searches Related to Las Vegas Golf Course Homes for Sale
Las Vegas Country Club Homes for Sale
Spanish Trails Las Vegas
TPC Las Vegas Homes for Sale
-
We Specialize in Las Vegas golf course course homes for sale Call 702-882-8240