Equestrian Estates Las Vegas
October 1, 2023
$1,550,000
Med. List Price
Neighborhood:
Equestrian Estate Tr 2
This gorgeous 5105 square foot home is an entertainer's dream! It's situated on 0.62 acre, & is in a gated community. Since it last sold >$220,000 has been put into it! It features an attached casita...
Neighborhood:
Equestrian Estate Sub
From the Nick Marietta Collection, step into this Spanish revival reimagined custom home located in Equestrian Estates. This home is immaculately remodeled and professionally designed. This 4,376...
What and Where is Equestrian Estates Homes?
Equestrian Estates Real Estate
Equestrian Estates Real Estate - Most of the properties in Equestrian Estates were built in the late 1970s and the property prices range from $750,000 to over one million dollars. The homes are custom built and feature many upscale amenities,including swimming pools,onsite stables,tennis courts,and manicured pastures.
Those in the market for Equestrian Estates Homes residences could also discover appealing alternatives among listings in Sierra Vista Ranchos, Ranch Bel Air & Circle Las Vegas for Sale and Section 10 11 Las Vegas Homes for Sale.
🏠 See Equestrian Estates Homes for Sale ⬆️
Equestrian Estates Las Vegas

Las Vegas Equestrian Estates is a luxury horse zoned neighborhood including beautiful houses which are one of the most sought after properties in the city. Equestrian Estates is a gated community offering its residents space for horses, stables,riding facilities and more.The community features as well as a variety of other high-end amenities.It is a perfect option for everyone who wants to live in a community setting in Las Vegas and be able to bring horses.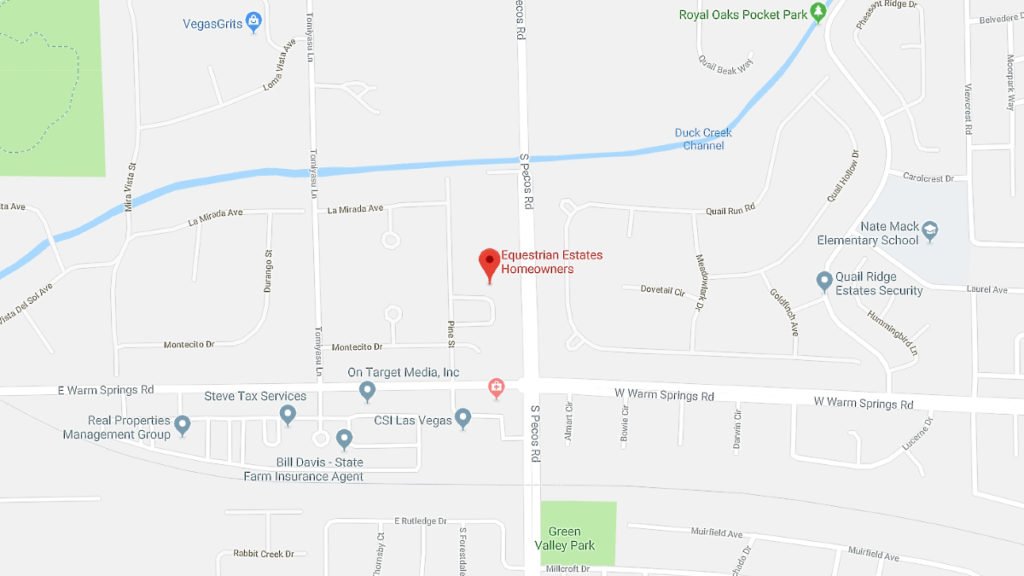 Location - The Equestrian Estates community is located in Las Vegas, Nevada, off E. Warm Springs Rd., between S. Pecos Rd. and Tomiyasu Lane 5 miles east of Las Vegas Blvd.The community was built in 1991 and is comprised of 36 single family estate homes.
Equestrian Estates Homes

Amenities and Recreations - While the neighborhood of Equestrian is considered as a horse riding community, as the name implies,it also offers a wide range of other amenities to its residents.This pleasant and well-maintained community includes lots, tennis courts and is convenient to many shopping options, hotels and casinos. Golf is also another popular activity for Equestrian Estates residents. The popular Wildhorse Golf Club, located not far away from the community, at 2100 West Warm Springs Road,is one of the many local courses where Equestrian Estates golf lovers spent a time playing golf.The Wildhorse Golf Club is 18-hole golf course that is open to the public to play on its lush fairways.The golf club is known as one of the top golf courses in Las Vegas located just 10 minutes away from The Strip.There are eight water hazards and the course is set amid the exquisite desert backdrop. The Golf Club offers an academy for both private and group instructions suitable for golfers of all ages. Wildhorse Golf Club is also very popular location where many events are organized,including weddings, banquets, seminars, or team building events. It is definitely a place with a setting suitable for every occasion. Moreover, a full service driving range and a pro shop is also available.

"This course was actually not our first choice but the original one could not get us on early enough to make our flight back home. Talk about not having luck at the tables or sportsbook and having great luck stumbling on to this hidden jewel in the desert. If I lived here, I would put this course on my regular rotation. Sure there are better and more high class courses around Vegas but if you want a great course and bang for your buck.... this is the course. Course & facility are in great shape. Challenging course as well. It has the number 1 rated hardest hole in Vegas on #9. Very laid back for a relaxing round with your buddies then finish up on second floor clubhouse with drinks overlooking the course. Can't wait to go back." - TripAdvisor Review
Apart from the riding stables and horse trails within the community of Equestrian Estates, there are also a number of parks. The Sunset Park, one of the most popular parks in Las Vegas is located just within a short distance from Equestrian Estates.Also known as one of the largest park in Las Vegas, the Sunset Park is a refreshing getaway that features picnic areas, 9 softball fields,2 little league fields, 8 basketball courts,5 playgrounds, several miles of walk paths, fitness course, splash pad, disc golf course, dog park, pond,RC boat ramp,7 sand volleyball courts,8 tennis courts & restrooms.

"I love the park I've fished there for years in the big lake I ate the trout and they were really good they stock once a week in the spring. Lots of things for kids to do playground,basketball,volleyball,tennis and etc. they have special events through out the year. It's safe to they have lots of security and it's close to everything. The park is huge so there's no way to get bored." - Yelp.com Review
Equestrian Estates Community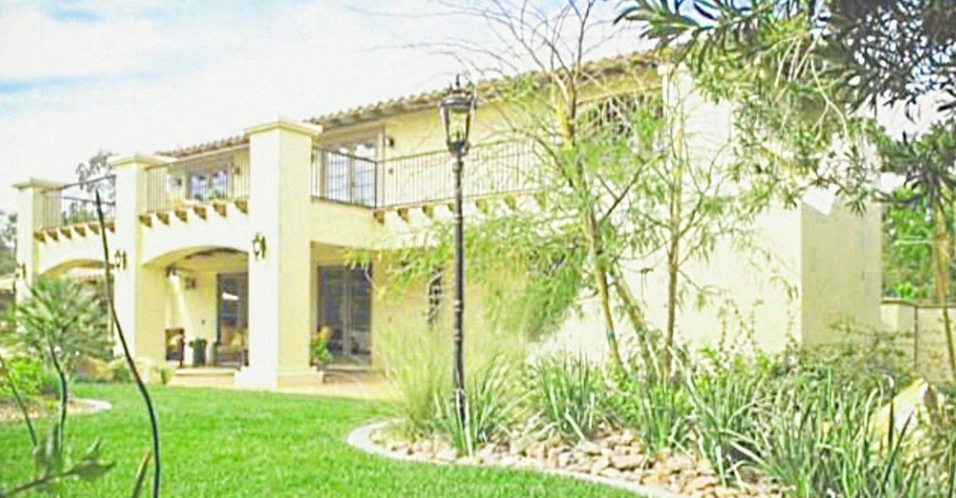 Dining and Shopping - There are plenty of dining and shopping options available at the Equestrian Estates. One of the most visited spots that offers variety of opportunities is the East Warm Springs Road. There are two very popular restaurants located in the area known as Angellee's Cooking and The Greens Gaming and Dining. Since Equestrian Estates is a community conveniently located to the Las Vegas Strip, the community is also very close to some amazing dining options located there. Also, the Sunset Park is another suitable location for dining around the area providing a variety of choices and some of the most popular being the Ping Pong Thai Restaurant.The Warm Springs Plaza and Warm Springs Marketplace are both located within just few minutes away from the Equestrian Estates offering a variety of shopping options. However, for grocery stores, Equestrian Estate residents usually visit Vons, Albertsons, Trader Joe's, and Fresh and Easy Neighborhood Market.
Equestrian Estates is also a community suitable for couples and families with children. As part of the Clark County School District, one of the best school systems in the state of Nevada,there are several schools that serve the Equestrian Estates community:
Elementary Schools:

Bill Y Tomiyasu Elementary School
Doris French Elementary School
Desert Willow Elementary
Explore Knowledge Academy Charter Elementary
American Heritage Academy
Christian Montessori Academy
Middle Schools:

Helen C Cannon Junior High School
Desert Willow Secondary
Explore Knowledge Academy Charter Secondary
Montessori Visions Academy
High Schools:

Del Sol High School
Southeast Career Technical Academy
Benefits of Living in a Equestrian Community - It is known that equestrian-community buyers are not only buying a home,but they are buying a lifestyle.Especially, private gated equestrian communities, such as Equestrian Estates in Las Vegas, are one way of enjoying advantages of living with neighbours with same interest and equine amenities.The shared community facilities such as open land, pastures, trail systems, barns, arena, and facilities staff make the community living reestablish the social advantages of community living in the modern life.
Las Vegas Homes for Sale in Equestrian Estates

Safety and Security - One of the greatest advantages of living in equestrian communities is the safety and security provided for both residents and its horses. Since everyone living in those communities owns a horse, it is very easy to find help in case of any emergency situation. Most importantly, as a horse riding community, drivers are more careful in this communities, allowing safety horse riding alongside the road.
Equestrian Community Living - Living in an equestrian neighborhood means that residents are living close by with like-minded people where they build a network of equestrian connections.Rather than keeping a horse at a barn in a secluded spot, there will always be a plenty of people around to notice if some horse has an emergency while residents are not at home.As a neighbor with other riders, equestrian community residents have always the chance to ride or train with someone else.
Conveniences - Another great advantage of living in an equestrian community is always having the horse nearby. The offered shared facilities, like groomed trails or cross country courses are of great advantage for horse owners, as well as a central barn, where horse owners can full board for their horse and not have to worry about his daily care.
-
We specialize in Equestrian Estates Homes for Sale in Las Vegas Call 702-882-8240