Blue Heron Las Vegas Homes for Sale
We Specialize in Blue Heron Homes
ℹ️ More Information
Blue Heron Homes
October 1, 2023
$4,749,950
Med. List Price
What and Where is Blue Heron Homes?
Blue Heron Homes for Sale
Blue Heron Las Vegas homes have become some of the most sought after Las Vegas luxury homes for sale among the affluent. The sharp designs and use of space has made these custom built properties a favorite in Las Vegas guard gated communities. NEW or resale, we can get you in the community and thru the doors and into a Blue Heron.
Those in the market for Blue Heron Las Vegas Homes residences could also discover appealing alternatives among listings in Custom Homes Las Vegas, Christopher Homes for Sale and Sun West Custom Homes Las Vegas.
🏠 See Blue Heron Homes for Sale ⬆️
Related Communities
| | |
| --- | --- |
| MacDonald Highlands | Seven Hills |
| The Ridges | Southern Highlands |
BLUE HERON LAS VEGAS

Blue Heron Las Vegas homes are becoming the most demanded luxury properties for sale in the Las Vegas valley. These types of homes, designed to reflect with the environment, are definitely the most innovative, modern, energy efficient and airy properties, which are the key point for the real estate market in Las Vegas, at this moment.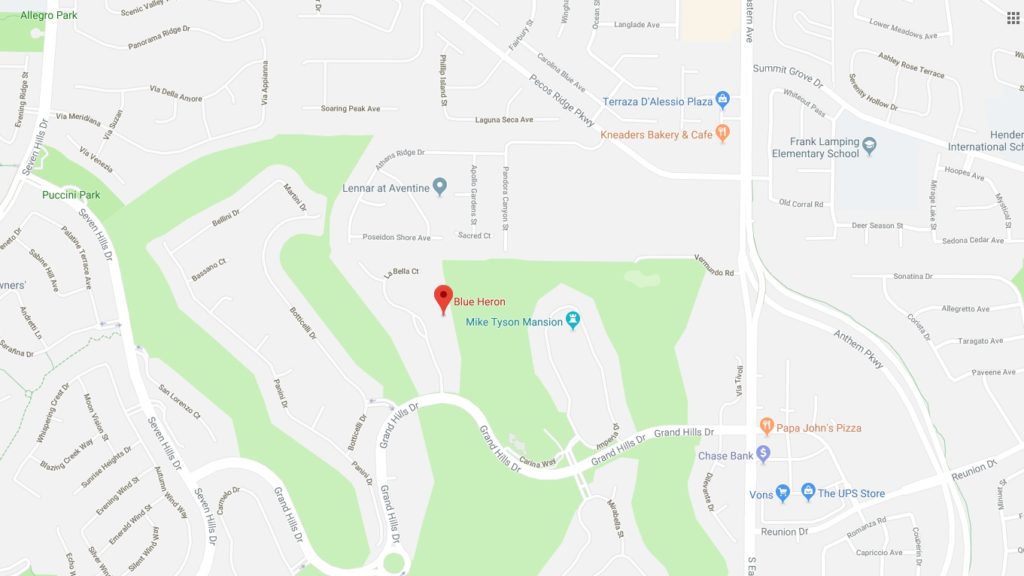 Each property comes out a custom piece or architectural beauty that holds a special niche on the luxury market. Created by Tyler Jones, Blue Heron is known as a complete builder from design to move in. The Unique lines and interior space are known by site and with only so many built per community, there are few on the market. Supply & Demand dictates any market - and in the luxury home market one should not delay when they see a Blue Heron.
5 Top Reasons
Why Blue Heron Las Vegas Homes are Sought After
1. Blue Heron Award Winning Architecture and Inspiring Design
Mainly, the primary focus of blue heron homes, is that both the inside and out of the property, should describe individual's character. The entire team that is working on designing and building the perfect home for you, is working with the same idea in their mind. Compared with other homes, these luxury homes standout with their stunning design. Because of the talented interior design team, 75 % of buyers usually, choose Blue Heron's full furniture and decorating package.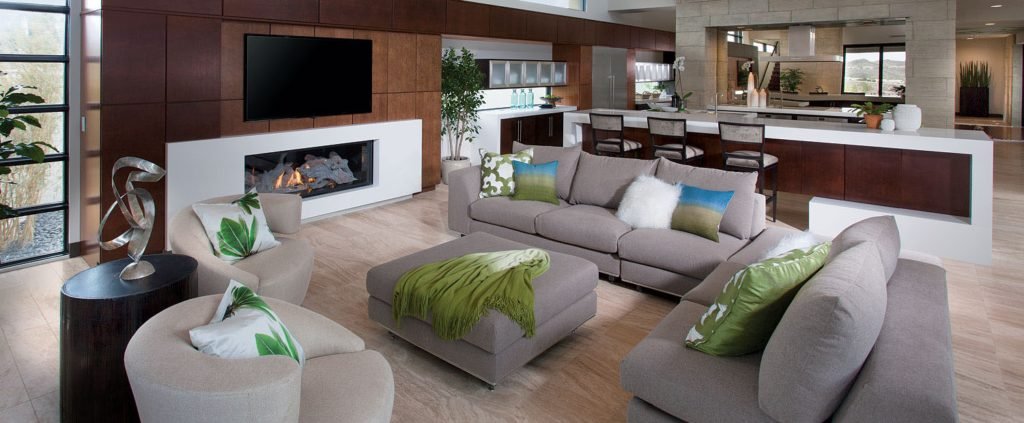 Besides impressive exterior and interior design, the cutting edge Las Vegas modern architecture makes Blue Heron homes the main topic of the real estate market. This master planned home community also provides many amenities for outdoor living. The community's custom homes offer many amazing features such as a stunning sky terrace and walk-in closets.
2. Pre Designed Blue Heron Plans
The pre-designed Blue Heron Homes give customers the options to participate in making significant design decisions regarding the outdoor planning. Decisions such as: water features, deck, landscaping or media. The team is highly dedicated to design a home that will definitely exceed expectations.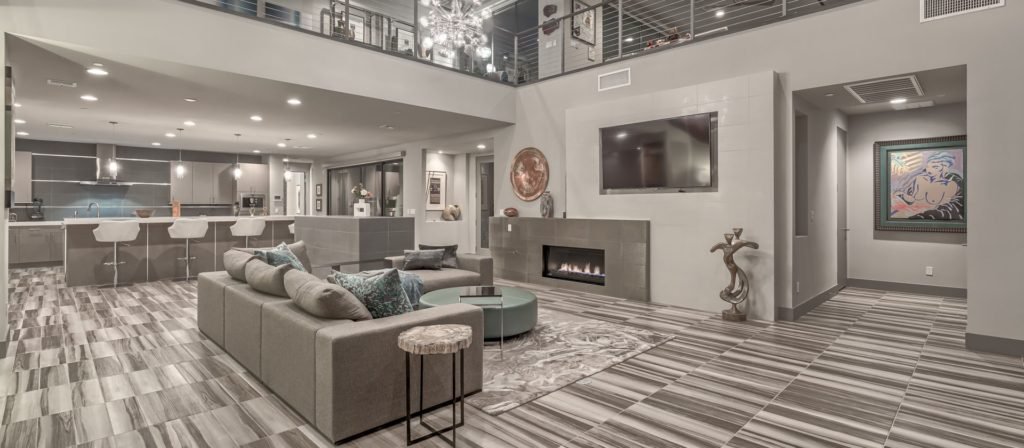 3. Blue Heron Construction
Importantly, Blue Heron home buyers feel more secure by knowing that the architects and the construction team, who are working to design and build the home, are working together under the same roof. This is of great importance as any issue that arises during the process can be resolved immediately without any doubt. Moreover, the construction team works very closely with vendors and contractors, so they ensure in delivering a high quality final modern home.
Blue Heron Homes VIDEO Overview
4. Budget Planning
At Blue Heron, a significant time is spent in getting to know the client. During the homebuilding process the team makes sure to understand family needs and preferences, as well as they discuss the budget early. The architecture, interior design team and construction team work very closely to create accurate cost projection.

Therefore, it means that when construction begins, the clients stay confident that they will get the desired home within the arranged budget. For overall value from community location, construction and delivered product. These luxury homes hold their value in a competitive niche.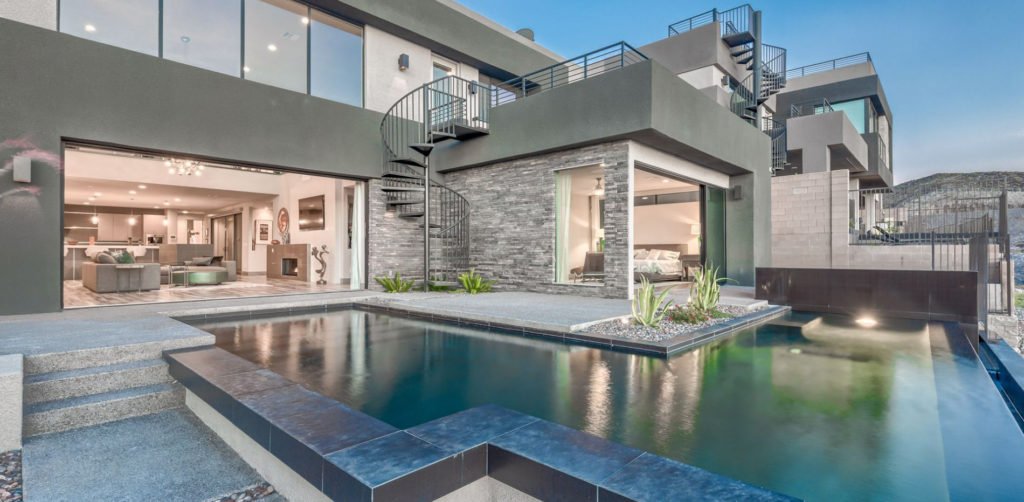 5. Blue Heron Great Customer Service
Having in mind all the above mentioned things, we can see that the Blue Heron community offers great customer service to its clients. They are dedicated to customer satisfaction by working very closely with the client though the entire process. The team is committed to ensure that the home building process is as ordered as possible.

In 2013, Blue Heron was chosen by the National Association of Home Builders (NAHB) to design and build the New American Home 2013. The most impressive thing is that, in the program's 30 years history, Blue Heron was the first company chosen for all three categories- architect, interior design and builder. The 2013 New American Home located in the Marquis Seven Hills community features a desert inspired courtyard and an open floor plan. Moreover, Blue Heron also designed and build the 2015 New American Home.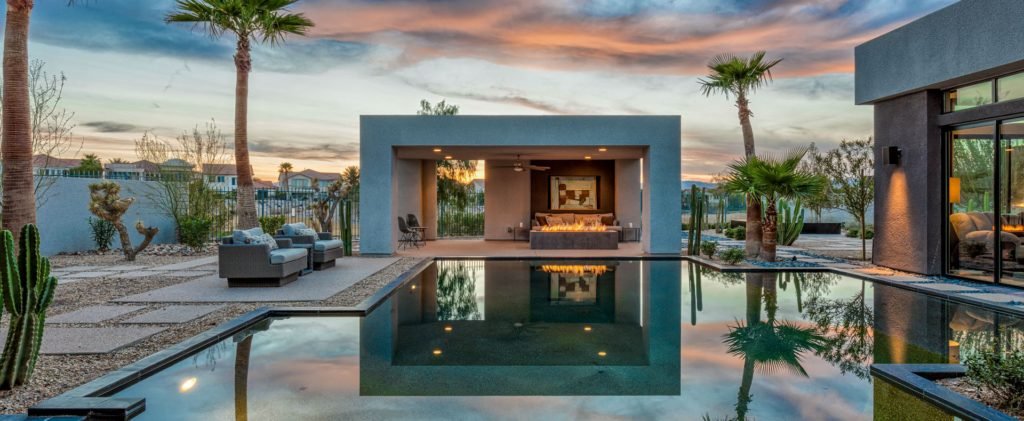 Commonly, when people think about having new property, they confer about whether they should build their desired home from the ground up, or buy one ready to move. Both options have their pros and cons. For example, building a home from the bottom gives consumers the chance to participate in every plan, from design to construction materials.

But, it also takes longer until finishing the desired property. On the other side, deciding to buy an existing home might require a lot of changes to be made, usually the floor plan, but it will take less time to move and enjoy in the new property. However, Blue Heron Homes have many different options to make customers choose their perfect house.


Certainly, all Blue Heron homes Las Vegas are very unique. They are custom-made and give buyers the option to participate in the design decisions, especially for the outdoor spaces, which are very special and unique. Also, in order to fit customer needs, they offer custom floor plans and let buyers discuss their ideas and explore many different homes and styles.

Therefore, if you imagine working with a team that gives you the opportunity to participate in the design, construction, and interior construction until you reach your final desired property, this is the perfect option.

These perfectly suited environmental homes, architecture that blends aesthetics with function in a desert contemporary style, and a well-designed inside showcasing a unique style, are just some of the characteristics that best describe those breathtaking modern homes in Las Vegas, NV. If your current thoughts are spending your life enjoying in a spectacular home, then Blue Heron is definitely the right choice for you.
Searches Related to Blue Heron Homes Las Vegas
Las Vegas Luxury Homes
Seven Hills Homes for Sale
The Ridge Las Vegas
We specialize in Blue Heron Homes in Las Vegas Call - 702-882-8240