Blue Diamond Las Vegas
October 2, 2023
$1,213,000
Med. List Price
What and Where is Las Vegas Blue Diamond Homes?
Blue Diamond NV Homes
Blue Diamond Homes are a rare and unique lifestyle as only 300+ properties currently exist in the town area up to a 1 mile radius. However, some of the most custom and expensive homes may be arriving as celebrities and athletes are discovering this small niche outside busy Las Vegas.
Those considering Blue Diamond Las Vegas NV may also have an interest in viewing similar properties available in Houses for Sale in Mountain's Edge Las Vegas, Rhodes Ranch Community and Spanish Hills Homes for Sale.
🏠 See LV Blue Diamond Homes for Sale ⬆️
Blue Diamond Homes

Located in Clark County Nevada, Blue Diamond is a true hidden gem in the Las Vegas area. It is only a 30 minute drive away from Las Vegas and the center of all its events. This small yet beautiful area features a population of a little less than 300 people, providing that unique feeling of a close-knit community. Even though it is a fairly small community, Blue Diamond attracts plenty of tourists thanks to its numerous amenities and nearby breathtaking locations.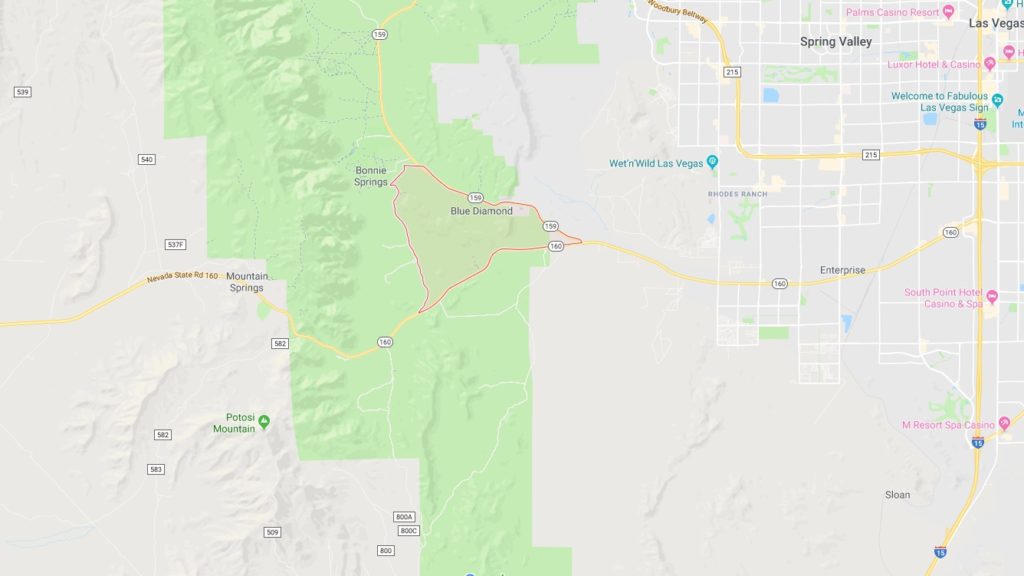 However, tourists are not the only ones interested in this little piece of paradise in Nevada. Many people are looking to become residents of Blue Diamond because of the peace and tranquility this location offers. The community of Blue Diamond provides a quick escape from the buzz of the urban city. It is close enough to the famous Las Vegas Strip for the residents to be able to enjoy world-class events, restaurants and casinos, while being further away enough to provide a quiet and peaceful atmosphere.
Blue Diamond Community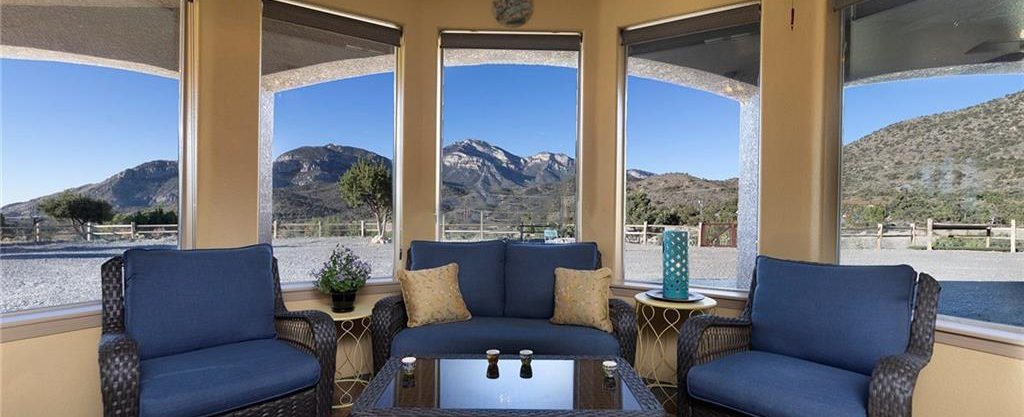 In the recent years Blue Diamond has attracted many popular architects of luxurious homes who have contributed to the variety of housing options in the community. The Blue Diamond community features different housing options, such as single family homes and apartments available for renting. Most homes in the Blue Diamond area feature a contemporary modern design combined with exceptional functionality. It is also important to mention many new luxurious homes available in the area by the popular Toll Brothers. Each of their designs is perfectly executed keeping your needs in mind! One thing Blue Diamond is known for are the large lots and estates it features, as well as horse properties where you can enjoy a beautiful field trip and recreational horse rides.
Blue Diamond Community Neighborhood Nature Features
Sloan Canyon National Conservation Area
Spring Mountains National Recreational Area
Red Rock Canyon National Conservation Area
Spring Mountain Ranch State Park
Calico Hills
One thing that certainly attracts many people to Blue Diamond is its perfect location. Mountain biking is a very popular activity in this community, as it is close to the famous Red Rock Canyon. Not only that many mountain biking enthusiasts visit the area as tourists but many residents of the town also enjoy this recreational activity. The town of Blue Diamond features plenty of great amenities. These amenities include a picnic-perfect park, a well-maintained city pool, an elementary school and a library, as well as an event hall and a church.

One amenity worth mentioning is the mercantile 7 gas station located in this community. This isn't just any general store opened for the purpose of providing the residents with essentials. This store carries a piece of history and it is a very remarkable location in Blue Diamond. It has been built way back in 1942 and even today it kept its original external look. Just the fact that the store looks just the way it did 76 years ago is a remarkable piece of history. The inside of the store features walls covered in historical photos related to Blue Diamond and the events that took place in the community throughout the last eight decades, making this store definitely worth visiting while in town.
Blue Diamond Las Vegas Nevada Neighborhood
Besides these amenities, Blue Diamond has a lot of hotels, resorts and attractions to offer to its visitors. It features the Spring Mountain Ranch State Park, located right next to the famous Red Rock Canyon on a ranch property that used to be owned by the rich and famous Howard Hughes. Today, this state park is a perfect location for picnics and field trips to spend time with friends and family! Another great attraction of this little paradise is the Super Summer Theater. This is an open, outdoor amphitheater that features movies and events perfect for relaxing in the evening. You can either bring a blanket and enjoy a movie and a picnic or rent chairs available at the theater. Either way, you will have an amazing experience worth remembering!

"I have lived in Vegas for 13 years now and I can't believe I have just now visited the Super Summer Theater!! I have seriously been missing out - this is such a hidden gem. Only about a 30 minute drive out of the city, the theater is located at Spring Mountain Ranch, just past Bonnie Springs. It's a beautiful drive and you definitely feel like you are leaving the dessert. The temperature is usually about 10 degrees or so cooler out there as well. We saw "In the Heights," which was fantastic. I absolutely love the atmosphere - although there are concessions, you are allowed to bring in your own food/drink (alcohol included!). People next to us had a cooler that doubled as a blender and they were mixing up drinks. The shows usually start at 8pm and we got there around 6:30pm so that we could eat and enjoy some time catching up before it got dark. This is seriously a great experience and family friendly. I highly suggest you go check it out if you haven't already!!" - YelpReview
Furthermore, being close to the Red Rock Canyon National Conservation Area, Blue Diamond makes for the best place to move to if you want to live an active and fulfilling lifestyle. This conservation area features unique and colorful rock formations which you can enjoy watching while hiking on one of the hiking trails or driving through 13 miles of scenic paradise. Either way, you're going to love the Red Rock Canyon! Furthermore, the residents can enjoy amazing meals at the community's most famous restaurant, the Cottonwood Station.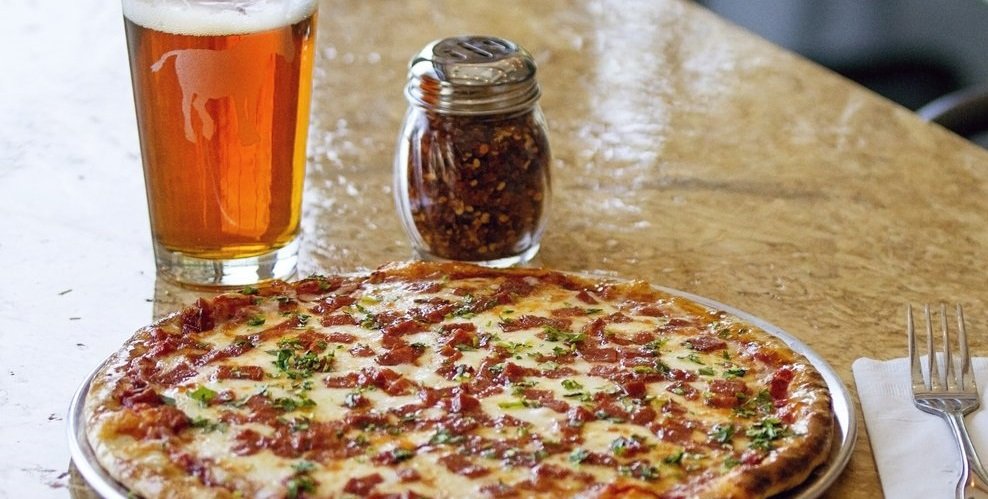 "Fun relaxing getaway from Las Vegas. This small town bistro has a fun nature to it. Locals drop by with their dogs constantly, weather is cooler than Vegas by some degrees. Menu is simple with thin crust pizzas, panini's and salads holding the menu down. (Please desserts, baked goods and breakfast options.) Beer stock is good, canned and a couple drafts. Menu looks to change. Also, coffee, iced tea, lemonade options. The patio and the quiet are definitely the selling point. Going to take my dog out one day for some patio, food, brew relaxing time." - YelpReview
Homes for Sale in Blue Diamond in Las Vegas

For more amenities such as malls, shops, venues, restaurants and casinos, the Las Vegas strip is only half an hour away. A quick car ride will get you to the center of Las Vegas and all amazing events that take place there. The reason why people love Blue Diamond is exactly because it is away from the all the fuss in the city. Even though it is far enough to provide peace and tranquility, the Blue Diamond Community is still close enough to the Strip for when you feel like spending a night out or trying your luck out in one of the world-famous casinos.

Besides casinos, residents can enjoy nearby Las Vegas golf courses, which are some of the best high-class golf courses in the world. On top of all the great amenities available to people in Blue Diamond, this community makes for a perfect place to start a family and raise children. It is quiet and safe, making it a perfect location for children to play and go to school as well. The community features an elementary school along with a library, while teens will have to take a short bus ride to Las Vegas high schools, which is certainly worth it considering the quality of the educational system in the area.
If you're considering moving to Blue Diamond or even visiting the community as a tourist, you should definitely do so. There are plenty of housing options available, with each property featuring a contemporary design with modern furnishings and appliances. Besides, this area will be your own piece of paradise, as it offers tranquility and a piece of quiet in the fast and buzzing world of Las Vegas!
We specialize in Blue Diamond Community Homes for Sale
Call - 702-882-8240