55+ Communities Las Vegas
We Specialize in 55+ Communities
ℹ️ More Information
55+ Communities by Popular Areas
Today's Best Deals for 55+ Homes in Las Vegas
1 Property
55+ Communities Las Vegas
October 1, 2023
What are Las Vegas 55+ Communities?

Retirees searching for an ideal place to start a new chapter of their life can find solace and comfort in the 55-plus communities in Las Vegas, Nevada. With boasting luxurious amenities, spacious homes with modern features optimized for their distinctive lifestyles, strong security measures, and a wide range of social and recreational activities, these age-restricted communities provide a unique and fulfilling lifestyle for those in their golden years.
Whether you're seeking an active social life or a peaceful place to make the most of your retirement, Las Vegas has plenty of great solutions. From Sun City Summerlin to Siena, the city offers numerous retirement community options that allow seniors to live life to its fullest. Read on to discover why these 55-plus communities in Las Vegas may be the perfect place for you or your loved one.
Exploring options for 55+ Communities Las Vegas? You might also want to take a look at similar properties in 55+ Communities in Summerlin, Sun City Summerlin and Siena.
🏠 See Las Vegas 55+ Communities Homes for Sale ⬆️
Video: Sun City Las Vegas 55+
Las Vegas retirement communities with active adult lifestyle for 55+ are ranked among the best in the world. Award-winning communities like Sun City Summerlin and Anthem offer over 80+ activities. For cost of living – Aliante and Los Prados may be the best value for the money in the USA. Schedule a Tour!
Here Are Las Vegas 55+ Active Adult Communities
| | |
| --- | --- |
| EAST SIDE | Sun City ANTHEM Sun City MacDonald Ranch |
| WEST SIDE | Sun City SUMMERLIN SIENA Summerlin |
| NORTH Las Vegas | Sun City Aliante Los Prados |
Las Vegas 55+ Communities
55 + Communities in Las Vegas are becoming very popular these days. Believe it or not, the first Del Webb "Sun City" was expected to fail, and he was a joke among real estate developers. His first development not only sold out, but it also set the pace for standards in 55+ active adult communities. These communities are desirable and attractive for retirees and pre-retirees who are health-conscious and looking to live an active and social life.
What Are 55 + Communities & Why Would I Want to Live Here?
Firstly, it is very important that we all understand the meaning of these communities. Basically, 55+ communities are age-restricted communities that limit the number of residents below 55+. You can have visitors below 55 for a set amount of days based on your association, but it is normally limited to 2 weeks.
Mainly, these are low-maintenance homes, but also these communities include shared amenities, including private golf courses, pools, tennis courts, bocce ball court parks, and recreational areas, which are important for people of those ages to keep an active and healthy lifestyle.
Definitely, there is a huge demand for single-family home properties in these communities. But, they are also easy to find, and there are many floor plans available within this master-planned community. Located in many exciting locations, each with unique lifestyle opportunities, they are a great fit for many adults.
Here is more info on classifications of a retirement community
Sun City Las Vegas 55+ VIDEO
🏠 See Las Vegas 55+ Communities Homes for Sale ⬆️
What is so special about this communities that makes every adult to want to move there? Let's find out the advantages of living in 55+ Communities.
55+ Las Vegas Retirement Communities
1. Social and Recreational Activities
One of the best advantages of living in 55+ and the most attractive one are the variety of social activities available. In these communities there is a great emphasize on fitness and healthy lifestyle. For the active residents, it is very important that they can easily find attractive activities that are fun, easy to do and adaptable for their generation. Almost all 55+ communities are equipped with fitness centers, recreation rooms, and many events organized throughout the year, with the main focus on being healthy and maintaining an active lifestyle.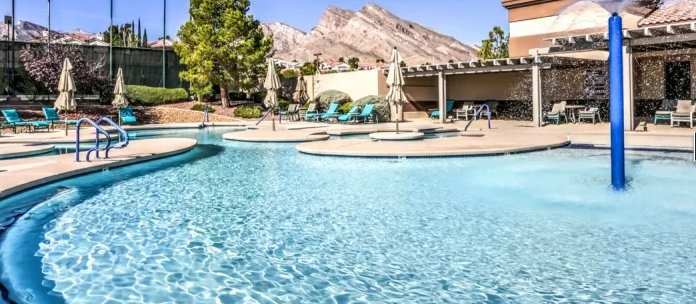 55+ Sun City Summerlin Community Pool[/caption] Depending on the location, 55+ residents have full access to golf or tennis courts, swimming pools, fitness and spa centers, and many parks with awesome walking trails, along with other resort-style features. Moreover, living in a 55+ community means that people there have great opportunities to develop close social connections and friendships. [caption id="attachment_11773" align="aligncenter" width="69Sun City Summerlin Gym Fitness Room[/caption]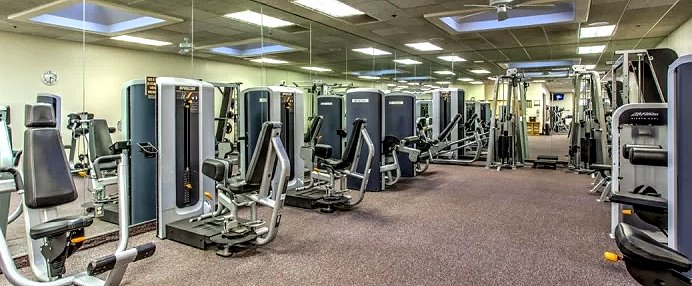 Wine tasting, movie nights, cooking classes, concerts, and many more events are being organized in order to keep the residents socialized and active. The feeling of living in a community definitely has a huge influence on an individual's well-being and quality of life by making long-lasting memories of the times they spend together with friends and neighbors. That is why this is one of the most important benefits of living in a 55 + community.
60-80+ Activities and Clubs in Most Las Vegas Retirement Communities.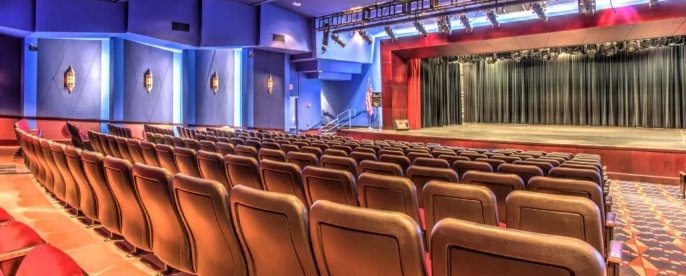 55+ Pools
Tennis Community
Golf Courses (open to the public)
Theater and special events
Club House and group meetings
Cafes and dining
Activities with special groups and education courses
Health and Wellness Classes
2. Low home-maintenance
Freedom from home maintenance and repair is definitely important for this age groups. The problems that occur at a private home can often be very requiring, costly, and usually make stressful situations. However, for people that decide to move into a 55+ community, these issues are eliminated. Being away from cleaning the home and yard constantly and having home repairs regularly, definitely leaves more time for people to explore other interests and find hobbies that they enjoy.
3. Safety and Security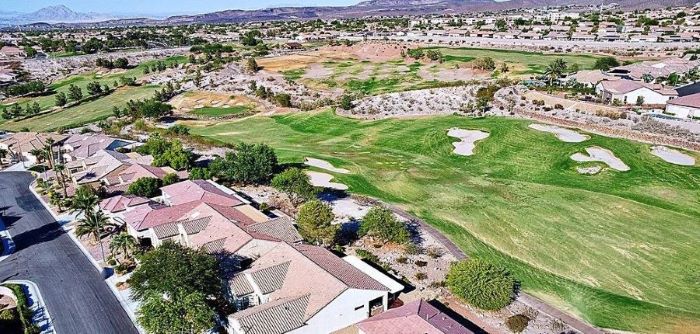 This is also one of the main reasons why people decide to start life in a 55+ community. Most of the age-restricted communities are guard gated, and many also have private security. Moreover, there are also many security measures incorporated in these communities, including lighted parking lots, fire alarms and smoke detectors, emergency evacuation maps, and clearly marked exit doors. Also, in many communities, only approved residents and guests are admitted to these properties.
4. Lower Living Costs
For elderly individuals, transitioning to a 55+ community often entails more than just making a move- it can also mean significant savings. Downsizing to a smaller condo or apartment is an efficient solution for seniors looking to reduce their monthly costs. By doing so, they can free up extra money for travel, hobbies, and other activities and also gain access to amenities they may not have had before.
Las Vegas has no personal income tax, low property taxes with a discount for seniors, and is already ranked among the lowest in the nation among major cities for cost of living.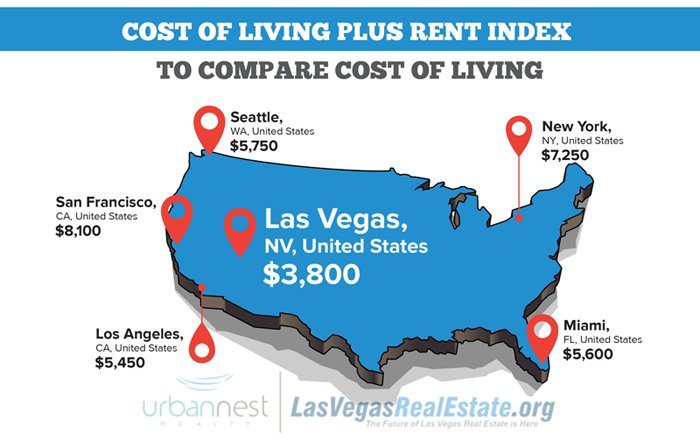 5. Convenient Location
When deciding to move to a 55 + community choosing the right location is of great importance. Usually, most communities of this kind have great locations and are very closely located to shopping malls, hospitals, churches, restaurants, theaters, and other community facilities. Living close to these areas is very convenient as people are not spending half of the day trying to reach the desired location. There is public transportation or walking paths, so residents freely leave their cars at home to go to these everyday conveniences.
6. Medical care
Mainly, 55 + communities are usually located near medical facilities. However, once when people get to the point in life when they need medical or nursing care, communities like this one are fully equipped with resources and medical amenities right in front of the door.
Most all 55+ Communities and Sun City Las Vegas communities are located minutes away from the nearest hospitals and healthcare facilities. Some communities have a direct call to fire and ambulance services and 24 help.
Las Vegas has recently built and innovated some of the largest and most up-to-date medical services in the USA. The response time to emergency room time rates is among the lowest in the nation. One thing you may want to do is visit or do a drive-by of the nearest hospital in the neighborhood you are thinking of moving to.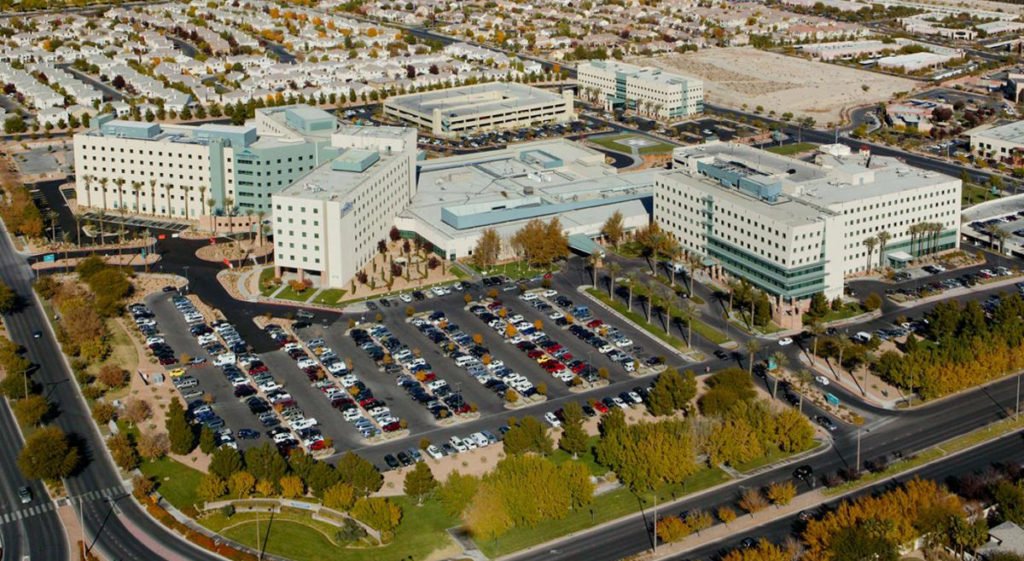 Sun City Summerlin is currently the largest community with 3+ golf courses and close to Summerlin Hospital. This private medical center is owned by Universal Health Services. It offers 485 beds, including private rooms and special recovery areas. The center offers state-of-the-art medical equipment with professional and highly experienced staff.
7. Support Services
Although it is additional cost, for some people it is important that they have additional assistance available at any time. Especially after illness or accident, residents of these communities use additional support services. Although these services may not be needed at some periods, in some cases, they might be of significant importance. Mainly, the typical support services that can be found in 55+ communities include housekeeping services, meal preparation, pet care, or community management.
An Afterthought
Many adults who are considering downsizing after retirement decide to start a new chapter of their life in age-restricted communities. Mostly, people in those ages feel like moving into a low-maintenance estate, such as a patio home, cottage, or apartment, where they can start a unique lifestyle.
The Las Vegas area is perfectly suitable for senior living as it offers great amenities and spacious properties of thousands of square feet. Las Vegas offers many active adult retirement communities and master-planned residence areas such as Sun City Summerlin.

Residents in Las Vegas senior communities feel like living their daily life in some private resort by enjoying a great number of social and recreational opportunities suitable for their generation. Importantly, people have fewer home maintenance responsibilities, their homes are equipped with modern features optimized for their distinctive lifestyle, and they have strong safety and security.
Many surveys show that the main reasons why people want to move to such communities in Las Vegas, NV are because they want to be closer to their families or because they want to get a home of higher quality. But, there are many more significant reasons that make people think about starting their life there. Today, age-restricted communities in Las Vegas offer more advantages for their residents than ever before.
Check Out the Top-Rated Golf Courses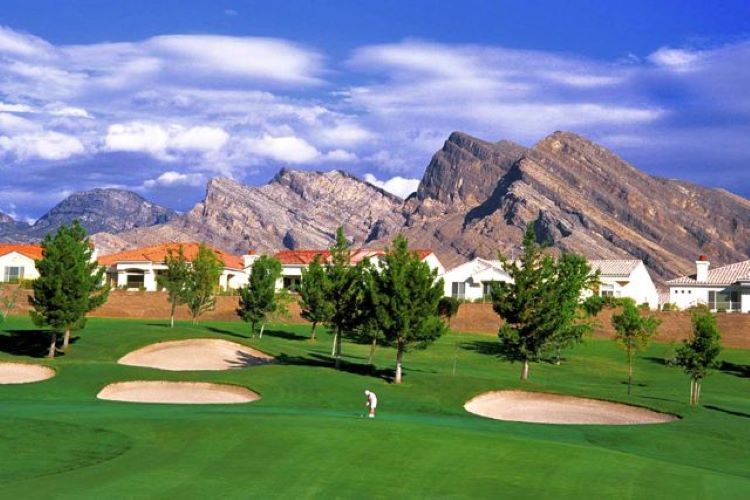 Sun City Summerlin has 3 Golf Courses. Most courses are open to the public and always rank among the best in town.
"Absolutely everything awesome, fairways, greens etc were well maintained; staff very friendly and helpful. Will definitely playhere again" - Los Prados Review
"This place is awesome. The homes are beautiful and it is a secure area. The activities are first rate. The Club has a unbelievable view of the strip in the distance, the hills, the mountains, the entire valley area. Great indoor pool with a walking track going around it and looking down. Nice outdoor pool area although I wish it was deeper, but it more of a social stay cool type of pool. Nice gym and equipment. This is how retirement living should be." - Yelp Sun City Anthem
Nowadays, there are great 55+ communities located throughout the U.S., such as Sun City Aliante and Siena. Now, that you know why 55 + communities are so unique for the residents, consider making your move. North Las Vegas Sun City Aliante can definitely offer you a place to lead a joyful, healthy and active lifestyle.
🏠 See Las Vegas 55+ Communities Homes for Sale ⬆️
Searches Related to 55+ Communities Las Vegas
55+ communities in North Las Vegas**
Henderson retirement communities**
55+ condos for sale in Las Vegas NV**
We specialize in Las Vegas Retirement Communities and people looking for active adult 55+ communities in Las Vegas.
Call 702-882-8240